The following step by step guide will show you how to watch DAZN in Australia. The method provided here will work on all platforms supported by DAZN.
The online streaming market is quite saturated with all types of streaming services. Whether it's live TV or exclusive on-demand content, services like Hulu, Netflix, YouTube TV, and Prime Video dominates among other streaming platforms.
On the other end, streaming services that mainly focus on sports content were quite limited in terms of quality and live coverage, when compared to regular old cable providers. Despite the fact that some on-demand streaming services offered highlights of sports events with commentaries, viewers still had to rely on your cable service for live game streams from regional and international sports networks.
However, that has changed quite dramatically in recent years with the launch of dedicated sports streaming services, such as ESPN Plus, as well as OTT live TV streaming services like fuboTV, Sling, AT&T TV NOW, etc. Unfortunately, all of these services are limited to the United States.
In Australia, sports streaming services are still quite limited. Services such as NBA League Pass, AFL Live Pass, Optus Sport, UFC Fight Pass are available in Australia, but it's not enough for a broader sports coverage. There aren't many cord-cutting solutions in Australia for sports fans. Foxtel's Kayo does offer 15000+ hours worth of live sports coverage, but it still leaves a lot to be desired in terms of PPV programming.
The closest competitor to Kayo would be DAZN, mainly because of original programming, extensive live sports coverage of NFL, MLB, Boxing, Cricket, Soccer, MMA, Basketball, College Sports, Tennis, and eSports games under an affordable subscription fee. However, the service is available in select countries and yet to launch globally.
In spite of DAZN's unavailability in Australia, we have found a way to access its streaming library outside the serviceable areas. For our Australian readers, we have compiled this guide to watch DAZN in Australia, which is definitely worth checking out in case you are in search of a decent live sports streaming experience.
What is DAZN?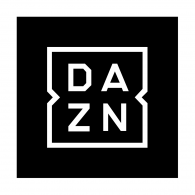 DAZN is an OTT subscription-based sports streaming service, which offers live and on-demand sports events from various major networks. From Q4 2019 reports, DAZN had over eight million subscribers worldwide.
With 7000+ live events from the NFL, MLS, NBA, Champions League, La Liga, UEFA, PGA Tour, Ligue 1, Series A, WTA Tennis, UFC, etc., DAZN offers exceptional live sports coverage to its subscribers.
DAZN's long-term deal with Matchroom Boxing USA and World Boxing Super gives them the streaming rights for 32 and 22 boxing matches from the networks respectively. The best thing about DAZN is that you won't have to buy exclusive boxing PPV events separately.
It also offers original series and documentaries, which features some of the most iconic sportsmen of all time. Games that are broadcasted on DAZN are also accessible from the archives on-demand.
You get everything under DAZN's $19.99 (USD) monthly subscription. The yearly $99.99 (USD) subscription also offers excellent value. A single DAZN subscription lets you stream on two devices at the same time.
Why is DAZN Inaccessible in Australia?
DAZN's serviceable areas are currently limited to Austria, Brazil, Canada, Germany, Italy, Spain, Switzerland, Japan, and the United States. Although it is planning to roll out its streaming service in over 200 countries later this year, there are several reasons why it's taking such a long time for DAZN to make its debut in Australia.
The first roadblock for DAZN is sports licensing and streaming rights. Every time it includes another country in its serviceable areas, sports networks associated with DAZN are required to give it a pass. If multiple networks decline the licensing, then DAZN has to exclude them from its streaming library in a particular country. Without the addition of exclusive content from sports networks, DAZN won't be able to fulfill the demands of the subscribers.
Money also plays a major role in such things. If DAZN plans to air simulcasts, then they have to pay the sports networks, as well as the main broadcasters. In theory, DAZN could spend millions to get an exclusive partnership with a sports league. But, it will take more than that to attract a significant percentage of cord-cutters.
How to Watch DAZN in Australia?
If you visit DAZN's official website right now, you will be asked to enter your email address, followed by a "Coming Soon" message, so that DAZN can notify you once it launches in Australia. Opening dazn.com/en-us will redirect you to the same page.

Simply put, DAZN is using geo-blocking protocols to find out which country you are from. Although it's a clever technique to keep away foreigners from accessing the service, it can be easily defeated by using VPN services.
For those who don't know what VPN stands for, it is Virtual Private Network. A VPN creates a temporary virtual connection between users' network and a private network. Instead of pinging your local DNS server, your network pings the private server instead, which then in return transmits the required data packets to your network.
Since the server sends requests to a specific website, the website sees the server's IP address instead of yours. The most generic way for a geo-blocker to determine a user's location is by backtracking the IP address, which contains the metadata for geolocation.
In simple words, a user can connect to a VPN server hosted in another country and unblock restricted websites by emulating a virtual location. Using this theory, sports fans in Australia can also unblock DAZN and have unrestricted access to live and on-demand sports content. The following steps will show you how.
Requirements
A VPN is a mandatory requirement for the unblocking process. You can get a subscription from your preferred VPN provider. In case you haven't decided yet, we strongly recommend you choose IPVanish VPN. It has 1300+ fast and secure servers across 75 countries worldwide, as well as specialized ones that can bypass advanced geo-restrictions and block web trackers from snooping on your web activities. Register for an IPVanish subscription from ipvanish.com and give it a try.
IPVanish VPN is one of the fastest and secure VPN in the industry. IPVanish is also a secure VPN service that encrypts your internet connection with 256-bit AES encryption. It keeps you protected from network hijackers and cybercriminals. Furthermore, we have managed to get an exclusive 46% OFF deal for TechyBuild visitors!
You will also need to install the client app on your device offered by your VPN provider. If you have chosen IPVanish, then visit www.ipvanish.com/vpn-setup/, select your operating system, and follow the steps provided in the setup guide to download, install, and sign in to the IPVanish VPN client on your device.
Last but not least, a credit/debit card will be needed for purchasing a DAZN subscription. Make sure that your card has international payments enabled. Else, you won't be able to pay for the subscription. If you have a PayPal account, then it wouldn't be an issue for you.
Step #1: Connect to VPN
Assuming that you have already set up IPVanish VPN on your device, it will be easier for you to connect to a VPN server. Simply go through the following steps below.
Start the IPVanish VPN app on your device and wait until you get to the Home page.
Select Canada from the server picker. Leave the advanced server options untouched, as IPVanish will auto-connect to the fastest VPN server.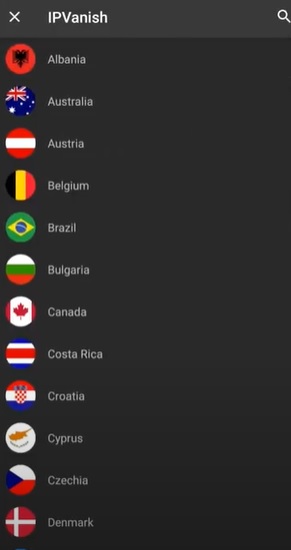 Click the Connect You will be connected to IPVanish's secure VPN server in a matter of a few seconds.
Important Note: If you are connecting to a VPN server for the first time, IPVanish will prompt you to install the 'TAP Device' service on your PC. Hit Install and wait for IPVanish to download and install it automatically. Android and iOS users won't have to go through this process.
Step #2: Get a DAZN Subscription
To get access to DAZN's streaming library, you need to get a DAZN subscription first. Since we chose to select Canada, the subscription prices cost $20/month and $150/year respectively. Here's how to sign up:
After connecting to VPN, open up an incognito or private window in your preferred web browser and visit dazn.com.
Choose between Annual or Monthly DAZN subscription, and click Start Your Free Trial.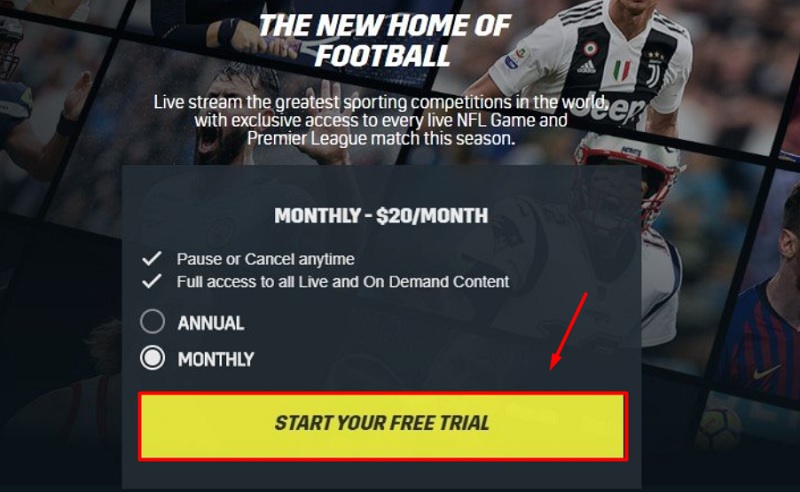 Fill up the registration form with your name, email address, and use a secure password.
After that, click Continue to proceed to the payments page.
Select your payment method (preferably PayPal), enter your billing information, and verify the payment method for your DAZN subscription.
You will receive an email from DAZN upon successful verification. DAZN won't bill you until your free trial expires.
Note: Use a Canadian address and zip code in your billing info. Otherwise, your subscription might get canceled.
Step #3: Log in to DAZN & Enjoy Live Sports
Once you have a DAZN account with a monthly or annual subscription, you can log in to the DAZN website or the official DAZN app on supported devices. As long as you stay connected to a VPN server in Canada, you will have unlimited access to DAZN's live and on-demand offerings.
Do NOT disconnect from VPN while you are streaming from DAZN. Otherwise, you will be instantly logged out of DAZN, and your account might potentially get flagged by the geo-blockers.
Which Devices Can You Use to Watch DAZN in Australia?
Alongside the web version, DAZN offers its standalone apps for a wide range of popular devices, including Android, Android TV, iOS, Apple TV, Amazon Fire TV, Roku, PlayStation 4, Xbox One, Samsung/Vizio/LG Smart TV, Windows, macOS, etc.
However, not all of them are natively compatible with VPN apps, which will be needed for watching DAZN in Australia. IPVanish does support almost all the devices mentioned here. If you have an incompatible device, then you are left with no other option but to set up a VPN on your router. But, not everyone has a router with integrated OpenVPN protocols. Also, it is a tedious process to set up VPN clients on a router.
Also, See:
Wrapping Up
DAZN is one of the best all-in-one sports streaming services that offer extensive live sports coverage under an affordable subscription tier. Until DAZN officially expands its services in Australia later this year, you can follow our in-depth guide to sign up and stream DAZN on your devices.
If you find this guide helpful, then leave your genuine feedback in the comments below. Also, you can also share it with others so that we can keep covering guides like this and help our readers.