For several years, HBO has been home to some of the greatest TV shows in the history of television. It currently has more than 140 million subscribers worldwide, which is an insane number even when compared to top-ranking streaming services.
In its current form, HBO also runs its subscription-based streaming service, HBO Now, for cord-cutters. However, it is available only for the residents of the United States. Although HBO's popularity reaches beyond a single country, there is no news on when the service will roll out in other countries.
Since there's a fair share of HBO fans in Australia, people try to find a way to get past HBO's geo-restrictions, then give up after some time. Just for our Australian readers, we have prepared this guide to help them watch HBO in Australia.
Differences Between HBO NOW & HBO GO
HBO currently has two separate streaming services for the audience. There are some differences between the services, and we will now explain it to you so that you can clear out the confusion.
Let's talk about the similarities first. HBO's online streaming services are called HBO NOW and HBO GO. Both of the services offer the same on-demand content, including HBO's original TV shows with all the seasons, top-rated movies, specials, and many more. They also support simultaneous streams, which means multiple users can sign in with the same HBO account and stream different content on different devices at once.
However, the only major difference between HBO NOW and HBO GO is the sign-in process. HBO NOW asks users for a $14.99/month subscription, which doesn't require users to have an active cable TV service. On the other hand, HBO GO requires users to sign in through a TV provider, such as Spectrum, DirecTV, Xfinity, Optimum, Cox, etc.
If you are a cord-cutter, HBO NOW is the way-to-go for streaming HBO content on-demand. You can even sign in with your Hulu or Prime Video account in case you decide to get an HBO subscription through their platform.
Both of HBO's services will hopefully unify once HBO launches its new standalone streaming service, HBO Max, in May this year. Existing HBO NOW subscribers will get a free upgrade to HBO Max on the launch date for no extra cost.
As of now, HBO NOW and HBO GO are exclusively available in the United States.
Why Can't You Watch HBO in Australia?
Whether you are an Australian or residing in Australia for a brief time, you probably have received the "Not in service area" message when trying to access HBO's streaming service. Now you may wonder why you can't watch HBO in Australia.

There are several reasons why HBO restricts international audience from streaming their on-demand content. The main reason definitely has to do with television distribution rights in the United States, which limits the broadcasting of the content to American audiences only.
This is mostly an attempt to attract several other streaming services so that content distributors can generate more revenue from licensing their content in other countries.
The other reason why HBO is inaccessible in Australia is the type of content they broadcast. Take Game of Thrones as an example, which is one of HBO's most viewed shows to this date. It is infamous for its graphic scenes and nudity, which is intended for mature audiences only. Although it is totally acceptable in the United States, it violates the strict guidelines of the Australian censor board.
Despite the censorship, curiosity and influence are two things that drive the vast majority of audiences in watching censored content. HBO has successfully designated its place in the popular culture, and for good reasons.
How to Watch HBO NOW in Australia?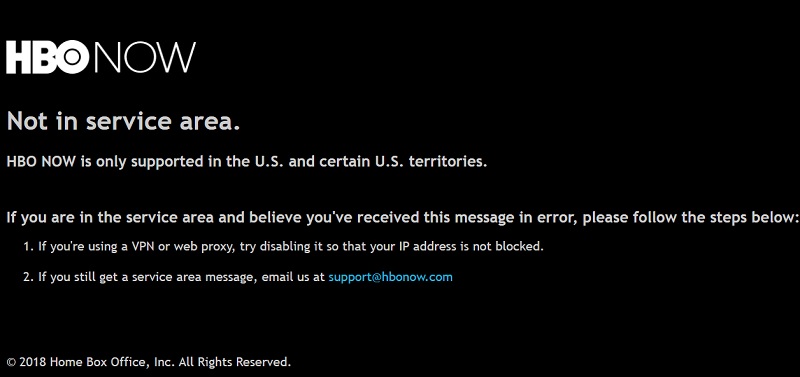 HBO has placed geo-restrictions on its HBO NOW streaming service to restrict users from accessing on-demand content from its streaming library. Fortunately, there is a way to bypass HBO NOW's geo-restrictions, and we will show you how to do it.
You have probably heard about VPN before at least once in your lifetime. For those who don't know what a VPN is, it stands for Virtual Private Network.
A VPN establishes a secure connection between two networks, which is your home network and a private network in this case. The data packets you upload and download on your internet session gets encrypted, and it travels through two networks simultaneously.
In simple words, a VPN allows users to open webpages through a different network, even when the network is in another country. This way, Australians can connect to a VPN server hosted in the United States and bypass HBO's geo-restrictions.
Requirements
Here's what you require before you proceed to unblock HBO NOW in Australia:
1. The most crucial thing you need is a certified VPN client. Since a bad VPN service can impact your network speed, it is recommended to use a trusted VPN service for streaming HBO without buffering. We are going to use IPVanish VPN, which is one of the best VPN services in the industry. They have several VPN servers in the United States, as well as in other countries. Thanks to IPVanish's top-tier service, there's a minimal impact on network speed when you connect to a VPN server. If you are interested, head over to www.ipvanish.com immediately and sign up for a subscription plan.
IPVanish VPN is one of the fastest and secure VPN in the industry. IPVanish is also a secure VPN service that encrypts your internet connection with 256-bit AES encryption. It keeps you protected from network hijackers and cybercriminals. Furthermore, we have managed to get an exclusive 46% OFF deal for TechyBuild visitors!
2. You also have to install the IPVanish VPN client app on your device. It is compatible with a vast range of operating systems, such as Windows, Linux, macOS, Android, iOS, and Chrome OS. It even supports Fire TV devices, which is great if you want to stream on-demand content from HBO NOW on your television. For beginners, IPVanish has multiple setup guides for users. Visit com/setup-guides/ to learn more.
3. A credit card (VISA/MasterCard with international payments) is required for the purchase of the HBO NOW gift card (more on that later). You can also use Amazon Pay or PayPal to complete the payment.
Step 1: Connect to VPN
Assuming that you have installed the IPVanish VPN client on your device and logged in with your IPVanish account with a subscription, you can follow the steps below.
Launch the IPVanish VPN
Click the server picker to expand the drop-down menu, then select the United States.
Finally, click the Connect You will be connected to a US VPN server.
Step 2: Purchase an HBO NOW Gift Card
HBO NOW doesn't allow users to use a foreign credit card for the payment of subscriptions. However, Australians can easily avoid the process by buying an HBO NOW gift card from a reseller. Here's how:
Go to egifter.com from a web browser.
Choose the gift card you want to pay for, then click Buy For Myself.
Scroll down and click Proceed to Checkout.
Now click Continue As Guest, then select your payment method. You can choose to pay with either credit card, Amazon Pay, or PayPal.
Step 3: Redeem the HBO NOW Gift Card
Once you receive your HBO NOW gift card code, you can go through the rest of the steps below for the redeem process.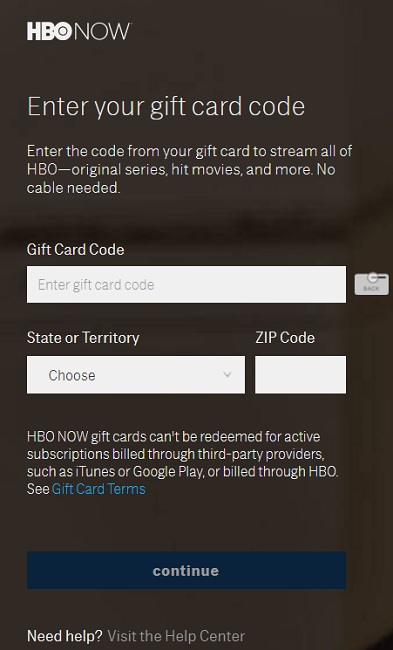 You will have to choose a valid state or territory, as well as a US ZIP code. You can get one from

unitedstateszipcodes.org

. After that, click Continue.
Next, you will have to create an HBO account. Click Create an account, then fill up the fields with your name, email address, password, and the zip code you have previously used. After that, tick the box next to "…HBO Terms and Privacy Policy" and click Redeem.
Once you redeem the gift card, you will be able to access HBO NOW's streaming library. You can now stream as much as you want until your gift card expires. HBO NOW will show you the expiration date at the time of redeeming the gift card.
What Devices Can I Use to Watch HBO NOW?
You can stream HBO Now on several devices, including Android (4.1+), iOS (8.0+), Android TV and boxes (ex: Sony Bravia, NVIDIA Shield), Amazon Fire TV, Roku (2nd gen or later), Chromecast, Apple TV, Samsung Smart TV, PlayStation 4, Xbox One, and many more.
For Windows and macOS, you can use the latest version of Chrome, Edge, Safari, or Firefox web browser to stream from the web version of the HBO NOW streaming service.
However, not every device here will work in your situation since you also need a VPN client on your device in order to access HBO NOW in Australia. In case you own a supported router, you can set up a VPN directly on your router to connect all of your devices to a US VPN server.
What Can You Watch on HBO NOW?
HBO NOW has everything you expect to watch on HBO. Here are some of the most popular HBO shows you can stream: Game of Thrones, Westworld, The Sopranos, The Wire, Watchmen, Chernobyl, True Blood, The Outsider, etc.
Latest Movies, such as Annabelle Comes Home, The Curse of La Llorona, Ma, Shaft, Alita: Batte Angel, Godzilla: King of the Monsters, John Wick: Chapter 3 – Parabellum, and thousands of top-rated movies are available on HBO NOW.
HBO NOW also has sports-centric content in its streaming library, along with hundreds of documentaries and kids content.
Bottomline
In this guide, we have shown you a workaround to watch HBO in Australia. Now that you know the way to bypass HBO NOW's geo-restrictions, make sure to share this guide with others so that they can also access HBO's streaming library without any hassle. If you have any questions regarding the process shown in this guide, don't hesitate to ask us in the comments below.