Hotstar is a popular streaming platform filled with tons of Indian content such as Movies, TV Shows, Originals, etc. As per the copyright stands, only users who are residing in India are allowed to Hotstar and its content on their devices. People who are living in other countries will not be able to access the service even after purchasing a valid subscription. So, basically, Hotstar would identify whether the user is living in the designated country based on which the service will be made available.
There are a lot of popular shows available on Hotstar such as Game Of Thrones, Indian Movies, Originals, etc and it is also the official streaming partner for a lot of sports matches and events. Unfortunately, the service is limited to India only at the moment and people who are traveling outside of India will not be able to access the platform or any of its content. So, if you're living in countries like Australia, Germany, etc, the platform would not allow you to stream its content.
However, the good news is that you don't have to dishearten yourself just yet, there is actually a way to get around this. Yes, you have read it right! Today, in this tutorial, I'll be sharing a guide that would allow you to watch Hotstar in Australia or any other country for that matter. To put it in simple terms, it doesn't matter whether you are living in India, Australia, Germany, etc, you will still be able to stream content on a Hotstar platform without any hassle. All you have to do is perform the steps shared in the below guide and you're all set.
Why Hotstar Is Not Available In Australia?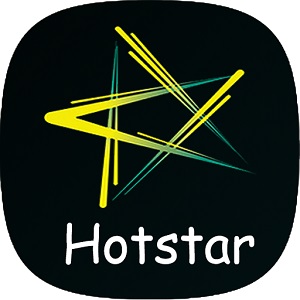 In the beginning, when the service was launched officially, users could access it from any region of the world despite being officially available only in India. However, soon enough the platform went dark outside of India, meaning, users who are living outside of India will no longer be able to access the platform or its service. At present, Hotstar operates only in three countries i,e India, United States, Canada.
Well, based on the way Hotstar is moving and operating in foreign countries, it's possible that the service would be extended to other regions as well in the near future. However, as of now, the service is restricted to the aforementioned countries only, and there's no official word from the company either. As per the copyright standards, Hotstar is permitted to perform the digital distribution of content such as Sports, Movies, TV shows, only in India and the other two countries as of now.
It is not allowed to distribute content over the top outside of the permitted countries due to various copyright reasons. Therefore, Hotstar isn't available in Australia or any other country apart from the aforementioned countries at the moment. But, as stated at the beginning of the article, there is a workaround which will help you in accessing Hotstar in Australia or region you're living in.
How To Watch Hotstar In Australia
Users who are living in India can directly access Hotstar and stream their content without any issues. But, for users who are living in Australia, you need to change the IP address of your device (Android or Computer or Laptop) to that of India in order to watch Hotstar. In order to change your IP address and spoof your location, you will have to rely on a robust VPN (Virtual Private Network) service.
In case if you're new to the VPN term, it's a piece of software that hides and makes your identity completely untraceable on the internet. So, by using a VPN connection, Hotstar would not be able to determine your location and you will be able to access the service without any issues. In the end, it would look like you're accessing the platform from India by using a VPN. Go ahead and perform the below-mentioned steps to get started.
Visit the official website of IPVanish VPN on your device to get started.
Now sign up for an account by entering all the required details on the website.
Download the IPVanish app on your PC or Smartphone or Fire Stick device from the website itself.
Launch the VPN on your device and select India as a server location for the connection.
Within a few seconds, the connection will be active and you will be assigned an Indian IP address.
After the VPN is connected, you will be able to use and stream content on Hotstar on any device.
So, these were the steps that you need to follow in order to get started with IPVanish VPN for streaming content on Hotstar in Australia. You may prefer to go with any VPN of your choice, but I strongly recommend my readers to choose IPVanish VPN over there since it's reliable and trustworthy.
IPVanish VPN is very affordable in terms of pricing and provides high-speed servers compared to other service providers out there in the market. I have personally been using IPVanish for a long time and haven't faced issues with IPVanish VPN so far, it's definitely the best option.
IPVanish VPN is one of the fastest and secure VPN in the industry. IPVanish is also a secure VPN service that encrypts your internet connection with 256-bit AES encryption. It keeps you protected from network hijackers and cybercriminals. Furthermore, we have managed to get an exclusive 46% OFF deal for TechyBuild visitors!
How To Download Hotstar App In Australia
Obviously, you will need to have the HotStar app installed on whatever device you're using such as Android, iOS, Firestick, etc. HotStar has a decided app published in the Google Play Store and App Store for users to download without any hassle. However, if you're living in Australia, then you might not be able to find the app in Google Play Store or App Store due to geo-restrictions.
The steps to download Hotstar App in Australia or any other country except India are as follows.
Open the IPVanish VPN that you may have installed on your device.
Go to the list of servers and select India as a server location to proceed further in the process.
Now you just have to wait for a few seconds for the VPN to connect to an Indian server.
Launch the Google Play Store or App Store on your smartphone and type in Hotstar in the search box.
Simply Tap on the Hotstar app icon in the search results and select the "Install" option in the App Store.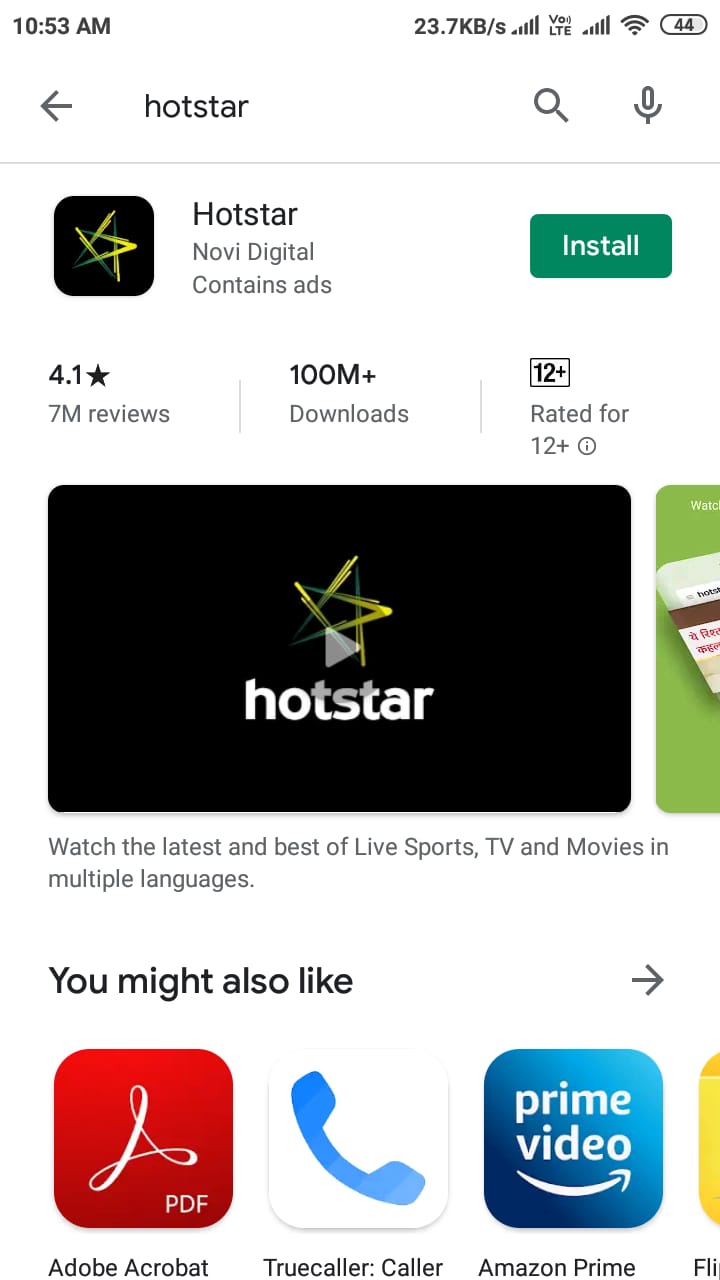 The app will begin to download on your device and will be installed within a few seconds automatically.
After the app is successfully installed on your device, you can launch and start streaming your desired content from Australia. Keep in mind that you should not disconnect or close the VPN app after downloading the Hotstar app. Make sure to let the VPN app run in the background when you're using the Hotstar app on your device.
Hotstar Premium Membership
Hotstar allows its users to stream a limited range of Movies, TV shows, TV channels for free of cost, combined with advertisements. So, under the free plan, you will have access to a small range of channels and on-demand content, but the downside you won't be able to stream in full HD quality and you will be frequently interrupted with advertisements which I find super annoying.
In order to avoid all the interruptions and stream the content in full HD quality, I'd advise you to purchase the premium membership on Hotstar. At present, there are only two plans for the user to select i.e Hotstar Premium and Hotstar VIP. The former is priced higher compared to the latter one, but most of them are equally worth purchasing depending on your streaming preferences. You may take a look at the following to the benefits of the Hotstar Premium membership plan.
HotStar Premium Membership Benefits
Uncut Hollywood Movies and TV shows.
Access to English TV channels such as HBO, National Geographic, Foxlife, etc.
Access to Live Streaming of Cricket and other sport matches.
Unrestricted access to all Indian Movies, TV shows, and Originals.
Completely ad-free streaming in full HD quality on any device.
HotStar VIP Subscription Benefits
The VIP membership is the second offering from Hotstar which is priced lower than Premium subscription. The VIP membership gives you the following benefits.
Ad-free streaming experience in full High Resolution on any device.
Live access to Cricket matches and Formula 1 matches and events.
Access to certain Movies and TV shows
Setup Hotstar Premium Account In Australia
At this point, you might have already realized that you need a premium subscription in order to watch content on Hotstar without advertisements. There is a free plan as well that provides you access to a limited number of movies and TV shows, however, you will have to go through an ad every couple of minutes while streaming. Therefore, it's better to purchase the premium subscription of Hotstar to get full access to Movies, TV shows, Sports, Originals, etc.
There's also a Sport plan available on Hotstar if you intend to stream only Sports content on the platform. Make sure to enable the VPN (Indian Server) before performing these steps. In order to purchase a subscription plan and setup your account, you need to perform the following steps.
Head over to the Hotstar website on your browser or use the Hotstar App to sign up.
Make sure to provide the right details while signing up since you will be asked to verify it later.
Upon creating an account on Hotstar, you need to select a subscription such as Premium, VIP, etc.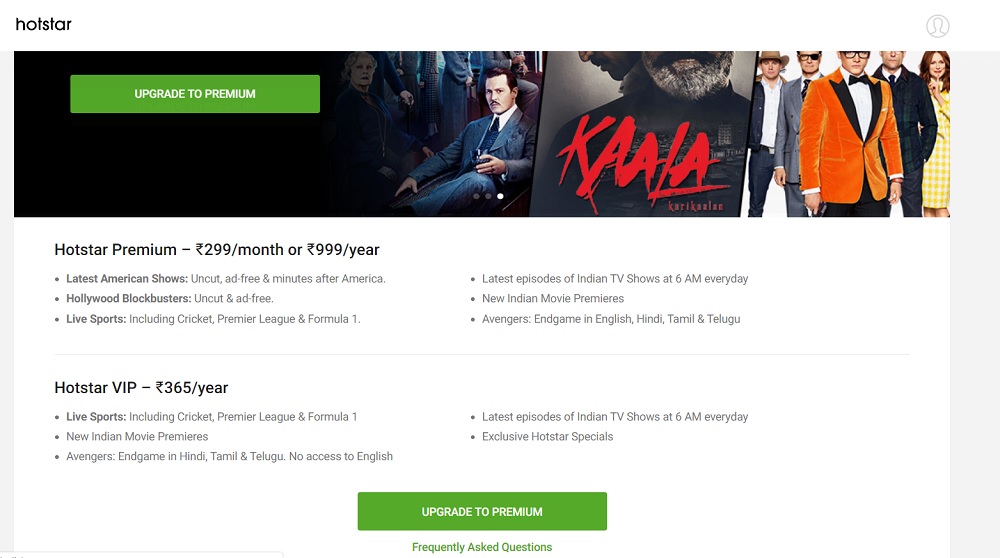 On the next step, you will be asked to enter your payment details and billing address to proceed.
Done! Now you just have to verify your payment details and make the payment to activate the subscription.
Once the payment is successfully done, the selected subscription plan will be activated on your account and you will be able to enjoy all the premium membership benefits right away. At the end of every month, your card will be charged to continue the subscription, you may cancel the subscription and avoid being charged simply by going into your account settings in the app or on the Hotstar website.
Additional Info:- Since Hotstar is limited to India, you will have to provide Indian payment details such as cards issued in India. Credit cards or Debit cards that are issued outside of the country won't work on Hotstar. You may ask your Indian friends ( if you have any) and use their card details to purchase the subscription in your account. Or else you could go to various freelancing sites like Fiverr where you will find gigs to help you with the purchase.
There are a lot of people available on Fiverr who are willing to purchase the subscription in your Hotstar account on your behalf. You just have to provide them your Hostar account login details and wait for the gig owner to purchase the subscription in your account. Of course, the gig owner would charge a fee for this task, but in most cases, the fee is very nominal and won't cost you much.
Conclusion
Hotstar is the perfect option for people who are into Indian Movies and TV shows, the content library for regional content on the platform is vast and probably bigger than any other streaming service provider in India. The steps and guides shared in this article will let you watch Hotstar in Australia and pretty much from anywhere in the world without any restrictions. You just have to make sure that VPN is connected to an Indian server before opening the Hotstar app or visiting the Hotstar website.
In case if you're still facing issues even after connecting to an Indian server, then let me know in the comment section below, I'll be glad to help! That's pretty much for all for this article, enjoy!