The cord-cutting community in Australia has seen major growth in recent years thanks to the availability of subscription-based, contract-free, live TV and on-demand streaming services. However, it is still limited when compared to the cord-cutting solutions in North American or European countries.
One of the best all-in-one streaming services in Europe is NOW TV. Since plenty of British travelers and ex-pats in Australia might be interested in streaming British and American movies and TV shows in their free time, we have prepared this guide so that they can watch NOW TV in Australia.
What is NOW TV?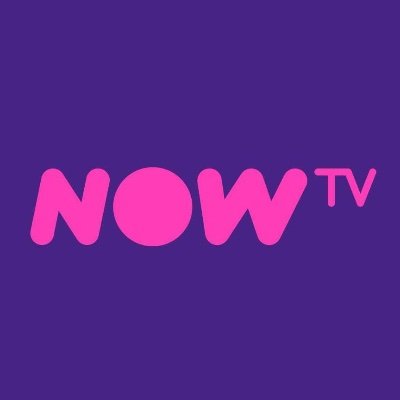 NOW TV is a British subscription-based on-demand streaming service that offers a huge library of premium movies and TV shows. Along with kids' content and live sports, it is an ideal streaming service for cord-cutters. The service is run by Sky, one of the most popular television providers in the UK and several other European countries.
NOW TV offers cord-cutters a variety of TV passes. It includes Entertainment Pass, Sky Cinema Pass, Kids Pass, Sky Sports Pass, and hayu Pass. Here's more about them in details:
Entertainment Pass: Offers 300+ premium TV shows that are broadcasted on Sky Atlantic, Sky One, Sky Witness, Gold, FOX, MTV, Discovery, and many more. It costs £8.99 a month.
Sky Cinema Pass: It includes 1000+ latest and blockbuster movies. The library is updated every month with new movies. The monthly pass is priced at £11.99
Kids Pass: The Kids Pass unlocks over 1000s of kids-friendly TV shows from Sky Kids, Nickelodeon, Nicktoons, Cartoon Network, and Cartoonito. The pass costs £3.99 per month.
Sky Sports Pass: There are multiple Sky Sports Pass available, which are Day Pass (£9.99), Week Pass (£14.99), and Month Pass (£33.99). It gives users access to several Sky Sports channels, including Sky Sports Main Event, Cricket, Golf, Racing, F1, Action, Area, News, and Mix. A mobile-only Month Pass is also available for £5.99. However, it only offers five Sky Sports channels.
hayu Pass: hayu is a standalone on-demand reality television service that offers plenty of American reality TV shows. The hayu Pass brings them separately on NOW TV at a price of £3.99 a month.
The Entertainment Pass is really popular among NOW TV subscribers due to its vast collection of premium American and British TV shows. Shows such as Westworld, Manifest, The Walking Dead, Modern Family, Game of Thrones, NCIS, Grey's Anatomy, SEAL Team, Avenue 5, Hawaii Five-0, The Good Doctor, Chernobyl, and Law & Order: Special Victims Unit can be streamed on NOW TV with the Entertainment Pass.
NOW TV is free of contracts, and you can cancel your pass whenever you live. You can share your NOW TV membership with six family members, and you can stream it on two different devices at the same time. Paying an extra £3 per month alongside your active passes will give you NOW TV Boost, which adds one additional device for simultaneous streams, as well as unlocks 1080p Full-HD and Dolby 5.1 streams.
Why is NOW TV Not Available in Australia?
NOW TV is currently available in a few European countries, which are the United Kingdom, Ireland, Italy, Spain, and Germany. If a user is traveling to another EU country outside the serviceable area, then NOW TV lets the user stream for up to 30 days at a time.
As you might already know, NOW TV is not accessible in Australia. Although you can visit NOW TV's UK website without any restrictions, it won't let you purchase a TV Pass or stream any content. Although we didn't ask any NOW TV associates the same question, the UK-based streaming service is unlikely going to launch in Australia anytime soon.
There are plenty of reasons why NOW TV doesn't give British ex-pats in Australia or other foreign countries access to its streaming services, with copyright and content licensing being two primary constants.
Despite the fact that NOW TV's parent company Sky does broadcast a few Sky channels through Foxtel and Optus' cable TV services, it doesn't independently operate in Australia. As a result, Sky can't roll out NOW TV for Australians yet.
NOW TV isn't the only service that offers on-demand content from major British and American television networks. Popular streaming services in Australia, such as Foxtel also have exclusive streaming rights for TV shows from premium TV providers. NOW TV will have to re-acquire its content streaming licenses separately for Australia, which will cost them a lot of money.
How to Watch NOW TV in Australia?
To prevent foreigners from accessing the streaming service, NOW TV has placed geo-restrictions on its platform. However, it is possible to bypass NOW TV's geo-restrictions, and the process is straightforward as well. You can continue reading to learn more.
NOW TV's geo-blocking scheme checks the user's IP address, then uses geolocation techniques to estimate the location of the user. If the user's geographical location doesn't meet NOW TV's serviceable areas, then the geo-blocking scheme flags the IP address in a blacklist so that the user can't access NOW TV's streaming service.
A VPN (Virtual Private Network) is a universal solution to this issue. It establishes a secure, temporary connection between a private server and the client's network. When you are connected to a VPN, you send and receive data packets from the private server instead of your local internet service provider. So, your ISP won't be able to track your web activities.
Since you are essentially using a private server to request for a website, the website checks for the server's IP address instead of yours. If the server is in another location, then the website will also designate the user to be located in the same geographical location.
With a VPN service, you can connect to a private server located in the United Kingdom to access NOW TV and its on-demand streaming library without being restricted by the geo-blockers. The following steps will show you the way to watch NOW TV in Australia.
Step #1: Get A VPN Subscription
A VPN service will let you unblock not only NOW TV but also several other geo-restricted streaming services. A trusted VPN provider also encrypts your internet connection, so that third-party web and advertisement trackers won't be able to snoop on your web activities.
There are many VPN services to choose from in Australia. However, we will use IPVanish VPN to unblock NOW TV, as it offers unique IPs for its specialty VPN servers. It also offers over 1400 servers in 75 countries worldwide, and their zero-log policy has been verified by many security researchers.
IPVanish VPN is one of the fastest and secure VPN in the industry. IPVanish is also a secure VPN service that encrypts your internet connection with 256-bit AES encryption. It keeps you protected from network hijackers and cybercriminals. Furthermore, we have managed to get an exclusive 46% OFF deal for TechyBuild visitors!
Visit ipvanish.com from your smartphone or PC and click Start Now. After that, choose from IPVanish's reasonably priced VPN plans, create an IPVanish account, and complete the purchase of the VPN subscription.
Step #2: Set Up IPVanish VPN On Your Device
You can set up IPVanish via OpenVPN if you want to. However, IPVanish does offer its secure VPN client for a wide range of operating systems, including Windows, Linux, macOS, Android, iOS, and Chrome OS. IPVanish also has dedicated setup guides for each operating system, which you can follow to download and install the VPN client on your device.
Go to ipvanish.com/vpn-setup/ and check out the setup guide for your device. The log-in process is also described in detail.
Step #3: Connect To A VPN Server In The UK
After you set up the IPVanish VPN client on your device, you are ready to connect to your preferred VPN server. Here's how to do it on PC:
Assuming that you have the client opened already, click the server picker under the client's Home
Choose the United Kingdom from the list of countries. Keep the other options untouched, as IPVanish will connect you to the fastest VPN server available in the selected country.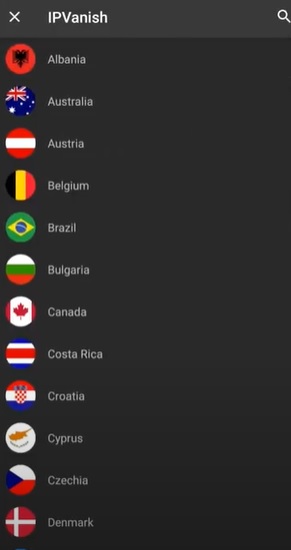 Once you select the correct country, click Connect. It will take a few seconds for the client to establish a secure connection to the server.
Step #4: Sign Up for NOW TV
Now that you are connected to a VPN server in the United Kingdom, you can go through the following instructions below to sign up for NOW TV with an active TV Pass.
Head over to nowtv.com from a web browser on your preferred device.
Click the Join NOW TV option on the upper-right section of the webpage.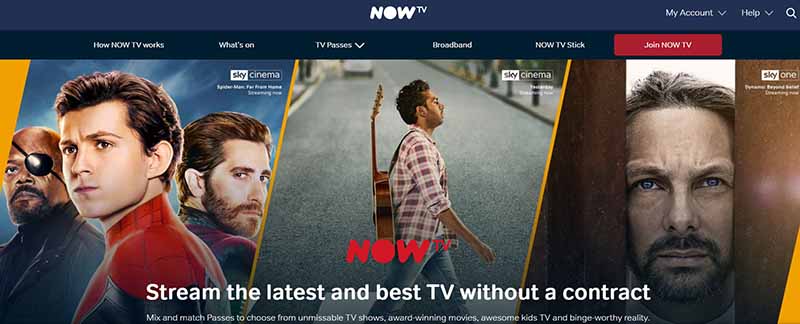 Next, click Add under your required NOW TV passes, then click See your basket at the bottom-left corner of the webpage. You can also click Remove in case you have accidentally selected a pass.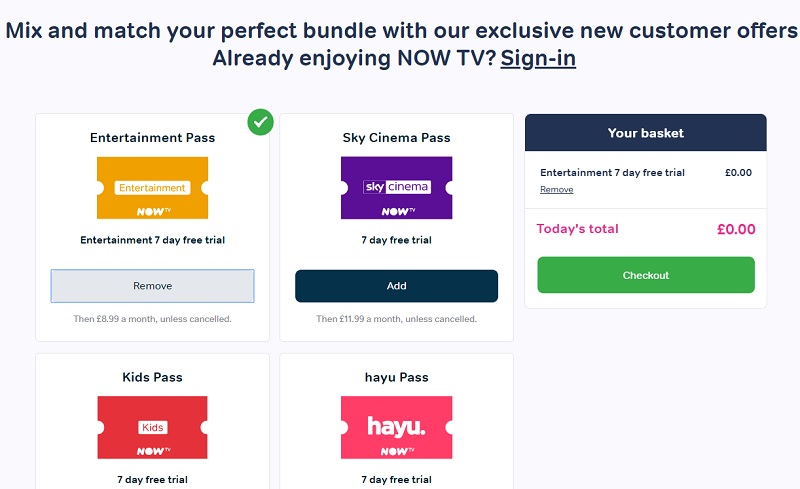 You will be asked to upgrade to NOW TV Boost. You can proceed with either Add to basket or No thanks
After that, review your order and click Checkout on the next page, then click Continue to Checkout once again.
You will be prompted to enter your personal details for NOW TV account creation. Click Next once you fill the form carefully.
Now enter a UK postcode in the required field and click Find address. You can get one from www.ukpostcodes.net. Select an address from the drop-down menu, and click Next.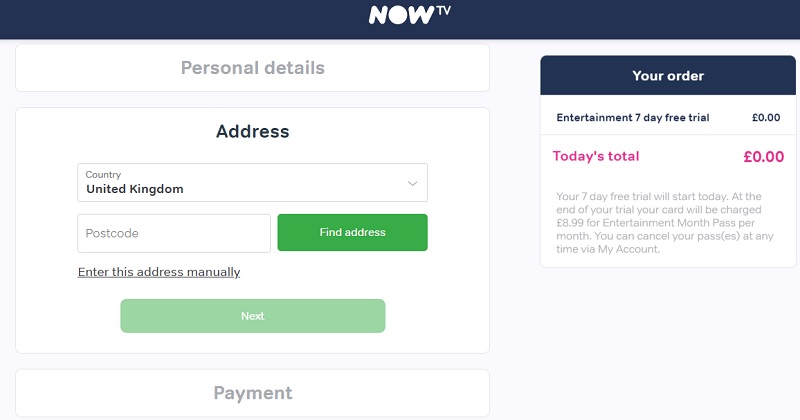 On the Payment page, enter the credentials of Visa/MasterCard/American Express credit/debit card, tick the box next to "I've read and agreed to the NOW TV Terms of Use," then click Start free trial.
Make sure that your card has international payments enabled. Else, your payment method won't get verified during the sign-up process. Also, NOW TV will charge your card after the 7-day free trial expires.
Once your payment method is successfully verified, you will be sent an invoice on your email address. You can now sign in to NOW TV using the email address and password you've previously used in the sign-up process and enjoy streaming premium movies, TV shows, and live sports on NOW TV.
What Devices Can You Use to Watch NOW TV in Australia?
NOW TV is available on a wide range of devices. If you have an Android/iOS powered smartphone/tablet, Windows or Mac device, or Chromecast, then you can watch NOW TV in Australia as long as you are using a VPN service to bypass the geo-restrictions.
NOW TV is also available for Roku devices, Apple TV, PlayStation 4, Xbox One, and Samsung/LG Smart TVs. However, none of these devices has system-level support for VPN services. Unless you set up a VPN on a compatible router or create a virtual VPN router on your computer, you won't be able to stream NOW TV on devices that don't support VPN clients.
Related
Wrapping Up
NOW TV is a great alternative to Optus and Foxtel's streaming platforms in Australia. The service is not only more affordable compared to the competition, but it also offers plenty of premium content on-demand. This guide has everything you need to watch NOW TV in Australia.
Note that using a VPN service to unblock websites is not illegal. In case you want to clear your doubts regarding this topic, ask us anything in the comments below. We would be glad to help you out.