Here in this post, I am writing about the Best Stremio Addons which are working on all the stremio supported platforms including firestick & Fire TV Cube.
Stremio is a multi-platform application that serves as a one-stop destination for media content. On a lighter note, Stremio is actually considered as a counterpart of Kodi, which is probably the most popular and widely used media management application. Over the past couple of months, Stremio has been exploding in terms of popularity and has been gaining a lot of traction in the market. The upward movement in the popularity of Stremio started appearing after a bunch of popular Kodi addon repositories were taken down. Therefore, the majority of the people have started shifting to Stremio, which is quite possibly the closest alternative to Kodi at the moment in the market.
Much like Kodi, Stremio is a media management system which lets users to install official and unofficial Stremio addons or plugins in order to fulfill their streaming needs. Stremio enables the user to stream video content simply by connecting to various source location where the media content is stored.
Using Stremio Addons, you will be able to organize and stream various types of video content such as Movies, TV shows, audio, Video Channels, Live News, etc. The major advantage of having Stremio is the ability to record content while you're streaming and the recorded files will be saved on your cloud storage automatically.
In case if you're saddened with how things have been going with Kodi recently, then Stremio might be the one you should be trying to stream content. In this article, I've put together a comprehensive list of must-try Stremio Addons.
Best Stremio Addons
Stremio in itself is quite great and comes with all the features that are essential for streaming media content. However, you need to provide a reliable source for the software to stream content since Stremio itself doesn't have any content stored on its servers.
Therefore, you need to install addons on Stremio in order to be able to stream your favorite content over the internet. Below is a compiled list of video addons for Stremio that will allow you to watch all the popular and newly released movies, TV shows, Live TV Channels, etc.
Netflix
Netflix is one of the most popular and official stremio addons. There may be a lot of streaming apps available for watching video content over the internet. However, it's quite safe to say that none of them can even come close to what Netflix offers to its members in terms of content and streaming experience.
By having a Netflix subscription, you will have unlimited access to tons of award-winning TV shows, Documentaries, Movies, and Anime show as well. The platform offers an interruption-free streaming experience without having to bother about ads. The best part about Netflix is that it recommends new titles to watch based on your watching history, To summarize in simple, the more you watch on Netflix, the better it gets at recommending TV shows and Movies. You should consider giving it a try if you would like to watch some quality content.
Open Subtitles
Open Subtitles is an official Stremio addon, that helps you in adding subtitles to your Movies or TV Shows. You'll most likely find subtitles for pretty much every movie or TV Show since it's one of the largest subtitles providers on the internet.
Using the Open Subtitles addon, you can browse and add subtitles of different languages such as Korean, Chinese, English, Spanish, etc.
The addon makes it easier to watch international movies and TV shows by providing subtitles. In addition to this, Open Subtitles does not charge anything from users, it's completely free and legal as well. The fact that you can quickly browse and add subtitles in multiple languages without paying anything makes the addon worth mentioning in this list of best stremio addons.
Ex Addon
Ex Addon is mainly used for watching movies and TV shows which are free from copyright and easily available on the internet. If you're the kind of person who loves to watch old classic cult Movies, then Ex Addon would be your way to go.
The addon offers plenty of Movies and TV shows scrapped from publicly available sources, for its users to watch. Ex Addon may not have a vast library of content, but it's fairly good at what it offers. Also, the addon is quite simple to install and doesn't any additional setup to get started. In the end, Ex Addon, may not be the best option, but definitely an ideal choice of option if you would like to watch classic movies in good quality.
D Tube
D Tube, in short, is perceived as an alternative platform to YouTube, which is based on STEEM blockchain. Users will be able to find and watch thousands of videos created by other users on the platform. D Tube is also a good option in case if you would like to make a living out of it. The platform allows anyone to create and share their videos with other users in the community and in return earn rewards in the form of cryptocurrency based on the views. D Tube is a decentralized video sharing platform, which is growing rapidly in terms of user base and content on the internet. Go ahead and install the addon yourself to give it a try. D Tube is also an Official addon for stremio.
Pirate Bay
Pirate Bay is one of the most commonly used torrent sites to download various types of content such as Movies, TV shows, Anime, Songs, etc. Using the Pirate Bay, you will get full access to the database of Pirate Bay on your Stremio app.
The best part about this stremio addon is that you don't have to download torrents manually. In fact, the addon lets you view the media content of any torrent on your Stremio. Pirate Bay addon on Stremio is efficient and less time consuming at the time, since you don't have to browse or download torrents manually. The addon mostly fetches streams that are of good quality and quickly playable.
YouTube
Youtube is one of the best official stremio addons. YouTube probably has to be the largest video sharing platform in the world. Simply because of the sheer amount of videos you can find to watch on YouTube. Based on the recently revealed stats, at least 100 hours of content is being uploaded to the site every minute on average.
On YouTube, there's always a flow of content in the form of videos to watch at any time from anywhere in the world. You'll be able to find all kinds of videos such as Cartoons, Songs, Funny videos, Educational videos, Experimental videos, etc. Since it's a user-generated video-sharing platform, almost all the content you find on YouTube is created and published by content crafters. Apart from simply watching videos, you can also record and upload your own videos to YouTube. And, I don't think I need to mention the fact that YouTube is completely free for everyone!
The addon comes with some limitations like you can not sign in your youtube account so you don't have access to your watchlist and history. You can watch any regular youtube videos but you are not allowed to stream youtube TV content.
Juan Carlos
Juan Carlos is a streaming website that's been providing Movies and TV shows in various categories over the years for free of cost. As you may have guessed it, Juan Carlos is an addon that lets you watch content from the website on your Stremio.
The content library on the website is regularly updated with new Movies and TV shows to keep the content fresh and to make sure you never run out of options to watch. Apart from this, you will find multiple streaming links for pretty much TV show episodes or movies to stream on your Stremio App. Juan Carlos, as an addon is quite promising with its offering. Make sure to install right away if you don't want to miss big time on some quality content to watch.
Popcorn Time
Popcorn Time is one of the well established and popular video streaming platforms on the internet. The popcorn time stremio addon lets you watch good quality movies and TV shows from various torrents sources such as Yify, YTS, etc. Also, you will be able to select your preferred resolution for any Movie or TV show to watch on your Stremio.
Popcorn Time boasts a vast array of content in distinct categories such as Action, Adventure, Drama, Suspense, Crime, Fantasy, etc. If you have something on your mind to watch, then chances are, you'll find it on Popcorn Time. Unlike other Stremio addons, this one is reliable and delivers good quality streams only to its users. There's not really much to complain about Popcorn Time when it comes to the quality of the stream or its content library.
RARBG
RARBG is another well known torrenting site used by millions of users from all around the world. Talking about media content, in particular, the addon features a large number of collections which includes popular movies and TV shows of various categories.
The addon can be used to watch content from other countries as well for free without any restrictions. RARBG addon scraps your requested content in multiple resolutions from the RARBG torrent site and simplifies the way of streaming it since the content is directly delivered to you without downloading it manually.
You can even find 4K quality streams with a bit of luck and effort. The addon is very suitable if you're not concerned about anything but only the quality and range in which the content is offered.
Zoogle
Zoogle isn't an ordinary video addon that streams content from its base website or source. The way Zoogle works is actually quite different from other addons mentioned in this article. You simply need to type your desired Movie or TV show in the search bar, the addon will quickly crawl up the internet and puts up a list of sources where you can watch the content.
The order of streaming sources are arranged from highest to lowest, you can choose any resolution depending on your preference. In short, Zoogle manages to bring all the sources from where the content can be watched in one place. Overall, the addon makes the process of streaming movies or TV shows on your Stremio easy and less troublesome.
Open Videos
Open Videos has been receiving a lot of improvement updates lately, which makes the addon quite reliable. I've decided to mention the addon in this list based on its user interface and the way it organizes the content for the user from various streaming sources.
Well, the addon may not have a large database of movies or TV shows, but it does have a reasonable number of collections which makes it worth trying. The open videos stremio add-on lets you stream some of the most popular and well Movies or TV shows in full high quality for free of cost on your Stremio app.
The addon has got quite a lot of hit titles in its library to offer. There's no additional setup or process is required to stream the content from Open Video addon on your Stremio app. It's simple and straightforward for streaming content over the internet
How To Install Addons on Stremio
The installation process of Addons on Stremio is easier and simpler than Kodi in general. You don't need to wander around repositories to install the addons like Kodi. Simply follow up on the below-mentioned steps to install any addon on your Stremio app in just a couple of minutes.
Open up the Options Menu simply clicking on the three horizontal lines in the top left corner.
Now scroll down a bit and open up the "Addon" option to proceed further.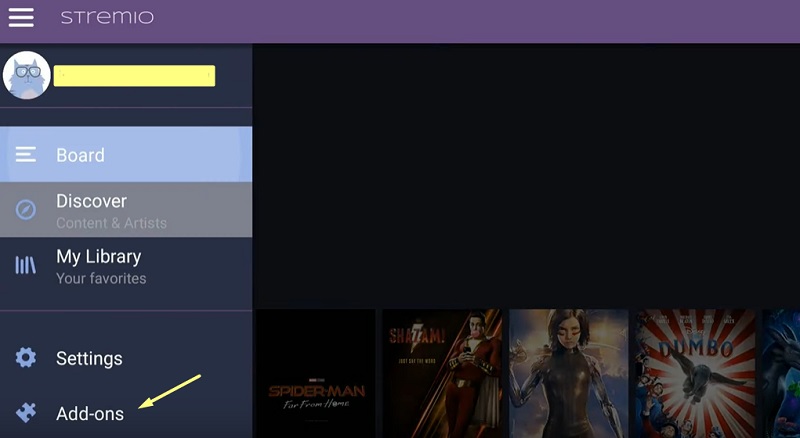 In the drop-down menu, select whether you want to install an "Official" or Unofficial" addon.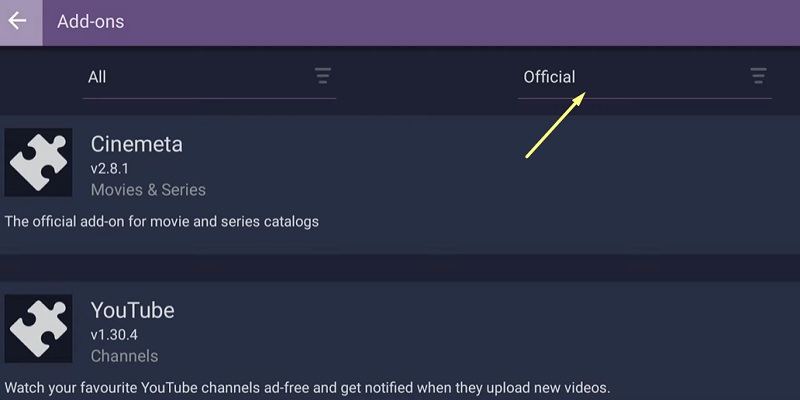 On the next screen, type the name of the addon you would like to install on your Stremio app.
Click on the "Install" option situated right below the addon name to start the process.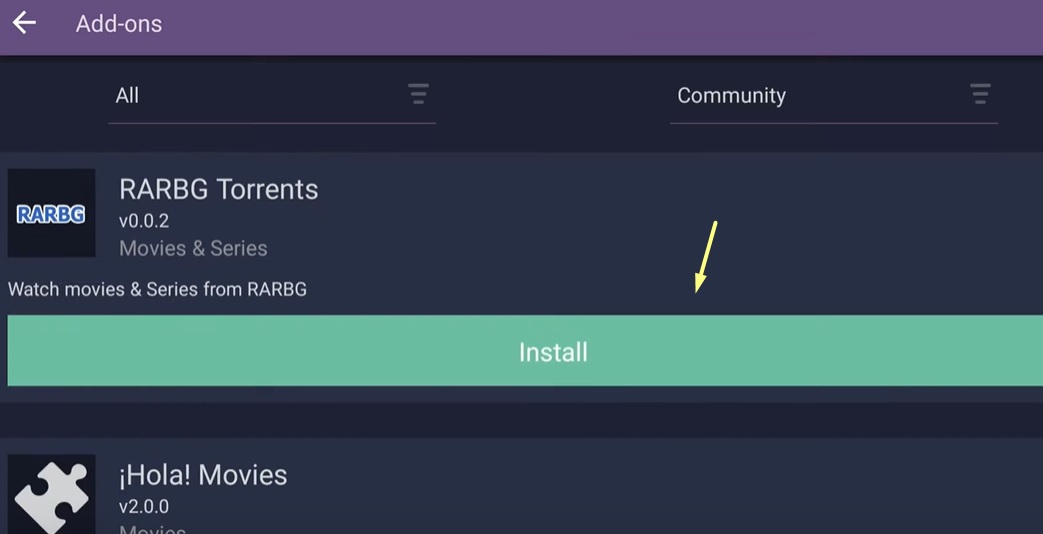 The installation process of the downloaded addon would be carried out automatically. Once the addon is installed successfully, you can start using it. This way, you can install any addon to bring additional features or content to watch on your Stremio app.
Note:- In order to install unofficial Stremio addons, you need to select the "Community" option in the third step.
Also, read – How to Install Stremio on Android TV
Is Stremio Legal?
To be perfectly honest, there's no harm in using Stremio on any of your devices. Stremio itself is quite reliable and legal since the software is not designed or distributed for infringement cases only. Therefore, it's totally safe to use Stremio on any device for streaming content.
However, additional torrent addons can be added on Stremio for watching copyrighted content, which isn't, of course, legal. Since unofficial add-ons let you watch content that is copyrighted for free of cost, it's better to be cautious while using such addons.
Conclusion
The Stremio addons I've shared in this list are quite popular in the area of streaming Movies or TV shows. I personally love watching movies in my free time, therefore, it's likely that I will be updating the list with new addons from time to time. If you've been using an addon that you think is worth mentioning in this list, then let me know through the comments. In case, if you're facing any issues in respect of addons installations, then feel free to reach out to me.