Are You Looking for a guide that helps you to Watch HBO in Germany? If yes, then you came to the right place as in today's article, I will show you a step-by-stey guide to get HBO subscription in Germany.
HBO's original programming has some of the best TV series to offer. Following the recent trend in cord-cutting, HBO's step to the online streaming market has also been quite beneficial for the fans worldwide, considering that there are over 140 million people that have spent millions of hours watching HBO shows online.
But, there are very few streaming solutions in Germany that offer HBO content under an affordable subscription tier. HBO's official streaming service, HBO NOW is also not open for Germans yet.
As a lot of cord-cutters in Germany don't have access to online HBO content yet, we have covered the most effective workaround to watch HBO in Germany. Keep reading this guide to learn more.
Which Service Should You Use to Watch HBO in Germany?
If you haven't already searched for streaming services that offer HBO content on the web, currently there are two official services that show up on the top of the search results, which are HBO GO and HBO NOW.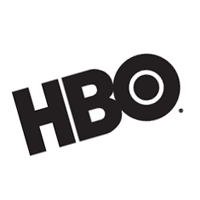 You might wonder whether there are any differences between HBO GO and HBO NOW. Actually, there isn't much to discuss except the fact that the log-in process is quite different.
First, let us break down the similarities between HBO GO and HBO NOW. Both of HBO's on-demand streaming services offer the full seasons of HBO's original TV shows, as well as blockbuster movies, specials, and documentaries. Both of the services also let users stream HBO content on up to three devices at the same time. The standalone HBO GO and HBO NOW apps are available for a wide range of devices too.
But, HBO GO requires users to sign in with their cable TV provider, only if they pay for the option HBO network add-on separately along with the monthly subscription package. The list of TV providers includes Altice Once, Atlantic Broadband, Cox, AT&T TV, Fios, Spectrum, AT&T U-verse, Xfinity, and hundreds of other regional cable services.
Coming to HBO NOW, it works as a subscription-based on-demand streaming service, unlike HBO GO. HBO NOW's monthly subscription only costs $14.99, and it won't ask you to sign in with a cable provider.
Since HBO is also available as a premium add-on on Hulu and Amazon Prime Video, existing subscribers can also sign in to the HBO NOW app with their Hulu or Amazon account credentials.
If you live in Germany, then HBO NOW is your only choice since none of the cable TV providers that you can sign in to HBO GO with, offer their service outside the United States.
Why is HBO NOW Inaccessible in Germany?
HBO NOW is unavailable for Germans and foreign ex-pats in Germany. If you visit hbonow.com right now, you will encounter an error message that says, "Not in service area. HBO NOW is only supported in the U.S. and certain U.S. territories."
HBO's reasoning for not providing its HBO NOW streaming service outside the United States is unknown. It probably has to do with the streaming rights to a specific region, which is the United States.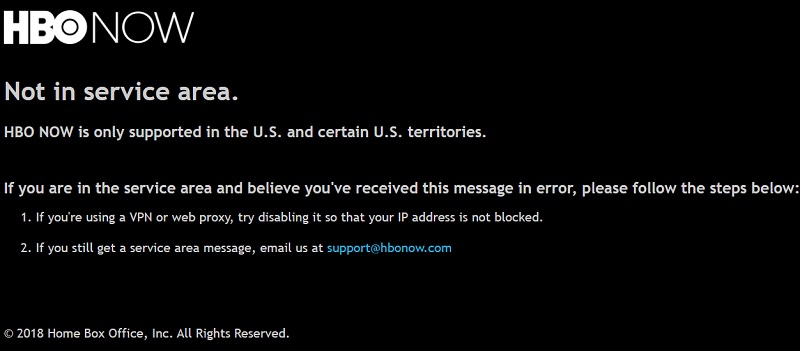 For the record, HBO offers its content to several European on-demand content providers, such as Sky, Rakuten TV, Videoload, as well as first-party streaming platforms like Amazon Video, iTunes, Google Play, Microsoft Windows, Xbox, and many more. However, only a few of them offer unlimited HBO content under a single subscription fee.
HBO's laidback approach to distributing its original programs separately is nothing but an attempt to make more money from its existing content licensing partners.
But, the situation will change when HBO finally rolls out its new streaming service, HBO MAX, in several parts of Europe. The service is expected to launch in May 2020 this year, starting with the United States, and then Latin America later this year. Former HBO NOW subscribers will be migrated to HBO MAX as well.
Unfortunately, HBO MAX is scheduled to launch next year in Europe, which is a huge disappointment for European HBO fans. Since not everyone has the patience to wait a year to binge-watch some of the best TV series of all time, we will show you how to access HBO NOW in Germany in the next section.
How to Watch HBO NOW in Germany?
Similar to Netflix, HBO NOW also has geo-restrictions, so that people outside the serviceable area can't access HBO NOW's streaming library. The easiest way to bypass geo-restrictions is to connect to a VPN, which stands for Virtual Private Network. When stated in simple language, a VPN forms a virtual network layer above your existing network connection, which then connects to a server hosted somewhere else. The connection between the client and the server stays encrypted throughout the session so that the transmitted network packets are not exploited by random disconnections or other reasons.
Since the server takes your connection requests instead of your local DNS server, the websites you visit see the server's IP address instead of the one provided by your ISP. Because of how geolocation protocols work, your location will also be replaced by the VPN server's location.
In conclusion, you can use a VPN to change your location literally anywhere you want, as long as your VPN provider has a server hosted in your preferred location. To access HBO in Germany, you simply connect to a US VPN server, which we will show you how.
IPVanish VPN is one of the fastest and secure VPN in the industry. IPVanish is also a secure VPN service that encrypts your internet connection with 256-bit AES encryption. It keeps you protected from network hijackers and cybercriminals. Furthermore, we have managed to get an exclusive 46% OFF deal for TechyBuild visitors!
Prerequisites
In order to unblock HBO NOW in Germany, here are a few things you need before following the main steps.
The first thing you require is a VPN client. Although it solely depends on your preference, we would strongly advise you to get an IPVanish VPN subscription. It not only offers the fastest VPN servers across the world, but it also provides industry-leading encryption to protect your personal information from cybercriminals. IPVanish also has dozens of VPN server hotspots in the United States, and you get enough bandwidth to stream HBO content in Full-HD (1080p) or even Ultra-HD (2160p) resolution. Visit Ipvanish.com right now to grab your VPN subscription.
Go to

ipvanish.com/setup-guides/

 and follow the instructions for your operating system to download and install the IPVanish VPN client on your device. IPVanish offers standalone clients for several operating systems, including Windows, Android, Linux, iOS, macOS, and Chrome OS. Support for Amazon Fire TV is also there, in case you want to stream HBO NOW on your Fire TV.
The last thing you will need is a Visa or MasterCard-supported credit card, which also works for international payments. It's a mandatory requirement. Otherwise, you won't be able to pay for the HBO NOW gift card. Alternatively, you can use PayPal, Amazon Pay, or cryptocurrencies to purchase the gift card.
Step #1: Connect to a VPN Server in the US
If you have carefully followed IPVanish's setup guide to install and sign in to the VPN client with your IPVanish account, execute the following steps as required.
Start with launching the IPVanish VPN app on your device.
Next, click the server picker and select the United States option from the drop-down menu.
Click Connect and wait until you are successfully connected to IPVanish's United States VPN server.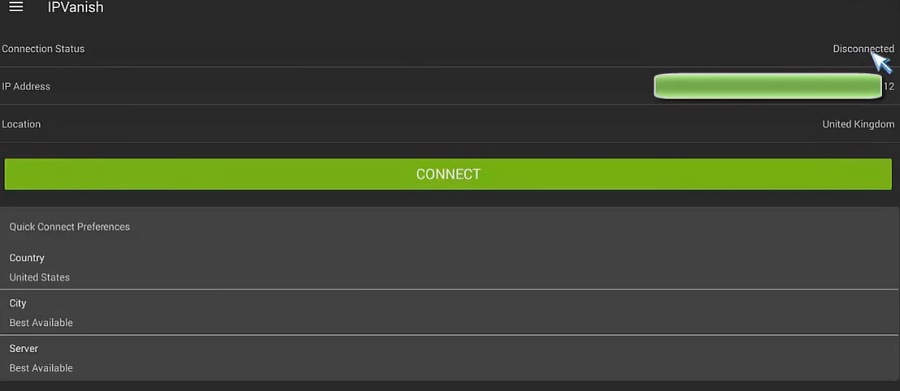 Step #2: Buy an HBO NOW Gift Card
As HBO NOW blocks foreign credit cards, you can't complete the payment for HBO NOW subscription. However, you can buy an HBO NOW gift card for yourself from an e-commerce website or a reseller. If you can't find one, then follow the sub-steps below.
Open up a private or incognito window in a web browser and go to eGifter website
Now select your preferred gift card balance and click Buy For Myself.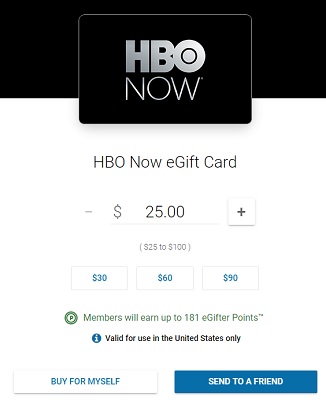 After that, navigate down to the webpage and click the Proceed to Checkout
Once you review your HBO NOW gift card purchase, click Continue as Guest.
Select your payment method and fill up your billing information. Make sure to enter your email address carefully, then click Checkout Now.
Step #3: Redeem Your HBO NOW Gift Card
Assuming that you have followed all the previous steps and received your HBO NOW gift card code, it's time to redeem it. Here's how:
Go to hbonow.com/gift and enter your gift card code in the required field.
Enter a United States ZIP code and select your state or territory according to it. (Visit unitedstateszipcodes.org if unsure)
Now you will have to go through the account creation process. Proceed with Create an account, and fill-up the form as required. Try to use the same ZIP code that you have used to redeem the gift card.
Finally, check the box next to "…HBO Terms and Privacy Policy" and click the Redeem
Upon redeeming your HBO NOW gift card, you will be signed in to the HBO NOW service automatically. Until your subscription expires, you will be able to stream unlimited content from HBO NOW.
Which Devices Can You Use to Watch HBO NOW in Germany?
Unless you have the supported hardware or the experience to set up VPN services on a router, you won't be able to stream HBO NOW content on all the officially supported devices.
Devices that are compatible with the VPN client you are using to unblock HBO NOW will work perfectly fine. It includes all the devices powered by Windows, Linux, Android, macOS, iOS, and Fire OS.
Before you visit hbonow.com or launch the HBO NOW app on your device, don't forget to connect to a US VPN server. Else, HBO NOW will stay blocked for you.
What Can You Stream on HBO NOW?
Once you get your hands on HBO NOW's streaming library, you have unlimited access to hundreds of quality HBO originals, as well as the latest movies and award-winning documentaries.
Some of the binge-worthy HBO shows include but are not limited to Westworld, Game of Thrones, Watchmen, Succession, Curb Your Enthusiasm, True Detective, Chernobyl, Barry, The Outsider, Avenue 5, etc.
Stream quality goes up to 1080p only. Note that you don't get 4K streaming or HDR playback with HBO NOW.
Also, see:
Final Words
Until HBO fans in Germany wait for the launch of HBO MAX next year, you can follow this guide to stream your favorite HBO shows via HBO NOW using a VPN. If you have additional questions regarding IPVanish VPN or the unblocking method, leave it in the comments below. We will reach out to you with an appropriate reply.