In this guide, I will explain how to watch Youtube TV In Canada with 4 simple steps. Read on to learn how.
Online subscription-based live TV streaming services have become the most affordable solutions for cord-cutters in recent years. Although the services still have room for improvement, it is mature enough for users to justify switching from a standard cable TV connection.
YouTube TV is considered to be one of the best live TV streaming platform out there, and for good reasons. The availability of 70+ live channels and YouTube's years of dominance in the streaming world is more than enough to justify its $49.99 monthly subscription.
However, not everyone has access to YouTube TV because of its exclusive availability in the United States. For our Canadian readers, we have shown a possible workaround in this guide to watch YouTube TV in Canada.
What is YouTube TV, and Where is it Available?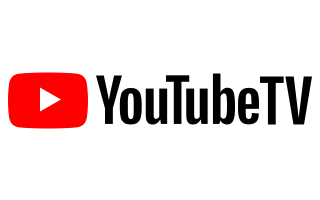 YouTube TV is an OTT live TV service focused on delivering a seamless cord-cutting experience. Popular local American channels, such as ABC, CBS, FOX, and NBC can be watched via YouTube TV. Plenty of sports channels are also accessible through the service, including CBS Sports, ESPN/ESPN2, FOX Sports, FS1/FS2, MLB Network, NBA TV, NBCSN, YES, and many more.
With the addition of unlimited cloud DVR storage and three simultaneous streams, YouTube TV's $49.99 monthly subscription is an absolute bang for the buck.
Since almost every channel on YouTube TV is from major American television networks, the service is limited to the United States only. Due to the geo-restrictions, neither Canadians nor other foreign audiences can access YouTube TV.
Also, Read Our Youtube TV Review
Why YouTube TV is Not Available in Canada?
Because of the licensing agreements between television networks and YouTube TV, the limited distribution rights become quite obvious. Hence YouTube TV is accessible only in the United States.
Another reason why YouTube TV is unavailable in Canada is the audience. American shows may or may not appeal to every Canadian, especially when almost every channel on YouTube TV is sourced out from US-based television networks.
How to Get YouTube TV in Canada
Getting YouTube TV in Canada requires cord-cutters to go through a tedious process. But if you are patient enough, stick with us and we will show how you can watch YouTube TV in Canada.
YouTube TV uses geo-blocking technology to restrict foreign users from accessing its services. The geo-blocker identifies your current location by your IP address. Then it lists your IP address in a blacklist and stops you from using YouTube TV.
A VPN, or a Virtual Private Network, can help you overcome this issue. In simple words, It is basically a network layer that wraps around your current network connection. A VPN encrypts your data and passes it through a single or multiple private DNS (Domain Name System) servers, creating a secure virtual pipeline between your network and a privately-hosted network.
When using a VPN service, the data that you request comes through a secure DNS server, which means that your web activities are completely anonymous. Other than that, a VPN emulates a virtual IP address for your session, and it is one of the most effective ways to bypass geo-restrictions.
IPVanish VPN – Most Reliable VPN in the Industry
IPVanish VPN is one of the fastest and secure VPN in the industry. IPVanish is also a secure VPN service that encrypts your internet connection with 256-bit AES encryption. It keeps you protected from network hijackers and cybercriminals. Furthermore, we have managed to get an exclusive 46% OFF deal for TechyBuild visitors!
Requirements
You can use a VPN service to get around YouTube TV's geo-blocking system. For YouTube TV to work, you won't necessarily have to connect to a specialized VPN server to access the service, unlike Netflix. You also need some additional things as well. Here are the requirements:
1) The first thing you need is a VPN subscription from a trusted VPN provider. We will use IPVanish VPN for the process simply because of the security and reliability it provides. Visit IPVanish.com to register for an account, then pay for your preferred subscription plan.
2) A PayPal account is needed for YouTube TV's payment process. You can get away by using your VISA or MasterCard credit/debit card with international payments enabled. However, it might detect your country and cancel the payment. A PayPal account guarantees 100% succession, so visit paypal.com and sign up for a PayPal wallet.
Note: Existing PayPal users won't have to follow this step.
We recommend you use the Google Chrome web browser on your PC for the whole process. In case you don't have it installed, go to google.com/chrome/ and follow the on-screen instructions to download and install it on your Windows or Mac PC.
Step 1: Install IPVanish VPN
After signing up for an IPVanish subscription, you will be asked to install the IPVanish VPN app on your device. You can also go to ipvanish.com/vpn-setup, choose your device's operating system, then download and install the IPVanish VPN app.
Step 2: Sign In to IPVanish
Once you manage to install the IPVanish app, launch it, and sign in using the same email address and password you used to sign up for the IPVanish account.
Step 3: Connect to United States VPN Server
After logging in to the IPVanish app, choose the United States from the drop-down menu, then click Connect. In a few seconds, you will be successfully connected to a VPN server in the US.
Step 4: Sign Up For YouTube TV
Open a new tab in the Google Chrome browser and visit tv.youtube.com, which is YouTube TV's official website. Now follow the rest of the steps below.
Click Sign In on the top-right corner of the website.

Sign in with your Google account (Assuming that you already have one).
Now click Let's Go, enter an American zip code, and click Submit. Carefully choose your zip code since the availability of specific channels are subject to the area. From the home page of tv.youtube.com, you can check whether the channels you are looking for is available or not on specific zip code.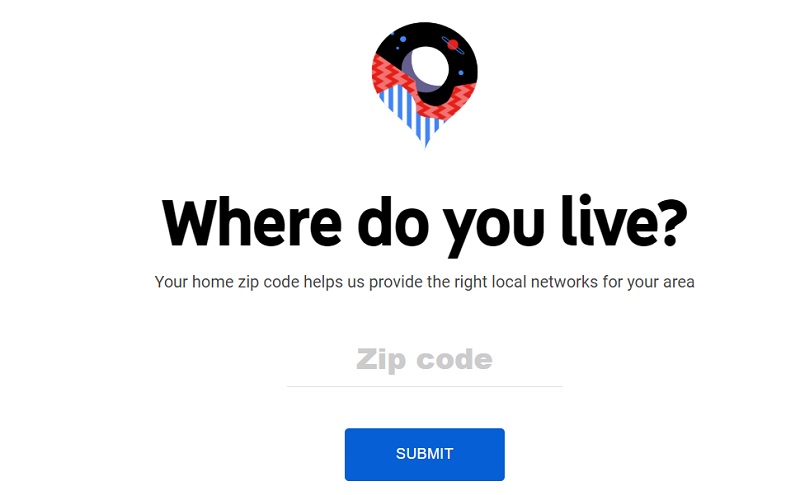 After that, click Start Free Trial, then proceed by clicking Next.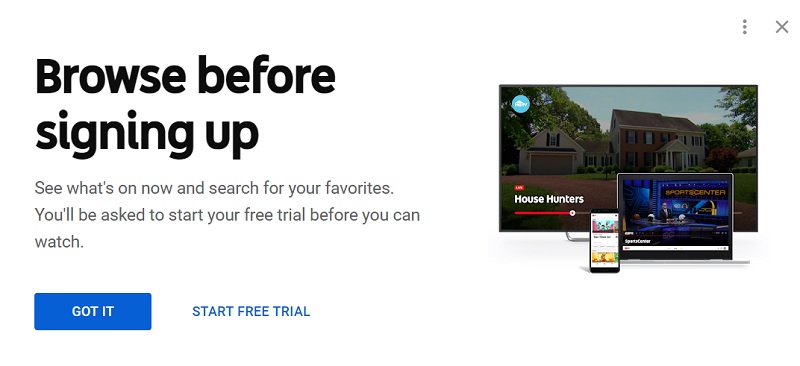 YouTube TV will ask you to add optional networks with your subscription. Tick the box next to the add-ons you want, or skip it and click Next.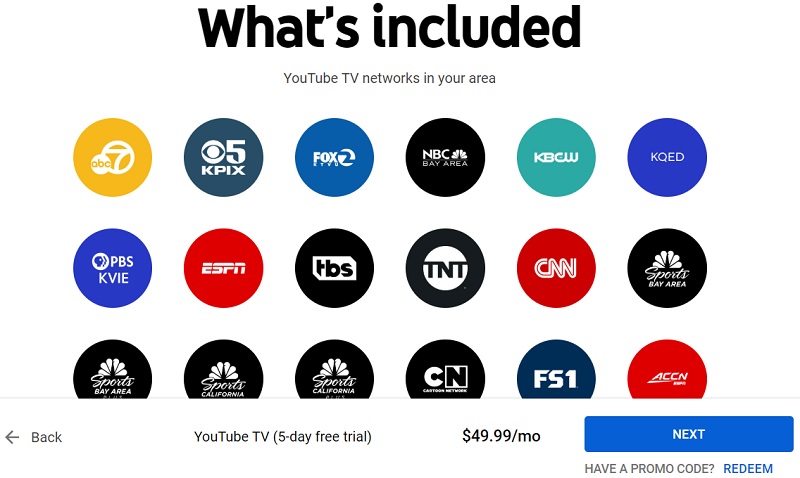 You can now select PayPal as your payment method, then click Buy to complete the payment for the subscription.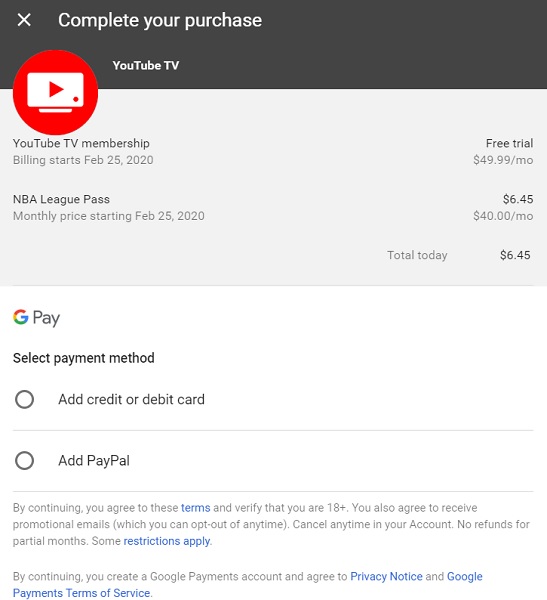 Note: Try to use a Delaware address as your billing address. It is a tax-free state, and you won't have to pay taxes over your current $49.99 YouTube TV subscription.
Enjoy YouTube TV in Canada or Outside US
Now that you have a YouTube TV subscription, you can start watching your favorite American TV channels live without any issues. Whether you are on Android, iOS, Chromecast, or Fire TV, you can access YouTube TV on your device as long as you are connected to a VPN server in the United States.
Remember that you will have to install the IPVanish VPN app on a compatible device in order to connect to a US VPN server.
Finishing Up
This guide covers a complete set of instructions for watching YouTube TV in Canada. To get YouTube TV working, you definitely have to jump through a lot of hoops. But on a positive note, the process is guaranteed to work not only in Canada but also in other countries as well.