Although India is still considered to be a developing country, we have seen significant maturity of 4G internet infrastructures. This has led to rapid growth in Internet users in India, which is currently topping out at 560 million. If the graphs still follow, the user count will be over 600 million by 2021.
As a result, streaming services got the chance to grow among Indians, which includes Netflix, Amazon Prime Video, Hotstar, and other regional streaming services.
One thing that Indian audiences still miss out is Hulu. It has some of the best original programmings to offer. However, Hulu's availability is limited to the United States only.
If you don't want to step on the path of piracy and looking for a legitimate way to watch Hulu in India, then you should definitely take a look at this guide.
What is Hulu?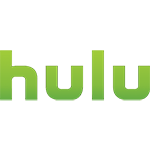 Hulu is a subscription-based VOD (video on demand) service that is majority-owned by The Walt Disney Company. At the time of this writing, Hulu has managed to capture over 30 million subscribers in the United States.
Some of the award-winning Originals in Hulu's streaming library are The Handmaid's Tale, The Act, Harlots, Dollface, Veronica Mars, Light as a Feather, Castle Rock, Marvel's Runaways, Letterkenny, UnREAL, Future Man, and dozens more.
Hulu also has sourced out popular TV shows from several American television networks, including ABC, FOX, NBC, Adult Swim, Comedy Central, Freeform, etc. Shows such as Grey's Anatomy, How I Met Your Mother, Brooklyn Nine-Nine, The Good Doctor, The Bachelor, Law & Order: Special Victims Unit, Rick and Morty, South Park, and My Hero Academia can be streamed on Hulu. Hulu even offers hundreds of on-demand movies in its streaming library.
Why Can't You Watch Hulu in India?
Since its launch, the United States is the only country where Hulu has offered its streaming services. Even after Disney's acquisition last year, Hulu's global rollout hasn't been confirmed yet.
It is possible for Indian users or American travelers to access Hulu's streaming library from hulu.com. However, it doesn't let you play any content unless you are in one of Hulu's serviceable areas in the United States.
This is definitely due to the licensing agreements between Hulu and content providers. In general, Hulu never quite had the chance to expand its business in other countries.
Another reason why Hulu is not available in India is Hulu's content. A big streaming service like Netflix has the subscriber count and revenue produce content for targeted audiences, whereas Hulu is only intended for Americans only.
Shows such as The Handmaid's Tale are mature enough to be interesting among the general American audiences but also sensitive enough to be broadcasted in India without proper censoring and discretion.
However, that shouldn't stop millennials from watching an Emmy award-winning show. Although Hulu doesn't have the permissions to distribute its licensed content outside the US, there's a simple workaround to watch Hulu in India, which we have explained in detail below.
How to Watch Hulu In India?
Although Hulu does limit foreign users from streaming on-demand content, it doesn't enforce any specialized geo-blocking method, unlike Netflix. It is possible to use a VPN service to get past Hulu's geo-blocking. It is an effective way to bypass regional restrictions on all sorts of websites and streaming services.
For those who don't know, a VPN service allows you to securely connect a private server in a different location, which will then work as a passthrough for your requested data packets instead of your local DNS server. This not only hides your real IP address but also changes your geographical location from web trackers.
Interested users in India can connect to a VPN server in the US using a VPN service, then stream content from Hulu in India without any further restrictions.
IPVanish VPN is one of the fastest and secure VPN in the industry. IPVanish is also a secure VPN service that encrypts your internet connection with 256-bit AES encryption. It keeps you protected from network hijackers and cybercriminals. Furthermore, we have managed to get an exclusive 46% OFF deal for TechyBuild visitors!
Requirements
To watch Hulu in India, here are some things you will require:
Get a user subscription from a reliable VPN service. IPVanish gets a strong recommendation from us simply because of its affordable plans and 1300+ secure VPN servers in 75+ locations worldwide. If interested, you can go to ipvanish.com to get your IPVanish VPN subscription.
You will need a device that is officially supported by the VPN client. IPVanish VPN works flawlessly with several devices, including the ones that run Android, iOS, Windows, macOS, Linux, Chrome OS, and the Fire TV OS.
A PayPal account will be needed in case you don't have a credit or debit card that supports international payments.
1. Download IPVanish VPN Client
Head over to ipvanish.com/vpn-setup/, choose your device's operating system and follow the on-screen instructions to download and install the IPVanish VPN Client on your device.
2. Log in to IPVanish VPN
Launch the IPVanish VPN client after the installation, then log in your with your IPVanish account. Make sure to check your email for the verification message if needed.
3. Connect to the VPN Server
After logging in to VPN, click to expand the drop-down menu for countries, select the United States from the list, and then click Connect. Shortly, you will be successfully connected to the VPN server.
You can also manually choose a location in the United States, but it's best if you let IPVanish decide for you and pick up the best VPN server in the US.
4. Create a Hulu Account
Now that you are connected to a VPN service, open up a new tab in your preferred web browser to visit hulu.com, and follow the step-by-step instructions below.
First, click on Start Your Free Trial.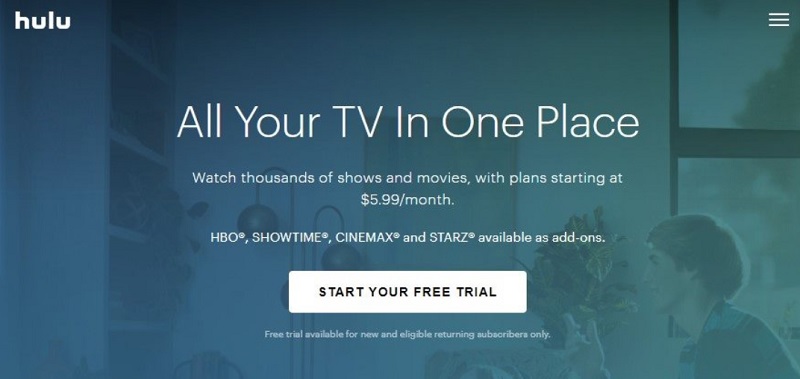 You can choose between Hulu's ad-supported plan ($5.99/mo) or the ad-free plan ($11.99/mo). Click Select under your preferred plan.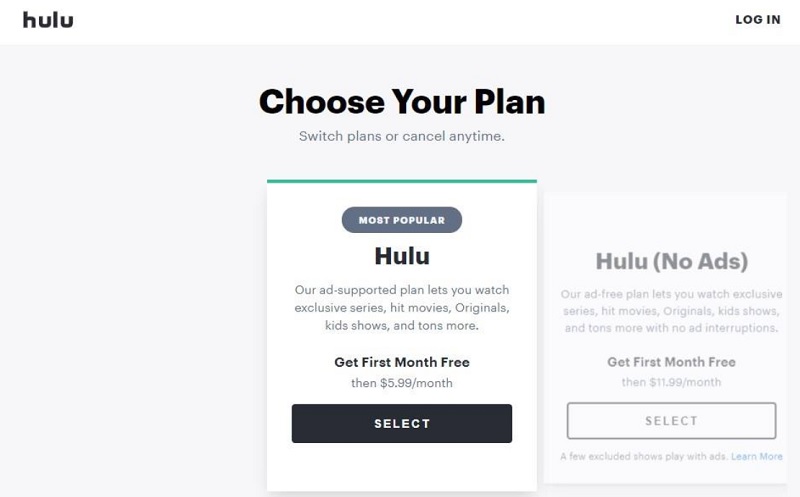 Now fill up the respective fields with your email address, name, birth date, and gender. You should use a strong password with at least six characters. Click Continue to proceed.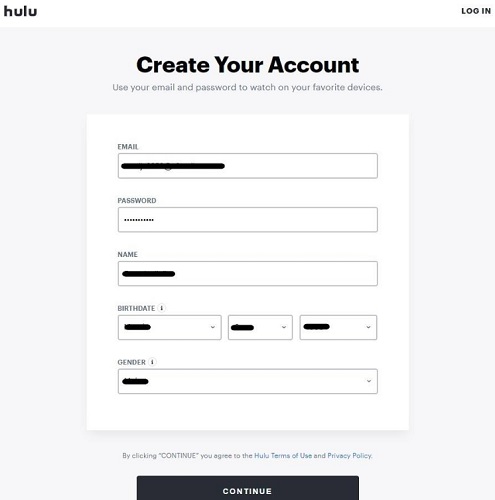 Hulu will ask you to add your billing information. You can either use your VISA or MasterCard credit/debit card or purchase the subscription with your PayPal We advise you to use your PayPal account instead, in case Hulu cancels your subscription based on your credit/debit card's region.
After selecting PayPal as your payment method, click Continue to PayPal and complete your payment. Please use a US address and zip code in your billing info, which you can easily search up on Google.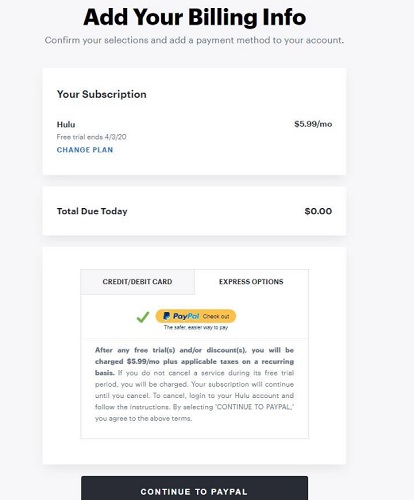 5. Log in to Hulu
After you successfully create a Hulu account and get a Hulu subscription, you will be asked to log in to your Hulu account. Enter the email and password you used to sign up for Hulu, then click Log In.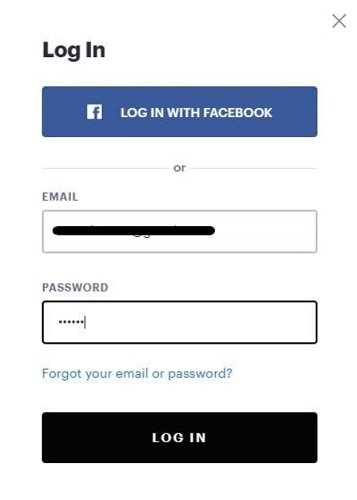 6. Enjoy Hulu
That's it! You now have unlimited access to Hulu's on-demand streaming library, including movies, TV shows, and Hulu Originals. As long as you are connected to the VPN server, you won't have any issues with streaming Hulu in India.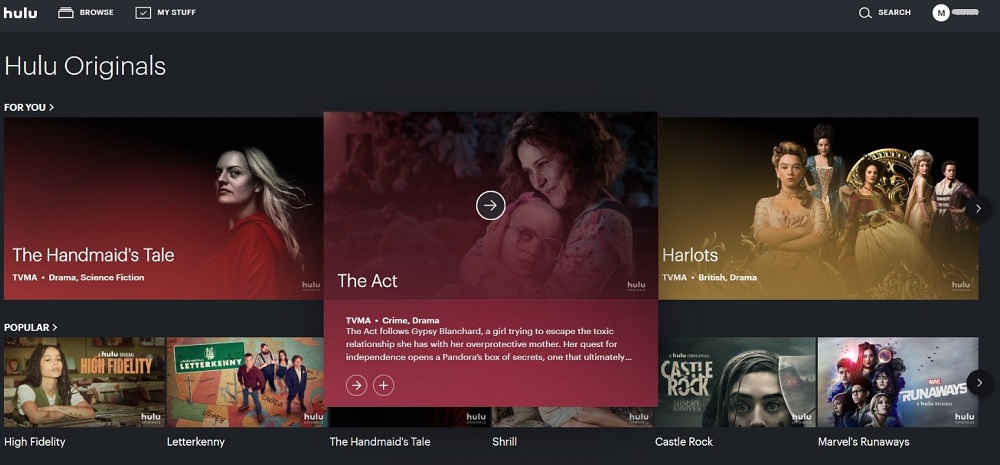 What Devices Can I Use to Watch Hulu?
In India, you can use an Android/iOS smartphone or tablet, Chromecast, Firestick, as well as Android TV, and Android TV boxes.
Although Hulu is supported on several other devices, we also have to consider the compatibility for VPN clients. All the devices mentioned here support IPVanish VPN since the operating systems can automatically designate a VPN connection without additional network configuration.
Related – How to Watch Hulu in Canada
Final Thoughts
This guide covers everything you need to know to watch Hulu in India. It is written in simple words so that it's straightforward for you to follow. Still, if you are unsure about something specified in this guide, feel free to ask us in the comments below.