In this guide, I'll be providing some basic details and installation process of IPTV Smarters for Windows PC. It's a new but one of the most trending IPTV streaming app and working great on PC and Firestick. If you are PC user and willing to install IPTV Smarters pro on your Windows PC then you should definitely check our below article.
Internet Streaming has become a popular trend among people with Android devices. Nowadays, people don't actually rely on traditional cable Tv service providers to watch Movies & Tv Shows. In case, if you wonder why, it's simply because the perks of Internet Streaming are comparatively more than watching Tv shows and Movies on your Television. Therefore, quite a lot of users find it wise to stream their desired content rather than waiting for it to be aired on Television.
But, since not everyone would like to watch movies and Tv shows on their small-sized smartphone. Hence, we've been noticing a lot of people searching for ways to install their IPTV applications on PC in order to watch movies and Tv Shows on a bigger screen. In Today's article, we're going to share an easy guide on how to install IPTV smarters for Windows PC or Mac OS-based PCs.
What is IPTV Smarters App?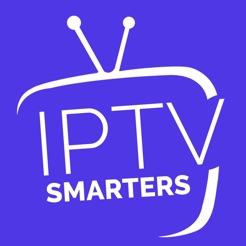 Here's a little trivia in case if you didn't know about IPTV based applications such as IPTV Smarters app. To put it in short, IPTV smarters is an Android app which allows you to stream content (Video & Audio) over the internet from your cloud account or source location. Users will be able to watch Live Tv Channels, Movies and stuff on their Android device, provided that they have a playlist added in the app.
You will need to load an m3u playlist file or insert the link for the App to start streaming on your Android device. It depends as to what you can watch or stream depending on the Playlist or link you've added in the app, such as Movies, Tv Shows or Live Tv Channels. Basically there are two versions of the app 1)IPTV Smarters and 2) IPTV Smarters PRO.  I am using the first one and going to provide the installation guide for the same but you can use the same process to install the IPTV Smarters pro For Windows PC.
Also, Check – How to Install Live NetTV For PC
Features of IPTV Smarters on PC
Before we jump into the guide, let's take a brief look on the features that you would be getting in the free IPTV Smarters App.
Powerful and robust in-built Media Player for streaming content.
Stream Movies & Tv shows simply by adding Xtream Codes API.
Comes with easy parental control facility to restrict the content.
Attractive layout and super user-friendly interface for navigation.
Dynamic Language features to switch language anytime during a stream.
Added support for embedded subtitles of multiple languages.
Watch or Stream your desired content in its native resolution.
The above list of features must have given you enough reasons to try out the IPTV Smarters App on PC. So, now let's go ahead and dive into the guide straight away.
How To Install IPTV Smarters For Windows
To download & Install IPTV Smarters App on PC, we'll be making use of an Android Emulator such as Bluestacks to install Android Apps on your PC.
How To Download Bluestack
The Android Emulator bluestack can be installed on any windows based PC for free of cost from its official site. You don't need to Sign up or Register in order to use the Emulator, just follow the below steps.
Go to the official site of Bluestack Android Emulator and download the installation file.
Navigate to your "Downloads" folder and open the file as "Administrator" on your PC.
An installation wizard will show up right after you grant the installation permission as Admin.
Choose the location or Path where you would like the Emulator to be installed.
Agree to the "Terms & Conditions" and wait for a few minutes to finish the installation.
Once the installation is complete, you may go ahead and follow the rest of the steps to install the IPTV Smarters Pro App on Windows.
Exact Steps to Download IPTV Smarters App on PC
On your first launch, the Emulator would ask you to sign in with your Google account in order to able to use the Google Play services properly.
Start the Android Emulator and wait for a few seconds for it to load.
Open the Google Play Store and search for "IPTV Smarters" to find the App.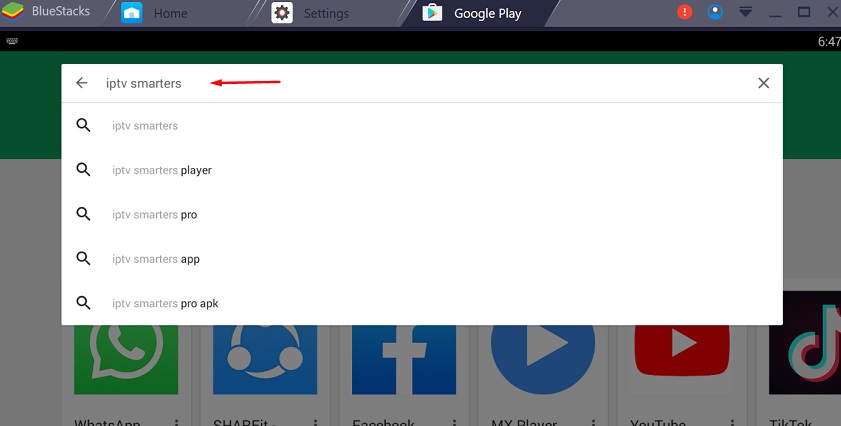 Click on the "Install" option to start the download and installation of the IPTV Smarters App.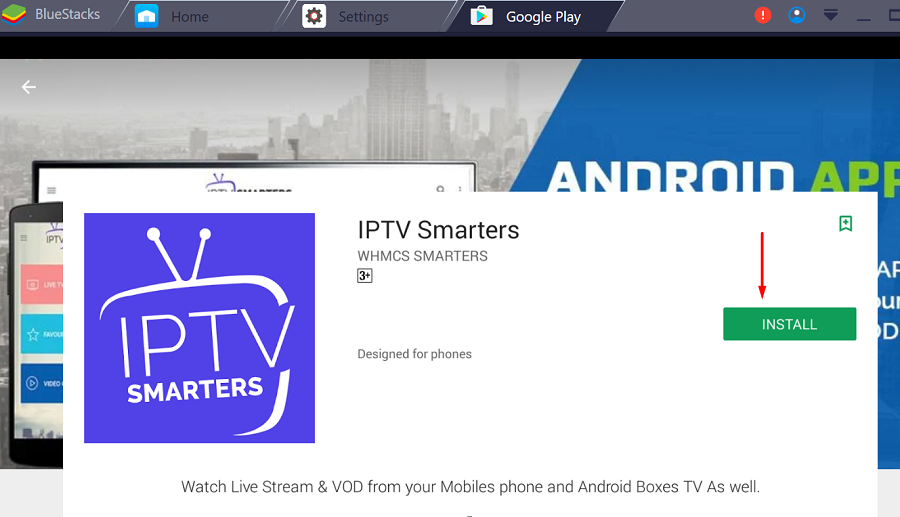 After successful installation, you will have to grant necessary permissions for the App.
That's it, now you just have to load the playlist file to start streaming.
Conclusion
The IPTV Smarters App is available for free in the Google Play Store, which works flawlessly without any issues. Here we have demonstrated how to install IPTV Smarters For Windows PC. You may subscribe to the Pro version if you would like to remove the Adverts from the App. That's all for this article, don't forget to let us know if you've liked the afore-mentioned method in the comments.