In this step by step tutorial, I will be talking about How to Unblock YouTube at School or Work under 2 minutes.
YouTube is arguably the largest video sharing platform on the internet with millions of active users from all around the world. The sheer abundance of knowledge and information in the form of videos is definitely the prime reason behind the enormous popularity of YouTube. Although it's free and open to everyone, some users might face problems accessing the platform and there could be a lot of reasons behind it.
For instance, people who are using the internet on campus, local cafes and schools are restricted from accessing sites like YouTube in order to save the over usage of bandwidth or to encourage productivity. There are actually quite a lot of places where you don't get to access the platform or watch any of its videos. Of course, users are free to watch YouTube videos without any hassle wherever and whenever they want, but little do they know that many places have blocked access.
To put it in simple, you won't be able to access a blocked site normally, be it YouTube or any other site, unless and until you find a workaround to bypass the restriction. So, if you're having trouble while accessing YouTube or certain issues in your campus or work area, then you're in for good news. In this tutorial, I will be sharing an easy to understand on how to unblock Youtube on any device.
How To Unblock YouTube or Any Site Without Proxy
It's a common practice among schools, campus and cooperates to block certain sites from being accessed by the students or employees. As stated earlier, the reason behind this could be anything, however, it's mainly done to discourage productivity among people. So, as long as the site is on a blocked list, you won't be able to use it via conventional methods.
Therefore, you will have to rely on a VPN Service in order to bypass such restrictions and to be able to browse the internet more open and free. A VPN (Virtual Private Network) app comes handy when you want to change your device's IP address and makes your connection secure on the internet. Now when we talk about VPN apps, in particular, there are quite a lot of them in the market which makes it difficult for the users to choose.
I have knowledge of pretty much all the VPN services out there and have spent a considerable amount of time testing the services manually. Most of the services in my personal experience aren't really reliable and don't provide anonymity on the internet. However, there were a few services that live up to their name but prices of their subscription packages are beyond premium. A couple of weeks ago, I came across IPVanish VPN on the internet and decided to give it a try.
Guess what? IPVanish is probably the best choice I have made so far when it comes to selecting VPN services. IPVanish is useful for unblocking Youtube or any restricted sites in various places like Campus, Schools, etc.
Not only at school, but you can also able to watch region-locked videos on YouTube.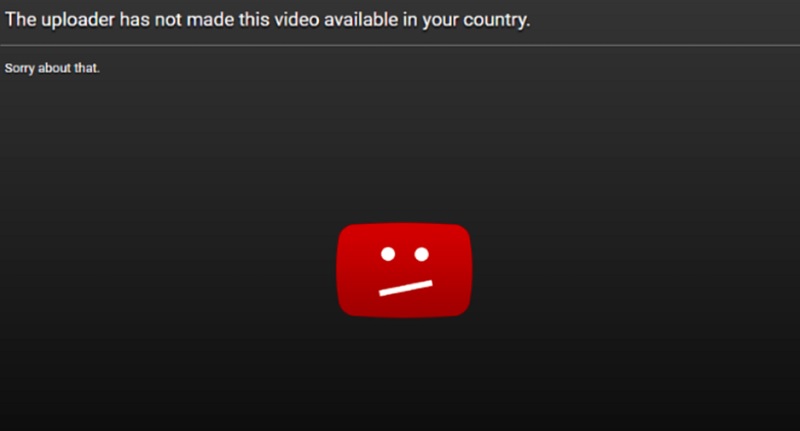 How To Unblock YouTube Using IPVanish VPN
It's best to rely on VPN services rather than web proxies to unblock YouTube, as VPNs are known for masquerading blocked sites and overall provides better security by encrypting your connection to the site's servers. You can instantly unblock YouTube by using IPVanish VPN service on your computer or smartphone. Go ahead with the following steps to get started with the process.
Start off by visiting the official website of IPVanish VPN if you're on a computer or laptop.
Register for an account on the web page by providing your email address and name.
Now download the IPVanish app for PC or from the App Store if you're on a smartphone.
Launch the IPVanish App on your device and Tap on the "Quick Connection" option. It doesn't matter which device you are using, select United States from the drop-down box and you are good to go.
Grant the necessary permissions on your smartphone and wait for the connection to be established.
Now minimize the app and access YouTube website using the browser app on your device.
Once the connection is established, you will be able to surf pretty much any site on any device without restrictions. The Quick Connection option automatically decides the best server for the user based on the location. However, you also have the option to manually choose the server by clicking on the Server List option in the app.
You may now browse any website such as YouTube or any other site freely without having to worry about the restrictions. The service will continue to run in the background even if you close or minimize the app. In order to stop the service, simply open the App and hit the Disconnect option.
Get IPVanish VPN At a Discounted Price
It's been over 8 years since the commercial launch of IPVanish in the market. As a way of celebration, IPVanish is offering a huge discount on the subscription packages. subscription packages.
On top of that, you also get a 7-day money-back guarantee, meaning, you can ask for a full refund of your money if you are not happy or satisfied with the service. You won't be asked any questions if you decide to cancel the subscription within 7 days of payment. So, in the end, you will either continue to use the service or straight up ask for a refund and get your money if you don't like the service, that's it!
IPVanish VPN is one of the fastest and secure VPN in the industry. IPVanish is also a secure VPN service that encrypts your internet connection with 256-bit AES encryption. It keeps you protected from network hijackers and cybercriminals. Furthermore, we have managed to get an exclusive 46% OFF deal for TechyBuild visitors!
Related
Final Words
In this article, we have demonstrated How to Unblock YouTube at school or work without Proxy.
All that matters at the end of the day is the user experience and the price you're paying in return for using the service. Overall, there's a good balance between the pricing and service of IPVanish. In fact, even the monthly subscription plan pricing is justified considering how good the service is. So, I'd definitely like my readers to give it IPVanish VPN a shot and see if it works the same for you.
Let me know in the comments below how your experience with the IPvanish and whether you actually like the server or not.