This tutorial will help you to download and install IPTV Extreme for PC. The guide provided here will work for windows 7/8/10 & Mac.
If you are in search of a free but feature-rich IPTV player, then IPTV Extreme is recommended for you. You can use IPTV Extreme to watch popular live TV channels, listen to radio stations from across the world, and enjoy on-demand movies and TV shows from your IPTV provider's source link.
However, IPTV Extreme Player is only available for Android devices. The only way to access it on your PC is by using an Android emulator such as BlueStacks. In case you want to know more about the installation process, continue reading this article on How to Install IPTV Extreme for Windows PC.
Features of IPTV Extreme for PC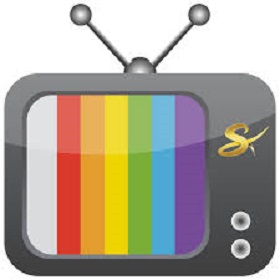 As previously mentioned, IPTV Extreme is a feature-rich IPTV player that incorporates various streaming features in one package. Check out the list of IPTV Extreme features below to learn more.
Customizable themes for the user interface.
Advanced IPTV player with the option to choose a third-party player.
Compatible with M3U Playlists and works flawlessly with the search function.
Supports DLNA and Chromecast.
Multi EPG support with auto EPG update, dedicated alias management, and sliding EPG time. Works with all the EPG providers.
Provides proper navigation with third-party Remote Controllers.
Simple Backup/Restore tool with the option to import and export configuration files.
You can download on-demand Programs and record Live TV channels within a time limit.
Supports scheduled recording with an advanced management tool.
You can set memos for events on TV Guides.
Advertisement-free user interface (IPTV Extreme Pro).
Related – How to Download Vidmate For PC
How to Install IPTV Extreme on PC (Windows 7/8/10)
Installing IPTV Extreme is relatively easy and simple. You have to download the BlueStacks Android emulator in order to emulate the IPTV Extreme app on your PC. For Windows 7/8/8.1/10 users, here's how to do it:
Open a web browser and enter the following URL: bluestacks.com/download and hit Enter.
Click Download BlueStacks.
Once the download has finished, launch the .exe file to initiate the installation.
Click Install Now. It might take 2-3 minutes depending on your PC hardware specs.
When it's done, click Complete. The installer will auto-execute the BlueStacks engine.
Follow the on-screen instructions to pick your preferred language and sign in to your existing Google account. If you don't sign in, you won't be able to access the Google Play Store and install IPTV Extreme on your PC.
After you make your way to the BlueStacks home screen, click the Google Play Store icon to launch the app.
Click the search bar and type "IPTV Extreme."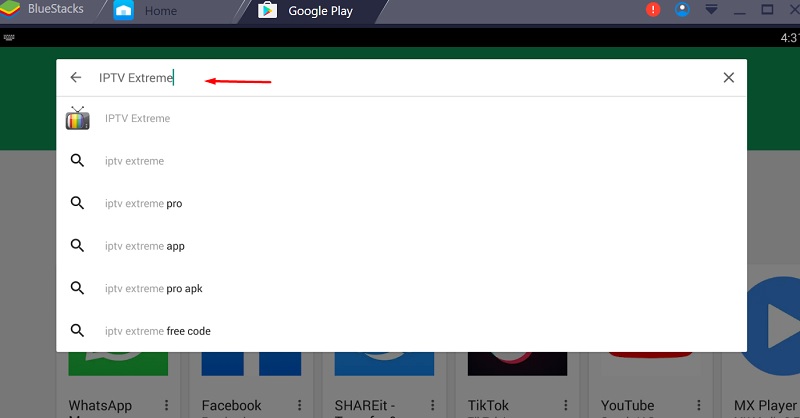 Choose IPTV Extreme from the search results.
On the app download page, click Install. It will take a couple of seconds to install the app.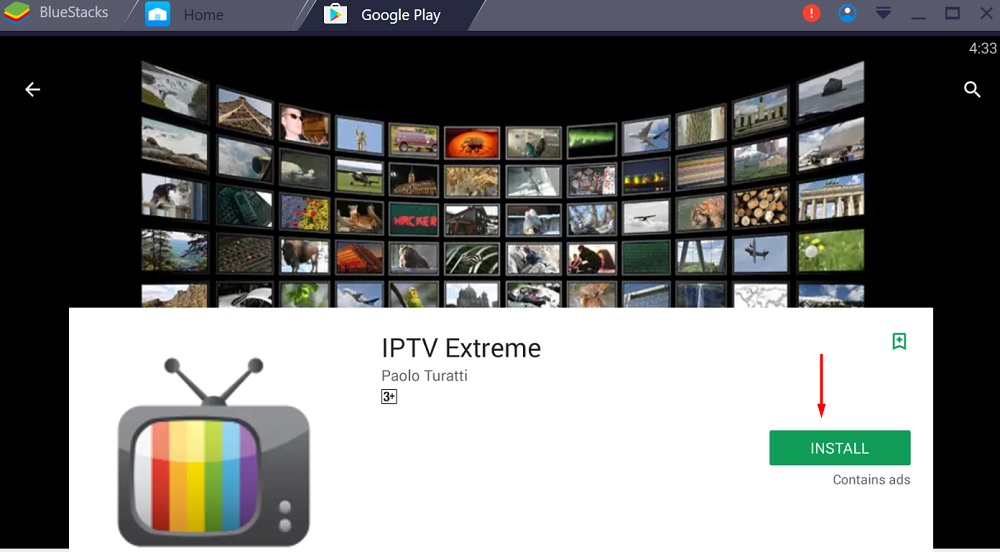 Once done, you can launch IPTV Extreme from the BlueStacks home screen.
Also, read – How to Download IPTV Smarters For Windows PC
If you are experiencing slowdowns in emulation, the reason might be your PC hardware or you have CPU virtualization disabled. If you have an Intel CPU, you will find the option labeled as Intel® Virtualization Technology in your motherboard BIOS settings. For AMD users, it is labeled as AMD V™ or SVM. This will force Windows to use the CPU for handling emulation processes instead of software rendering.
How to Download IPTV Extreme on Mac
To run IPTV Extreme on Mac using BlueStacks, you at least need your Mac device running macOS Sierra, High Sierra, Mojave, or Catalina. You can now follow the step-by-step guide below in order to install BlueStacks on Mac.
Open a new tab in Safari browser, and Download bluestacks
On the official BlueStacks website, choose MAC as your operating system and click Download to start downloading the BlueStacks installer.
Go to your Downloads folder and double-click on the "BlueStacksInstaller.dmg" The BlueStacks installer window will appear on the screen.
Now double-click on the BlueStacks icon to proceed further to the installation process.
Click Install Now and tick the checkbox next to Accept software license.
When you get a dialog box prompt saying "System extension blocked," click Open Security & Privacy in the dialog box.
From the Security & Privacy preferences, select Allow to allow Bluestacks installer to access your device storage and save changes.
The installer will resume decompressing and installing the rest of the necessary files. Click Complete once the installation is done.
Now Follow Step 6-11 of the Windows installation guide above to set up your BlueStacks emulator and install IPTV Extreme on your Mac device.
Final Words
In this article, we have discussed IPTV Extreme Player and its various features. You can follow the respective guides to Install IPTV Extreme for Windows PC or Mac PC using BlueStacks. Make sure you download BlueStacks from the official website, as there are plenty of fake sites with BlueStacks download links that may infect your PC with malware and compromise your privacy and security.