Back in 2016, the streaming giant Netflix implemented a strict anti-VPN technology to restrict foreign subscribers from accessing region-exclusive content with VPN services.
Due to the unique restrictions, Canadian Netflix users miss out on plenty of American Netflix shows. Some of you might ask if there's a way to access them without moving to another streaming service.
The answer is– Yes, you can. Today we will discuss the problem extensively and show you how to get American Netflix in Canada.
Why Do You Need American Netflix in Canada?
Since Netflix is originated in the US, American Netflix users get access to the most versatile and extensive catalog of on-demand movies, episodic shows, documentaries, and Netflix originals.
Although the Canadian version of Netflix does offer a lot of content, there are some movies and shows that aren't found in the library. This is definitely upsetting to a lot of Canadians, and we do understand the frustration of paying for something that can't be accessed in the long run.
The significant difference between the number of Netflix content in the US and Canada, which is the only reason why you should try to get American Netflix over the Canadian version.
Why is American Netflix Inaccessible in Canada?
Netflix users in Canada or in other countries can't access American Netflix for two reasons: Content licensing and geo-blocking.
As the primary content provider, Netflix licenses movies and shows from major television networks and film studios. Since the distribution rights are only applicable to a specific region, Netflix has no choice but to deliver the content strictly according to the agreements.
To protect the exclusive territorial rights to content, Netflix enforces a strict geo-blocking throughout its streaming service. If you head over to netflix.com right now from a web browser, you will be redirected to your local Netflix domain. Changing the country code in the URL also doesn't work.
While Netflix's reasoning for geo-blocking is to produce and deliver regional content based on the orientation of audiences, it was done intentionally in the first place to maintain the contractual rights between Netflix and the content distributor.
Why is American Netflix Content Blocked in Canada?
American Netflix content is blocked in Canada simply because of the content preferences of Canadian viewers – at least according to Netflix.
The availability of specific content, mostly the ones that are intended for mature audiences, is dependent on the censor board. If a piece of content doesn't meet the board's standard requirements, it is entirely declined from being distributed to the audience.
As we have previously mentioned, it is clear that the content provider is the one to make core decisions, especially when it comes to the availability of specific movies and shows in foreign regions through Netflix's streaming platform.
Along with the licensing issues and the exclusivity rights of other streaming services, it leaves Netflix with no option but to block American Netflix in Canada.
If you are still struggling to watch US Netflix in Canada then the below guide will show you step by step instructions to get American NetFlix in Canada.
Related – How to Watch Hulu In Canada
How to Get American Netflix in Canada?
The only way to circumvent the geo-blocking is to use a VPN service. A VPN stands for "Virtual Private Network," which is basically a layer of a private network above the main network that you use.
A VPN service enables that network layer, which can be used to create a temporary network infrastructure between a local network and a private server. Some form of encryption is also applied to ensure a protected network environment between the client and the host.
With a VPN, a user can transmit and receive data packets through a private stack of DNS servers, which essentially changes your former IP address with the one used by the host server. In simple words, you can change your country to virtually anywhere you want, as long as the country has a designated VPN server.
Canadians can use a VPN service to access American Netflix without any restrictions. Here's what you need:
A decent VPN service. We will use IPVanish VPN, which is our personal preference due to its vast selection of VPN servers and reliability in terms of data leak protection and user privacy.
A device that is compatible with the VPN. Fortunately, IPVanish VPN supports a wide range of operating systems, including Windows, Linux, macOS, Chrome OS, Android, iOS, and Fire OS (Amazon Fire TV devices).
The last thing you need is an active Netflix subscription. As Netflix doesn't put geo-restrictions by account, you can create a Netflix account from the Netflix Canada webpage (if you don't have one) and complete the payment for the subscription.
1. Sign Up for IPVanish VPN
Since you need a subscription for the VPN service as well, you can follow the steps below to sign up for IPVanish VPN.
Visit IPVanish.com from a web browser on your preferred device.
Click Start Now, and select the plan you want to pay for.
Enter your email address and a secure password, then select your payment method and finish the payment.
2. Download and Install the IPVanish VPN App
IPVanish offers its standalone VPN app for several popular operating systems. Go to ipvanish.com/vpn-setup, choose your preferred OS, and install the IPVanish VPN app on your device. There are dedicated setup guides for each operating system, in case you are not familiar with the app installation process.
3. Log In to IPVanish VPN
Launch the app as soon as you finish installing the IPVanish VPN app on your device. Upon launching IPVanish, you will be asked to log in to your IPVanish account. Just enter your IPVanish credentials and click the Login button.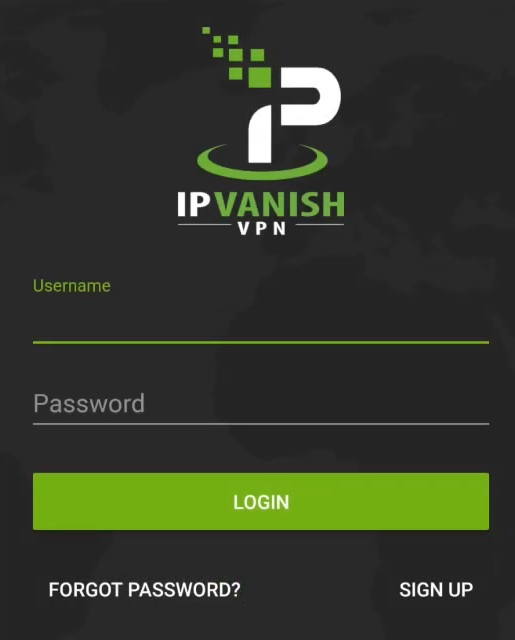 4. Connect to the VPN Server
On the main screen of IPVanish VPN, you get the option to either quick connect to the nearby VPN server or pick up one manually.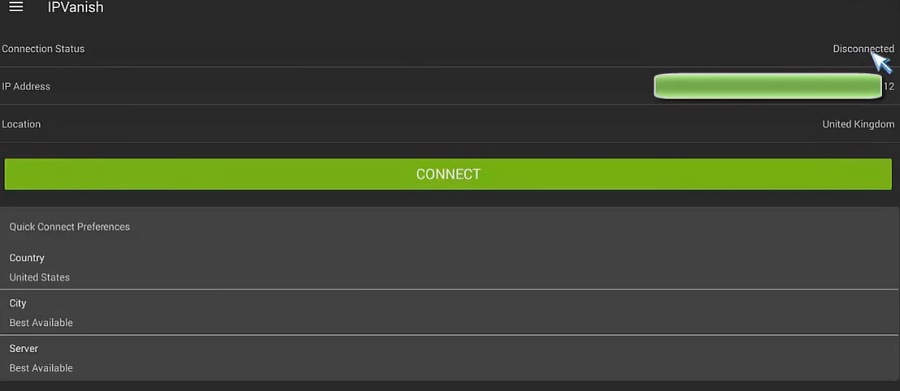 It doesn't matter which device you are using, simply pick up the United States from the drop-down menu and click the Connect button to connect to a US-based VPN server.
5. Enjoy American Netflix in Canada
After connecting to a VPN server in the United States, you can minimize the IPVanish app window, launch the official Netflix app or head over to netflix.com via a web browser, log in to your Netflix account, and enjoy the unblocked American content on Netflix.
Not Every VPN Unblock American Netflix…
At this point, many of you have already followed the steps just to encounter this message when trying to watch something: "Whoops, something went wrong… You seem to be using an unblocker or proxy. Please turn off any of these services and try again".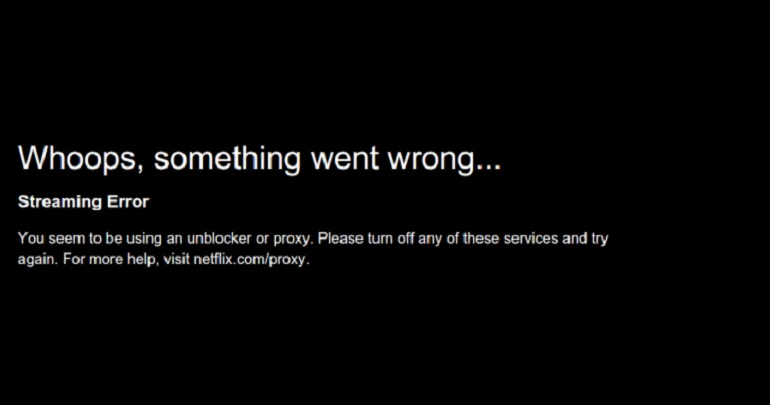 Well, you are not alone. This is a common issue every Netflix user encounter when using a VPN service. As Netflix uses advanced proxy-detection methods for verification, it is difficult to get past its geolocation protocols even with a VPN. If the system detects a huge spike of Netflix users from a specific IP address, it gets blacklisted as a VPN server and stops allowing the users to stream.
Netflix's excuse for such restriction is the misuse of its streaming service for illegitimate purposes. Their recommendation is to disable the VPN for getting access to the content library.
Although Netflix has managed to improve its proxy-detection system over time, popular VPN services such as IPVanish VPN have specialized servers to fool the system.
IPVanish offers several VPN servers in the United States. Users do get the option to choose a city as well, which is something we don't often see on other VPN services.
As of now, only a handful of IPVanish VPN servers in the United States work properly with Netflix. You can try to connect to Chicago, Dallas, Las Vegas, or Washington DC. In a rare instance when it doesn't work, you can contact IPVanish's 24/7 customer support at support.ipvanish.com to ask which servers currently bypass Netflix's geo-restrictions.
Even though a VPN service slows down your internet speed by a bit, IPVanish is renowned for being the world's one of the fastest VPN providers for the past few years. It all comes down to your internet connection. For a stable 4K HDR Netflix stream, you at least need a 25mbps connection.
You May Like – YouTube TV Channel List, Price, Supported Devices & Review
Verdict
In this guide, we have shown you a possible workaround to get American Netflix in Canada. If you can't decide which VPN service you should go for, you can trust us and get an IPVanish VPN subscription because of its unblocking capabilities to get past Netflix's proxy-blocking system.
If you need further clarification on this topic, please leave your questions in the comments below without any hesitation. We are always happy to help you with an appropriate answer.