In this walkthrough, I will show you the complete process to Get Hulu in Canada. Read on to find out how.
Hulu is one of the most popular subscription-based streaming services in the US. Along with Disney+ and ESPN+, it is owned by The Walt Disney Company. In 2019, Hulu hit 28 million subscribers.
Hulu has an on-demand catalog stacked with movies and TV shows. It even provides OTT IPTV service with 60+ channels. The on-demand Hulu subscription starts from $5.99/month, whereas the Hulu with Live TV plan is priced at $54.99/month. It easily makes Hulu an affordable streaming solution for cord-cutters.
There is only one problem with Hulu, and it is the availability in other countries. As of now, Hulu offers its service only in the US. There are plans to bring Hulu in several countries across the globe, but no one's sure when it is going to happen.
Those who live in Canada won't be able to stream content from Hulu as well. Since Hulu uses geo-blocking protocols to block outsiders from streaming licensed content, it is pretty much impossible to get past the borders without using a VPN.
But, there are workarounds to this problem. For our fellow Canadians, we have prepared this guide so that you can watch Hulu in Canada.
Why is Hulu Not Available in Canada?
As we have previously mentioned, Hulu exclusively offers its service in the US regions. Besides that, Hulu's contract with major American television networks for its live TV service leaves them with no choice but to provide streams only in the US.
Hulu has considered the situation before and is actively working to launch its service in other countries. As of now, Hulu is not available in Canada. Maybe Disney's acquisition will finally result in Hulu's broader expansion.
Use IPVanish VPN to Access Hulu From Canada
The first thing we will do is to sign up for Hulu. For that, a VPN service is necessary. A VPN lets you change your country virtually anywhere in the world, as long as there's a VPN server.
We recommend you to use IPVanish VPN, as it hosts over 1300+ private VPN servers worldwide. You will find multiple US-based VPN servers, which we will need in order to stream Hulu. IPVanish is also a secure VPN service that encrypts your internet connection with 256-bit AES encryption. It keeps you protected from network hijackers and cybercriminals.
Go to https://www.ipvanish.com/, sign up for a subscription, and then install the IPVanish VPN app on your device. It is available on a wide range of devices, including Windows, macOS, Linux, Chrome OS, Android, iOS, and Fire TV. You can then log in to your IPVanish account and connect to a VPN server in the United States.
How to Sign Up For Hulu In Canada
If you have already set up IPVanish VPN and connected to a US-based VPN server, then you start following the steps below to sign up for Hulu.
Go to hulu.com using a web browser.
Click on Start Your Free Trial.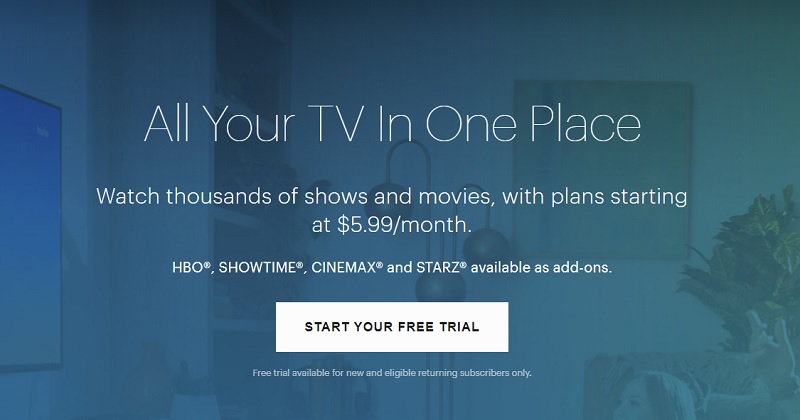 Choose the plan you want to pay for, and click Select.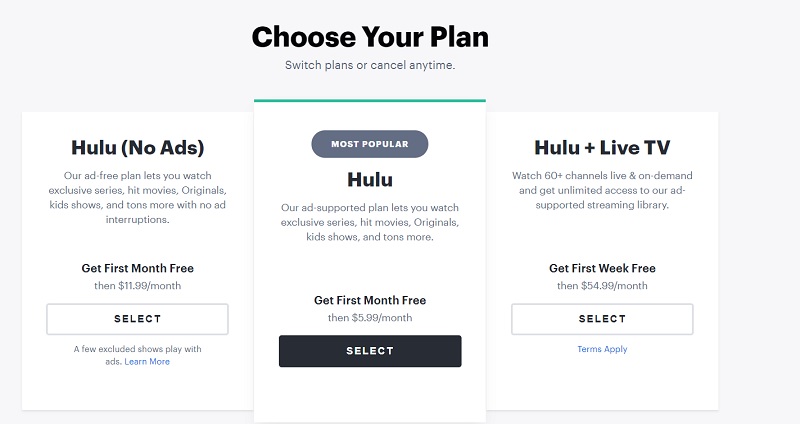 Enter your name, email address, date of birth, gender, and a secure password. Once you have filled the form, click Continue to create a Hulu account.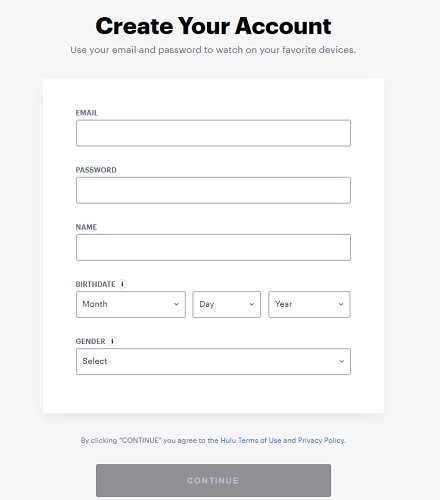 Now add your billing information and purchase the plan. Hulu does have Visa and MasterCard options for credit/debit cards. However, if you have a PayPal account, we strongly advise you to use it as your payment method.
Since PayPal is available everywhere, users won't encounter any errors in the payment process. On the other hand, regular debit/credit cards might not work if your bank doesn't support international payments.
In case you don't have PayPal, you can buy a Hulu gift card from e-commerce websites or other third-party resellers. You can redeem the gift card from hulu.com/gift and get a Hulu subscription.
How to Setup Hulu on Firestick, PC & Other Devices
Once you successfully sign up for a Hulu account with an active subscription, you are almost ready to stream content from Hulu in Canada.
We have a guide for Firestick users for those who don't have any past experiences with app sideloading. You can check it out.
PC users can watch Hulu directly from the official website. A modern web browser, such as Google Chrome, Microsoft Edge, and Mozilla Firefox is required for streaming from the web version of Hulu.
For all devices, make sure to connect to a US VPN server using IPVanish VPN every time you want to watch Hulu. Otherwise, you will see the geo-blocking prompt.
Can You Watch Hulu For Free With A VPN?
A VPN does let you bypass geo-restrictions, but it doesn't remove Hulu's subscription system. The only way to watch Hulu is to pay for the subscription.
Fortunately, new users get their first month of Hulu subscription for free, then paying $5.99 (CA$ 7.91) every month won't harm your expenses anyway.
Related – How to Watch Hotstar In the USA
Verdict
Despite the lengthy process, it is straightforward to sign up for Hulu outside the US. This guide will help cord-cutters watch Hulu in Canada, as well as in other countries. In case you have any doubts regarding the process, feel free to clear it out to us in the comments below.