In this guide, I will show you how to watch ESPN in Canada or any other country. I will help you stream the various sports content on ESPN+ outside USA.
For many years now, streaming services used to offer limited live sports coverage and on-demand sports content due to exclusive broadcasting rights and relatively low demand.
However, a surge in the cord-cutting revolution has created a drastic change in the roadmap of major sports and television networks. Almost two years ago, Disney launched its new sports-centric OTT streaming service ESPN+ in the United States. This made reluctant sports fans finally cut the cord forever and move to a subscription-based streaming service for watching sports content.
Although ESPN+ is pretty popular in the United States, it is yet to see an official launch in other countries. For those impatient Canadian sports fans, we have compiled this ultimate guide to watch ESPN+ in Canada.
What is the Difference Between ESPN and ESPN+?
Many people get confused between the ESPN app and ESPN+. Note that it isn't the same as your standard ESPN channel on cable TV.
The official ESPN app, which was previously known as WatchESPN, broadcasts thousands of live sports events and shows. Along with real-time scoreboard and sports news, users get access to a massive collection of on-demand content loaded with archived sports events, highlights, replays, and expert analytics.
Although users are required to sign in with a cable TV provider in order to get full access to the ESPN app, there is another way to watch live sports and on-demand content without cable, and that's ESPN+.
ESPN+ is not an app, but rather a subscription that serves exclusive sports events that aren't broadcasted on regular cable TV channels. The addition of ESPN+ Originals, 30 for 30 documentaries, and access to exclusive PPV events (separate prices) are pretty exceptional for a sports-centric service that only costs $4.99/month.
It should be remembered that paying for ESPN+ doesn't let you watch ESPN and ESPN2 channel live streams. It is only limited to cable TV providers. On the other side, users can't access ESPN+ service with a cable TV subscription.
What makes this more convoluting is that both of the services are available through the same official ESPN app and the espn.com/watch website.
Why Can't You Watch ESPN + Outside of the US?
Many of you may ask why you can't watch ESPN Plus outside of the United States. This is a result of Disney's dominance in the streaming market, which also affects its other streaming services, Hulu and Disney Plus.
To avoid violation of contractual rights between Disney and sports content distributors, ESPN reinforces strict geo-blocking protocol on its content. This makes the service accessible exclusively to the United States, but inaccessible in other North American regions or in different continents yet.
Content licensing issues have recently become a doom for major on-demand streaming services, even the streaming giant Netflix. It's not surprising to see ESPN suffering from the same issue, considering how expensive sports content licensing has gotten expensive in recent years.
How to Watch ESPN+ in Canada?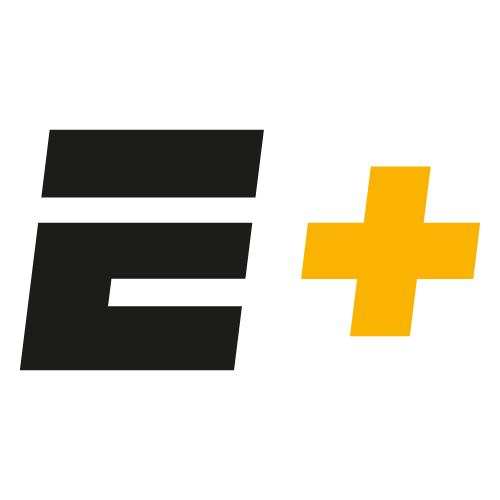 Despite the geo-blocking outside the United States, it is possible to watch ESPN Plus in Canada. Keep reading this article, and we will extensively explain how it works.
Those who are familiar with streaming services and geo-restrictions probably know about VPN. A VPN (Virtual Private Network) service lets you create a virtual network environment that establishes an encrypted connection between your local network and a privately hosted server. Basically, all the data that you send and request gets transmitted through a different DNS server rather than a public or your ISP's DNS server. Based on the distance between your location and the server, using a VPN might impact your internet speed. However, your real IP address stays hidden until you decide to end the VPN browsing session.
Since your location is loosely tied to your IP address, it is easy for a geo-blocker to recognize your location and restrict you from accessing a particular service.
Changing your IP address also virtually changes your location metadata, which can potentially fool the geo-blocker into thinking that you are in another location.
We can apply the same theory for ESPN+. Connecting to a VPN server in the United States also changes your location, which means you can access ESPN+ from anywhere you are in Canada.
Prerequisites
Here are some essential things you need in order to unblock ESPN+ in Canada.
1. You will need a reliable and secure VPN client. A simple Google search will give you plenty of options to choose from. However, our recommendation for you is to use IPVanish VPN. With more than 1300 servers across the world and zero-log policy, it works exceptionally well with streaming services and guarantees unbreachable user privacy. Visit IPVanish.com to register for an IPVanish VPN subscription.
IPVanish VPN is one of the fastest and secure VPN in the industry. IPVanish is also a secure VPN service that encrypts your internet connection with 256-bit AES encryption. It keeps you protected from network hijackers and cybercriminals. Furthermore, we have managed to get an exclusive 46% OFF deal for TechyBuild visitors!
2. Download and install the IPVanish VPN app on your device. It is available for all the popular operating systems, including Windows, macOS, Linux, Chrome OS, Android, iOS, and Amazon Fire OS (Fire TV). Go to ipvanish.com/vpn-setup/ to set up the IPVanish app on your device.
3. ESPN+ does give users the option to use either a credit card or PayPal to pay for the subscription. While your credit card might have support for international payments, it's possible that your payment is likely to fail due to regional issues. PayPal doesn't have such problems, and users can enable or disable auto-renewal for ESPN+ subscription through PayPal as well.
Note: If you don't have a PayPal account, visit paypal.com and sign up for a PayPal account.
Step 1 –  Log In to VPN and Connect to a US Server
It doesn't matter whether you are using a smartphone or PC for this process; you have to first install the IPVanish app on your device.
After installing the app, open it and log in with your IPVanish account. Then search for the United States in the server picker, and tap Connect. In a span of a couple of seconds, you will be connected to the VPN server.
Step 2 – Sign Up for ESPN+
Now that you are connected to a US VPN server, open up your preferred web browser on your smartphone or PC. It will be better if you open a private or incognito tab since stored cookies can give up your current location. Once you do this, carefully follow the steps below.
Go to espn.com and click on Buy ESPN+ option.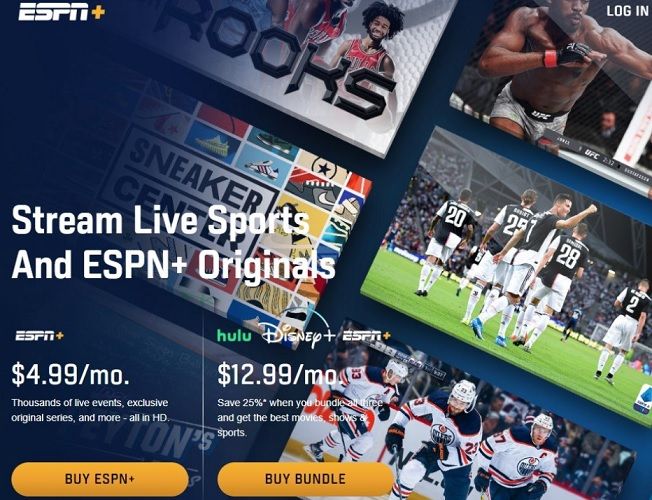 You will be prompted to create an ESPN account. Proceed with entering your first name, last name, email address, and a case sensitive password, then click Sign Up.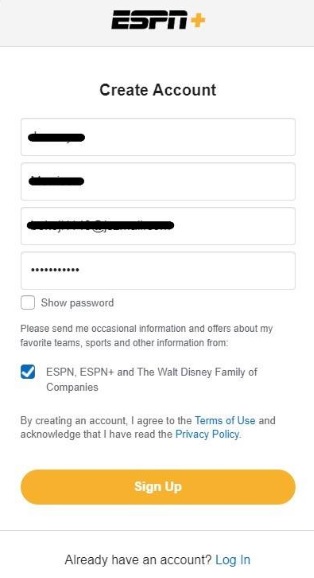 Now choose the plan you want to go for, and select PayPal as your payment method.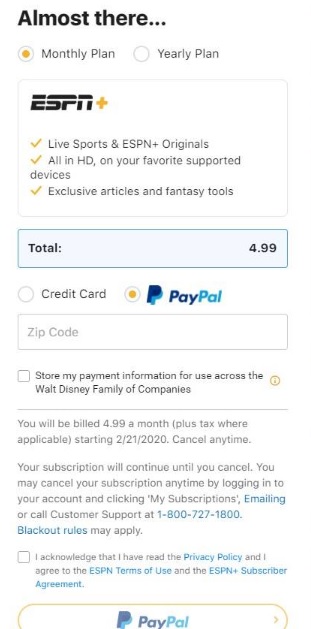 In the Zip Code field, we will use a Delaware ZIP code (19702, 19703, 19706…) simply because of the absence of sales tax. You won't have to pay more than the $4.99/month or $49.99/year ESPN+ subscription.
Tick the box next to "…have read the Privacy Policy and I agree to the ESPN Terms of Use…" message and click the PayPal logo below to complete payment for the subscription.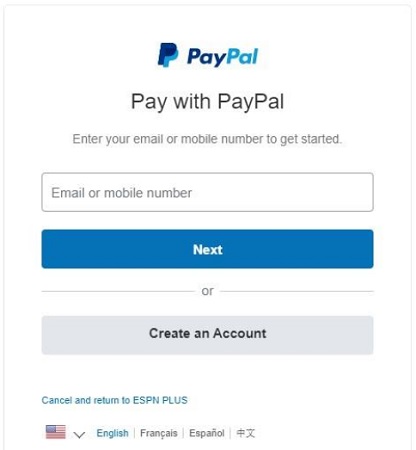 Stream Sports Content via ESPN+
Once you successfully manage to pay for the subscription, you can log in to the official ESPN app or espn.com/watch using your ESPN+ subscription and stream unlimited live and on-demand sports content.
You will have to continue using a VPN service on your device to access ESPN+. If you encounter streaming errors, try to reconnect to another US VPN server. This is one of the most common fixes for the streaming error.
What Devices Can I Use To Watch ESPN+?
ESPN+ content can be streamed on several platforms, such as Android, Android TV, iOS, Apple TV, Amazon Fire TV, Roku, Chromecast, Samsung Smart TV, and the latest version of popular web browsers for PC and Mac.
However, devices like Apple TV, Roku, and Samsung Smart TV don't have support for VPN clients. Thus, it is not possible to watch ESPN+ in Canada using these devices.
If you have a VPN-enabled router, you can watch ESPN+ on any compatible device you want without facing software limitations.
What Can You Watch on ESPN+?
With ESPN+, you can watch thousands of live sports events from NHL, MLB, MLS, Top Rank Boxing, Series A, FA Cup, NCAA college sports, Grand Slam Tennis, and dozens more. ESPN+ also broadcasts UFC Fight Nights and has exclusive PPV event coverage.
It also has original programming, such as The Boardroom with JD, More Than An Athlete, Ariel & The Bad Guy, NBA Rooks with Zion Williamson, Peyton's Places with Peyton Manning, etc. ESPN's complete library of 30 for 30 documentaries is also available on ESPN+, as well as full coverage of The Fantasy Show with Matthew Berry.
Related
Conclusion
That's all you need to know to watch ESPN+ in Canada. ESPN+ offers exceptional value with its vast catalog of sports content, and it should not be restricted to a limited region. Although it is relatively easy enough to bypass the geo-restrictions using a VPN, we all would love to see ESPN+ officially launching in Canada and other countries.