Need a list of Top Roku browser? In this article, I will share the best web browser for Roku. I have got many messages regarding this topic and so here we are sharing a complete guide of Roku Internet browser.
Roku is a streaming service that allows you to watch your favorite shows and movies. It's kind of like a set-up box device but the difference is that there are no cables involved. It is a wire-free technology that uses the power of the internet to provide streaming services to the user. It first came out in 2008 and it is the company that pioneered streaming for the TV. All you need to do is create a Roku account and then enjoy paid or free video content on your TV.
How to Use a Web Browser on Roku?
Unlike what many people think it is possible to use a web browser on Roku. But the choice of web browsers available for Roku is very low. In fact, there are only two web browsers available for Roku. Speaking clearly they are just channels that can be used to browse rather than browsers themselves. Thus Roku only allows you to use a web browser indirectly. The only other way to use a web browser for Roku is to screencast it of your mobile or laptop. This is called screen mirroring. With very few options available to use a browser on Roku, it is very easy to decide the best browser for Roku. But it's still no good as all options are not that good. Now let's discuss how to use a web browser on Roku.
Check – How to Install Showbox on Roku
Solution 1: Using Web Browsers From the Roku Channel Store
The only two Roku browsers available from Roku channel store are Web Browser X and POPRISM Web Browser
PRISM Web Browser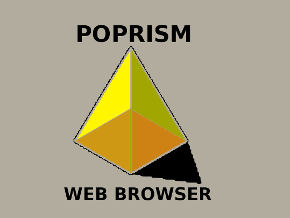 As a web browser populism is very text-based and it can only read texts. It is unable to show images or videos. It does not have GUIs or CSS and it cannot run JavaScript or flash. Though basic google search results of readable sites do appear and it is very useful if you are very much into reading. But considering other purposes, the browser is pretty useless for a large number of sites. It is the less superior choice when considering the other browser available on the channel store.
The navigation through the site is somewhat good and it is done using the Roku remote. To scroll one line, you can use the UP and DOWN keys. Whereas the LEFT and RIGHT keys can be used if you want to scroll ten lines at a time. There is a back button that can be used to go back to the previous page and also return button to go to the home page. At the home page, plenty of other content is available and you can choose the one that you desire.
Web Browser X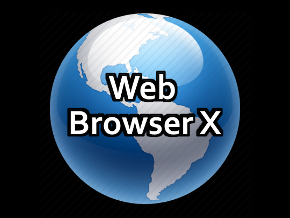 Off the two browsers available in the Roku channel store Web Browser X is definitely the far superior choice as opposed to the former. While it is better of the two it should be taken into account that it is not that good as compared to any average browser on your mobile or laptop. When you read superior if you thought that it would have a futuristic look about it you are wrong. It has a very old fashioned user interface that will remind you of the '80s. It is a paid browser and it does come with the fortitude to allow you to watch videos and images.
The whole thing works, though it struggles with sites that present complex and large amounts of data. Web Browser X is easily outclassed by an average browser on your smartphone or laptop when it comes to performance. You can access any site using its URL. It does have some pre-saved favorite sites and it does allow you to add sites that you like or visit frequently to this list.
Solution 2: Screencast a Browser on Roku
Both the options in solution 1 are really not of much utility when it comes to the true purpose of why we use a web browser for Roku. There is not much point in having a browser if the content it grants access to is very limited. In such a case, the best thing we can do is to cast the screen of a browser of our choice from our smartphone or laptop to Roku using screen mirroring. This is very helpful in the sense that we can now stream much more larger amount of content. But the only limitation is that you are now using an external device to stream. Hene, the streaming capabilities will depend on that device.
Now, let's see how to cast a web browser on windows to Roku. Just follow these steps.
On Roku, go to Settings.
Now, choose System and click on About. Make sure if at least version 7.7 is running.
If that's not the case select System Update from System and select Check Now. This will update the version.
Open Action Center on your laptop and choose Connect.
Similar to searching for a wifi hotspot, Windows will now search for Roku.
When Roku appears on the search click it. A connection will be made.
Now you can surf using a browser of your preference.
Conclusion
Roku is the company that pioneered streaming content online using a TV. There are many channels available which can be used for watching many shows, movies, and other content. It can be used for surfing too. In this article, I have discussed the ways you can use a browser on Roku and also about the best way to do it. I hope you like this list of best Roku web browser in 2019. Keep visiting www.techybuild.com for more awesome contents.