Thousands of people are using MX player on their mobile but do you know you can also install MX Player for Android TV? In this post, I will share step by step instructions to download and install MX Player on Smart TV.
An offline Media Player would be very useful when it comes to watching videos at custom playback speed and for streaming content over the internet. In the Google Play Store, there are tons of Media Players from third-party developers are available to be installed on Android devices. It's quite easy to install such applications on the Android platform since Play Store takes care of all the downloading and installation. But, the same cannot be experienced on other platforms such as Android Smart Tv.
Users are forced to install their desired applications manually by downloading its Apk file which is lengthy and could prove to be a complicated process for those aren't aware of these things. We noticed a huge influx of users requesting for a step by step guide for installing MX Player on Android Smart TV.
MX Player (Overview)
Here are a short intro and a brief list of features that you would be getting in the MX Player in case you're not aware of it. MX Player is a powerful Media Player that comes with advanced hardware acceleration and custom subtitle support.
The App can be used to watch offline videos that are saved on your device's storage and can be used as a video player for streaming applications. MX Player is known for simplifying the buffering process to avoid lag while streaming the content over the internet. There are a lot of useful features in the MX Player, which are mentioned in the list below.
Features of MX Player For Android TV
MX Player brings supports almost all the popular used Audio Formats on any Android device.
You can Zoom IN or Zoom out your videos simply by pinching on your device's screen.
Add custom subtitles files to your videos or download them online from the MX Player app.
Increase the performance on your Android device with the help of Multi-Core rendering.
Absolutely free to use, it doesn't involve any kind of membership or purchases in the App.
You can watch movies and Tv shows as well over the internet from the "Online" Tab.
Easy to reach customer support if you're facing any kind of issue on your device.
How To Install MX Player On Android TV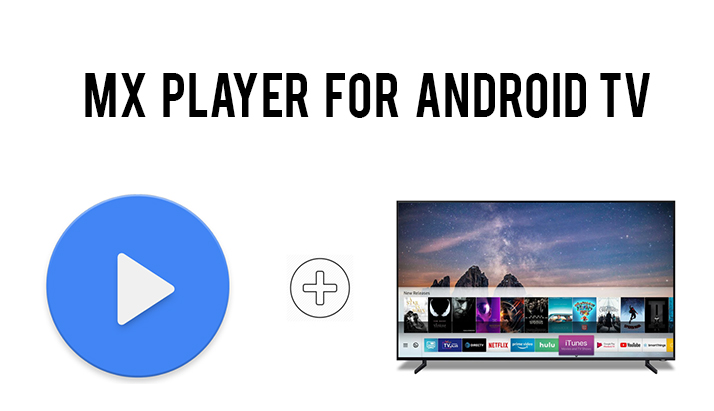 Since Android Smart TVs do not support the installation of MX Player directly from the Google Play Store, you will have to download its Apk file and sideload it on your TV to get the App. Before we dive into the process, you might have to check out the following requirements for the App installation.
Don't Miss – How to Install ThopTV For Smart TV
Requirements
MX Player is supported on almost all Android devices and Android Smart TVs, regardless of the Android version that your device is running. However, there are certain things that you should check out to install the MX Player on Android Smart Tv.
Maintain at least 100 MB of free storage space on your Android Tv or Smart Tv Box.
An active internet connection is required to download the MX Player Apk.
Your TV should be running on Android version 4.4 or higher to install the App.
You need to enable installations from "Unknown Sources" from the settings to install the Apk files on your Android Tv. Refer to the below steps to enable the setting.
Go to the Settings on your Android Tv or Smart Tv -> Navigate to Developer Options->Scroll down to find the option "Allow Installations From Unknown Sources-> Toggle it. By doing this, you will be able to install Apk files on your Android Tv without any restrictions.
Steps to Download MX Player For Smart TV
We recommend you to download the Apk file of MX player from the given link only since it contains the latest version and doesn't ask you to watch or complete surveys to download the Apk. Make sure to perform all the steps properly for installing the MX Player on your Android Tv.
Turn on your Android Tv or Smart Tv and launch any Browser App (we recommend to use chrome) on it.
Paste the following link (https://bit.ly/2ncVy5Y) in the URL bar to start downloading the Apk file of MX Player.
Go to your File Explorer and navigate to the Apk file that you have downloaded.
Select and Open the Apk file of MX Player to begin its installation on your Android Tv.
You may have to confirm the installation by selecting the "install" option if prompted on the screen.
Now you need to wait for a few seconds for the installation to complete successfully on your Android Tv. After successful installation, Open the MX Player App and grant the necessary permissions in order for the app to function properly. That's it, now you may start using the MX Player app to watch offline videos or stream content over the internet.
Final Words
MX Player is fairly powerful when it comes to rendering videos and stuff. Therefore, a lot of people prefer it over other Media Players available in the Google Play Store. Also, there are no in-app purchases anywhere in the MX Player app, which makes it an ideal choice for your needs. Go ahead and install the MX Player for Android Tv by following the above steps.