This article is dedicated to all Mac users. Yes, you read it right! In this article, we are going to share a tutorial on how to cast Google Chromecast For Safari.
Chromecast is a media streaming device which facilitates the user to play their desired content in terms of Videos & Audio on a Television. It's a small portable dongle that works with most of the Android or Smart Television available in the market. As you may already know, the device itself has no content to provide you, in fact, it's just hardware coming from Google. But, the device will give you access to several streaming applications through which you will be able to watch your favorite Movies & Tv shows on Television.
Most of the users primarily use the Chromecast device to watch movies and stuff on their Television. But, the amount of content that you would get to watch is limited in this way. Additionally, you will have to bear the charges of streaming apps in order to watch your desired Movies & Tv Shows.
Chromecast Safari (Overview)
As stated earlier, it's not possible to watch whatever you want on your Television using the Chromecast device without incurring subscription charges. Besides, you will end up searching through multiple apps in order to find specific content.
Due to this, a lot of people have been looking for a way to connect their Chromecast device with a browser for streaming. We've noticed that the majority of the users are using Mac which comes with Safari App as the default browser. So, we've decided to come up with an article for the set up of Chroamecast Safari. Follow this article till the end to know how to cast and setup chromecast on safari. This gonna be interesting, don't miss any single steps to avoid mistakes.
Check – How to Install Streamio On Android Smart TV
How To Setup Chromecast on Safari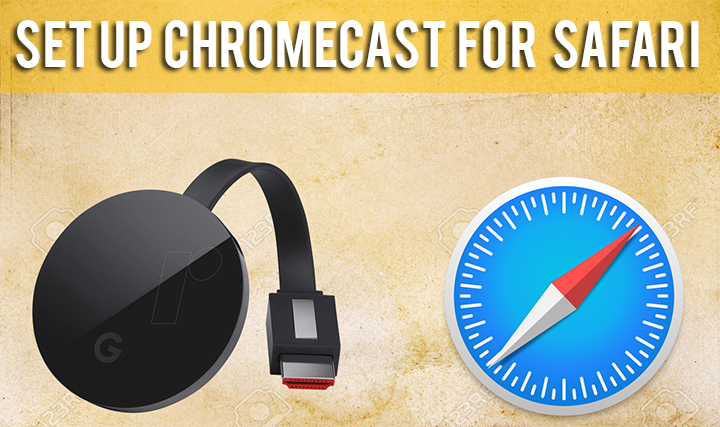 It's going to be quite easy if you follow the steps mentioned in the guide properly. Once the setup has been completed, you will be able to Mirror your Safari browser screen to your Tv, enabling you to watch whatever you want from the web without any restrictions.
Requirements
There aren't any special requirements to establish a connection between your Chromecast and the Safari browser. Although it's important to have Google Chrome installed to complete the setup properly. Lastly, you must ensure that your Mac and Chromecast are connected to the same Wifi network, otherwise, the content will not be mirrored to your Television. Now you might be thinking why we need google chrome? Guys, Safari Browser doesn't have inbuilt Cast feature and it will be very complex if we will use chromecast extension for safari and many users have reported that, they are facing an issue while using google cast extension for safari. That is the reason I strongly recommend you to use Chrome on your Mac. It is just a 3-minute process and you will able to setup Chromecast for safari.
So go ahead with below steps to install the Google Chrome browser on your Mac for casting your screen.
Firstly, Open the Safari Browser and paste the below link in the URL bar. [google.com/chrome/browser/desktop/]
Download the "Google Chrome" Browser installation file from the official site.
Open the file and follow the instructions to begin the installation process of Google Chrome.
After successful installation, you may decide to sign in with your Google Account or create one.
Now go through the below steps and perform them on your Google Chrome browser.
Launch the Google Chrome Browser and click on the "Cast" option from the settings.
[Cast option will be situated on the top righter under the "three dots" menu]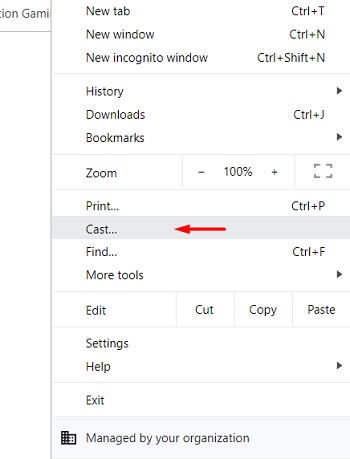 A new pop up will appear, there you will have to select the appropriate "Source".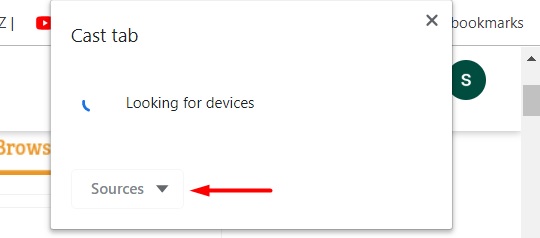 Now all the pairable devices will appear in the pop-up, select your Chromecast device.
Establish the connection by confirming the paining on your Browser and Chromecast.
That's it, after a successful connection, your browser screen will be mirrored to your Television.
Conclusion
Well, we don't want to dishearten anyone but it's not possible the Safari Browser for casting since it does not come with that feature. So, we'll have to settle with Google Chrome Browser in order to cast your Browser screen to your Television. In case, if you're facing any issues during the setup of Chromecast on safari or have any queries, then feel free to reach out to us via comments.