Sometimes it is challenging to calculate long mathematical equations using a digital scientific keyboard, especially when you are in the hurry of submitting an assignment. But with Photomath, you can scan printed text and handwritten mathematical problems to solve them instantly. In this post, you will learn how to download Photomath For PC.
Photomath is only available for Android and iOS devices. But if you want to install this handy digital scientific calculator on your PC, you can use an Android emulator like BlueStacks to emulate the app. If you want to learn more, continue reading this article on how to install Photomath for PC.
What is Photomath?
With 100+ million downloads, Photomath is one of the most downloaded education apps on the Google Play Store. Photomath's powerful processing engine can solve various mathematical problems in less than a second and show you every step. The app also provides an offline guide for multiple solving methods to help you finish your homework assignments with ease.
The best thing about Photomath is the instant scanning feature that you can use to scan handwritten and printed mathematical problems with your device's camera. You can also type the equations with the built-in scientific calculator, so you don't have to use a webcam to scan texts on your PC.
Related – How to Download & Install Jio TV For PC
Below is a list of math topics you can use Photomath for:
Basic: Arithmetic, fractions, integers, powers, decimal numbers, roots, factors.
Algebra: Linear equations/inequalities, logarithms, quadratic equations, matrices, functions, systems of equations, graphing, polynomials.
Trigonometry: Identities, conic sections, vectors, matrices, complex numbers, sequences and series, logarithmic functions.
Calculus: Limits, derivatives, curve sketching, integrals.
Statistics: Factorials, combinations.
Features of Photomath on Computer
To know more about Photomath, check out the app features below.
You can scan printed and handwritten mathematical equations.
Advanced and versatile scientific calculator with a step-by-step breakdown of every solution.
Help out your friends with math problems using the share button.
The offline guide provides multiple solving methods.
Works offline. No internet connection required.
Supports 30+ languages from across the world.
How to Install Photomath for PC (Windows 7/8/10)
You can use the BlueStacks Android emulator to use Photomath on Computer. Here's how to install Photomath on Windows 7/8/8.1/10:
Open a web browser and go to the following URL: www.bluestacks.com and click Download BlueStacks.
Launch the .exe file once the download finishes.
After that, click Install Now in the setup window.
It will take a couple of minutes to install. Click Complete once it is done.
In the BlueStacks first time setup page, choose your language, and sign in to your Google account.
Once you are on the BlueStacks home screen, launch Google Play Store.
Click the search bar and type "Photomath."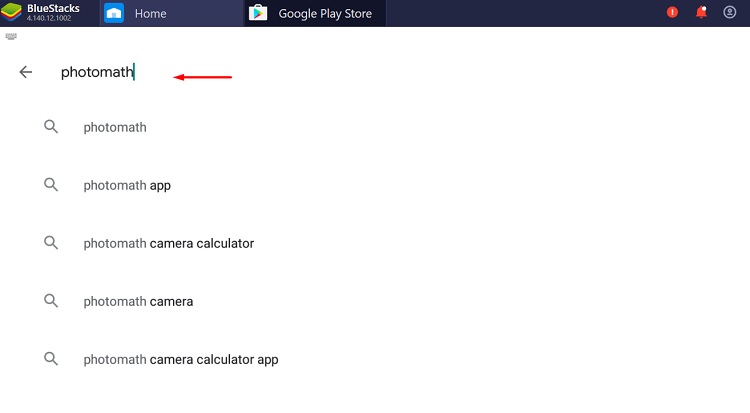 Choose Photomath from the list of results below the search bar.
Now click Install above the download page. This might take a couple of seconds to finish up downloading and installing.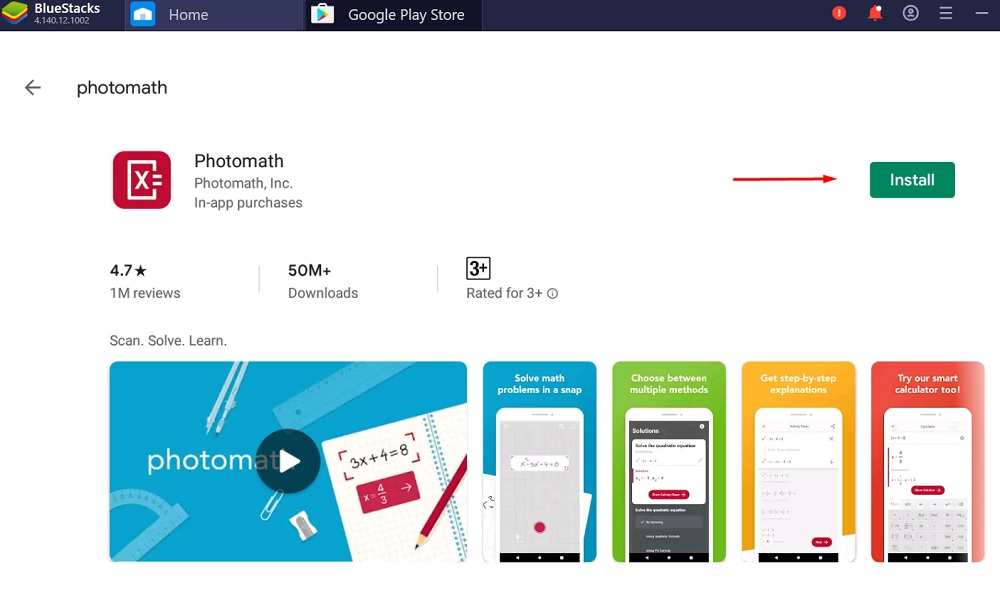 Finally, launch Photomath from the BlueStacks home screen.
Make sure that you have CPU Virtualization enabled. Otherwise, you will face stutters and unresponsiveness in the emulation.
On the POST screen, press the F2 or DEL key to open your motherboard BIOS settings.
For Intel processors, enable Intel® Virtualization Technology from your motherboard's BIOS settings. If you have an AMD processor, then enable AMD V™ or SVM. (Contact your CPU or Motherboard manufacturer for more information.)
This will tell Windows to utilize the actual CPU cores and threads for virtualizing the Android OS instead of doing it via software.
Don't Miss – How to Install ES File Explorer on Android Smart TV
How to Download Photomath on Mac PC
If your Mac device is running macOS Sierra, High Sierra, Mojave, or Catalina, you can install BlueStacks on macOS and run Photomath on it. Here's how:
Open the official BlueStacks page from Safari Browser.
Choose MAC as your operating system, then click Download to download the BlueStacks installer.
Now go to Downloads and launch the "BlueStacksInstaller.dmg"
Once the BlueStacks installer window shows up, double-click on the BlueStacks icon to launch the setup.
Tick the checkbox next to Accept software license.
Click Install Now to start the installation.
If you receive a warning prompt, click Open Security & Privacy.
From the Security & Privacy preferences, select Allow to allow Bluestacks setup resume the installation.
The BlueStacks will resume installing the rest of the critical files. Once the installation finishes, click Complete.
Now follow steps 5-10 of the above guide "How to install Photomath for computer/Windows PC" guide above for setting up BlueStacks emulator and installing Photomath on macOS.
Wrapping Up
Photomath is a great utility app that helps you solve dozens of mathematical equations in a couple of minutes with its advanced AI deep-learning neural engine. In this article, we have highlighted Photomath and its features, including an installation guide of Photomath for PC and Mac PCs. You can go through the guide to download and install BlueStacks Android Emulator to run the Photomath app on your Windows PC.