In this tutorial, I will demonstrate how to watch Live UFC on Firestick. The methods included in this post cover Fire TV, Fire TV Cube as well as Fire TV Stick 4K.
UFC (Ultimate Fighting League) which is probably one of the most competitive fighting sport, has grown up into a global multi-billion dollar enterprise over the years. It's a mixed martial art sport which is predicted to take over the American Sports based on its growing popularity. The interesting part is that UFC doesn't really take place on a seasonal basis, unlike the NFL or Super Bowl event which represents the end of Football season. There are actually quite a lot of UFC events that take place throughout the year and at different locations.
The sport itself looks aggressive and action-packed, the fighters put in a lot of work to gain victory over the opponent. Well, let's keep the introduction aside, since you people know it already and dive into the topic straight away. Today, in this article, I'll be showcasing a bunch of ways to watch or stream UFC on Firestick devices. The tutorial would be helpful for people who have cut the cord in their homes but still wants to watch UFC and other sports events. Let's go ahead and start off the topic without wasting any further time.
Requirements To Stream UFC on Firestick
UFC is undoubtedly a popular sport in today's date, however, despite being so popular, it is only accessible in US regions. Unfortunately, streaming service providers aren't allowed to distribute UFC content outside of the US regardless of the subscription. So, if you're traveling and live outside of US territory, then you will have to a VPN to stream the content. A Virtual Private Network tool would be beneficial to bypass all the geo-restrictions and access the content from any location without any restrictions.
It's also advised to use a VPN connection when you're streaming UFC or any other media content using unconventional apps or methods. Since I'm going to share a couple of unofficial ways to stream UFC, it's best if you're equipped with a secure and reliable VPN connection. Otherwise, there are chances of getting into trouble due to copyright laws. So, I would highly recommend my readers to use a VPN app to secure their identity on the internet.
Best FireStick VPN…
I have used over a dozen VPN services during the past five years and I finally came across one that works very well with all models of the Amazon Fire TV. IPVanish is one of the fastest and secure VPN in the industry. It also comes with a 30-day money-back guarantee.
How To Watch UFC On Firestick
The broadcasting rights of UFC were held by the Fox team until 2018, however, in 2019, the contract went over to ESPN. It's safe to say that ESPN is probably the only official broadcasting partner of UFC at present in the United States. So, if you're planning to stream UFC through an Over The Top service provider, then it's better to look into the list of channels that are available on the streaming platform before proceeding.
For now, you may go ahead with the below-mentioned services to stream UFC on Amazon Firestick device. Of course, there are other providers too, but the following ones are the most popular and reliable as well.
Stream UFC Using ESPN App
Fortunately, ESPN has a dedicated app that can be installed directly Amazon App Store on Firestick devices for streaming UFC matches on your Television. The installation steps of the ESPN app are as follows:
Firstly, Switch On the Firestick device and go to the Search Box on the home screen.
In the search box, type in ESPN For Fire TV and wait for a few seconds for the suggestions to appear.
Select the ESPN official app from the list of suggestions to open its description page.
Click on Get or Download option to start downloading, which would complete within a few seconds.
ESPN app installation will be carried out automatically after the download is completed.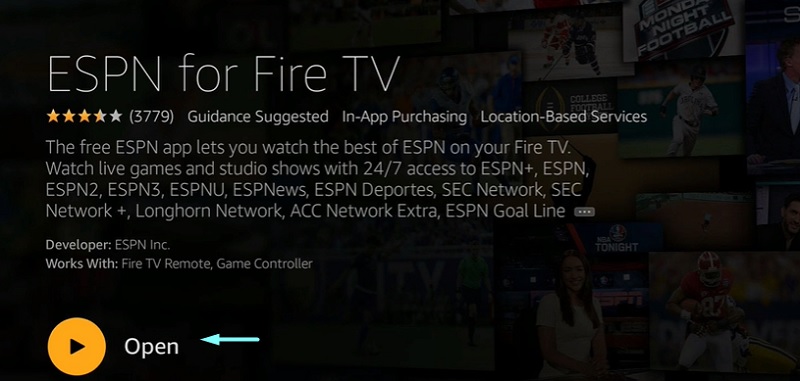 That's all! The app has now finished installing on your device. You may find the ESPN app under the "All Apps" section. Please keep in mind that you need to get the ESPN+ subscription which costs around 5$ a month or 50$ annually. The subscription will give you unrestricted access to live streaming of UFC event along with a mountain of other sports on your device.
Related
Watch UFC Using Sling TV app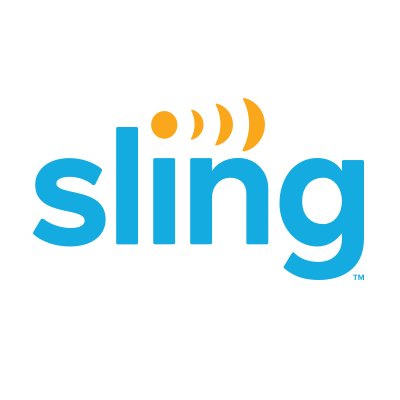 Sling TV is a well known Over The Top streaming service provider of many sport-related events. It takes the same approach as other streaming apps by offering access to a plethora of live TV channels such as Fox, ESPN, etc. Sling TV offers two standard subscription packages i.e Sling TV Orange and Sling TV Blue, each one of them is priced at 30$ a month. If you're planning to watch UFC, then Sling TV Orange is the right subscription since it contains ESPN channels for live streaming.
Unfortunately, Sling TV blue doesn't contain any UFC or ESPN channels, which isn't the ideal option if you wish to only watch UFC. But, there's also a combo package i.e Sling TV Orange + Blue priced at 45$ a month, which would give you access to both ESPN and Fox TV channels. It also has a ton of addon packages as well to make your content more focused on Sports, comedy, etc. Each add-on pack will add up 5$ to your final billing at the end of every month. Sling TV is officially available on the Amazon app store.
Sling TV Review, Plans, Pricing, and Features
Watch UFC Using Hulu Live TV

Hulu is another good option if you wish to stream UFC fights on your Television without a cable connection. The service was initially focused on Movies, TV shows, and Hulu originals. However, in recent years, Hulu has come up with a new subscription package called Hulu Live+ which would give you live access to over 60 different TV channels including sports and news. The Live TV channel streaming service costs 55$ a month or even less if you are opt-in for the annual subscription.
Hulu Live+ way of working is the same as Sling TV or any other streaming service provider, however, it offers simultaneous streaming Live TV channels on multiple devices. Hulu is definitely a better streaming option since it provides Live UFC from ESPN channels and a ton of on-demand content such as Movies, TV shows, Originals, etc. Read More about Hulu live TV.
How To Watch Live UFC On Firestick For Free
The services mentioned in the above list are all subscription-based, you will have to pay a fixed rate at the end of every month to continue the service. In case, if you find the charges of the above services to be exorbitant and do not wish to pay, then here are a couple of free ways to watch UFC on Firestick devices.
Stream Safely!
When you're streaming content using unofficial apps on your device, you need to consider using a VPN connection to avoid the Legal trouble. Government and ISPs across the world monitor their user's online activity. You could get into serious trouble if you caught streaming copyrighted content. Therefore, it's advised to use a VPN to spoof your connection and identity on the web from stalkers.
I've tried and used countless VPN apps on my devices for streaming content. Out of all the options, I've tried, IPVanish VPN is the one that I wholeheartedly recommend to my readers. Using IPVanish, you will be able to get away from all the region or geo-restriction and surf the web openly without any limitations. Also, your activities on the internet will not be logged or tracked.
IPVanish VPN offers a 30-day money-back guarantee, you will get a full refund in case if you don't like the service. Click Here To Get 46% Off IPVanish
Mobdro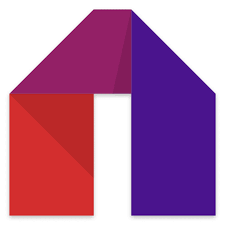 Mobdro is a standalone app that, technically, falls under the Entertainment category. Using the Mobdro app, you will be able to watch Live Sports and stream other media content as well such as Movies, Videos, TV shows, etc. The app is designed for Android devices, however, it works flawlessly on Firestick devices too. There are no subscriptions or charges involved for streaming UFC in the Mobdro app.
Users can access tons of Movies, TV shows, Live Sports, and News content for free in the Mobdro app without any additional setup or installation. Doesn't it sound awesome? Well, Mobdro itself isn't providing all the content to the users. It simply connects to various internet streaming services and delivers the content straight to the user. The installation isn't complicated or nor does it require any sign up to get started.
Kodi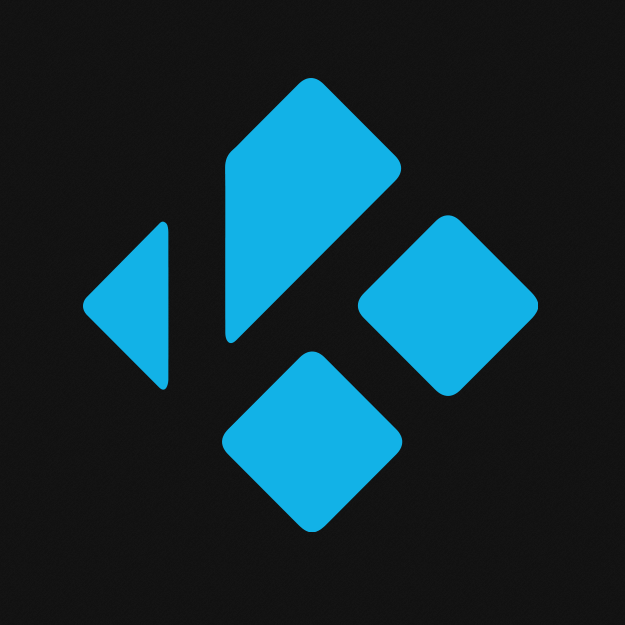 Kodi is basically an open-source media management software where the users can install addon within it to access media content on their devices. There are tons of third party add ons available on the internet that can be installed on the Kodi app to stream UFC, NFL, Football, etc for free of cost. However, keep in mind that only a few video addons on Kodi offers to a stream of Live Sports, while the rest of the addons are primarily focused on Movies and TV shows.
Here are a few Kodi addons that provide live streaming of UFC and other sport-related content:-
Rising Tides
SportsDevil
The Magic Dragon
Verdict
Getting started with any of the above-mentioned services is super easy, as long as you follow the steps properly. Of course, there are other addons and streaming services available in case you're wondering, however, since the article is directed towards UFC fans, I've decided to share only the ones that cover UFC streaming. In case, if you know of any other service that provides UFC on fire tv, then feel free to let me know in the comment section.
Besides, if there is anything else you need help with, then drop it down in the comments. Make sure to spread the word and share the article with others who might find it helpful.