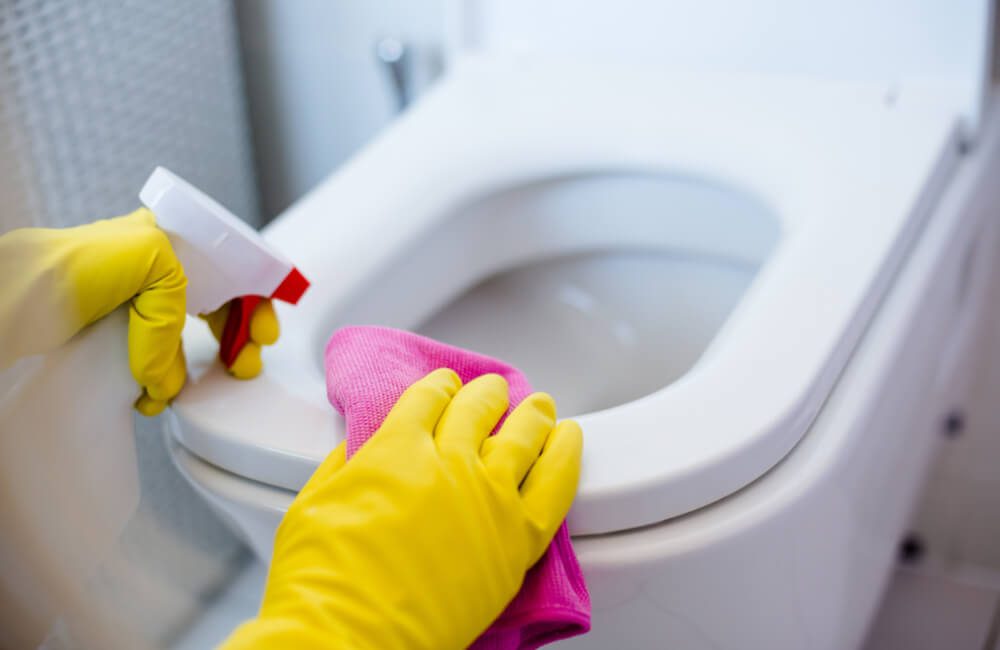 Who doesn't enjoy a good cleaning tip? We could all use a lot more fun things to fill the hours we spend each day keeping our homes clean. With kids in the house, the job appears never-ending, and as soon as we finish our cleaning tasks, the first ones are ready for another round of cleaning!
We've included the best time- and money-saving cleaning tips in this post. You can avoid going to Target for cleaning goods by employing many of the tips and tactics that make use of items you already have at home. Continue reading to see how you can simplify your life right now!
1. Pantyhose to Clean Your Car
Products Needed: Pantyhose
What it Does: Cleans windshield and hard to reach areas in the car
Cost: $10*
When you're cleaning your car, consider using something that you might not have expected before: pantyhose. Wrap the pantyhose around the arm of the windshield wiper and tie a knot. Do the same for the other wiper.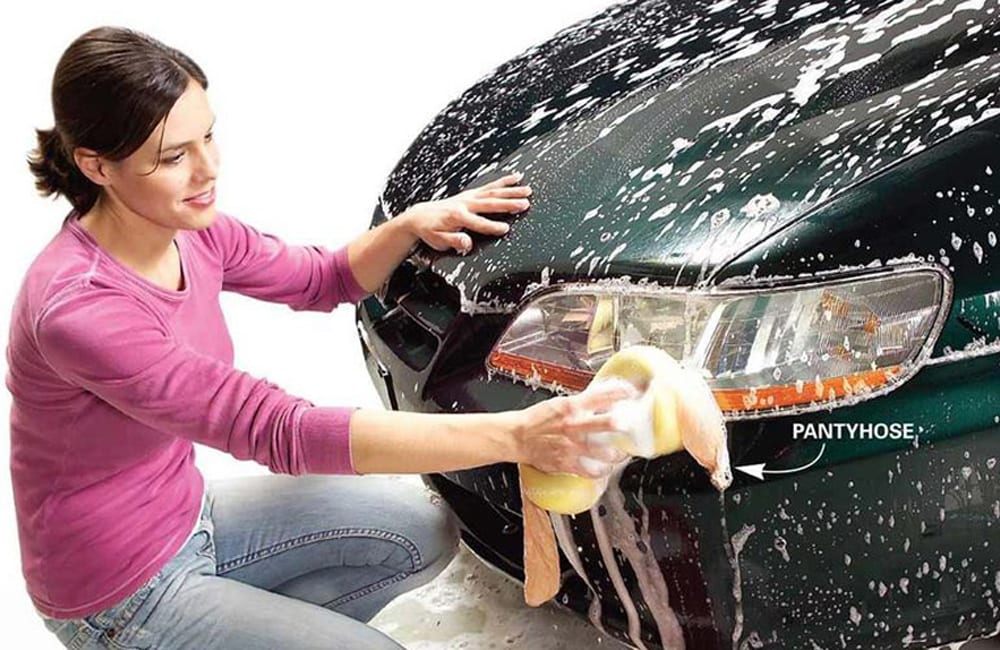 The pantyhose will wipe the window clean when the wipers are activated. The clinging cloth can be used to remove dirt and grime from your car's hard-to-reach areas. You can't go wrong with dish soap, vinegar, or baking soda when you dilute them all with water to make a cleaning solution. They won't break the bank, but they won't take long to clean your car.
2. Prevent Mess With Tin Foil
Products Needed: Tin foil
What it Does: Keeps food from sticking to the grill and can be used to clean the grill
Cost: $6-$7*
At pretty much every step of the grilling process, tin foil can be used. Tin foil is a good option for cooking if you want to have a clean kitchen because it has a tendency to disperse heat evenly. Tin foil can really be used to clean your barbecue if it does become soiled.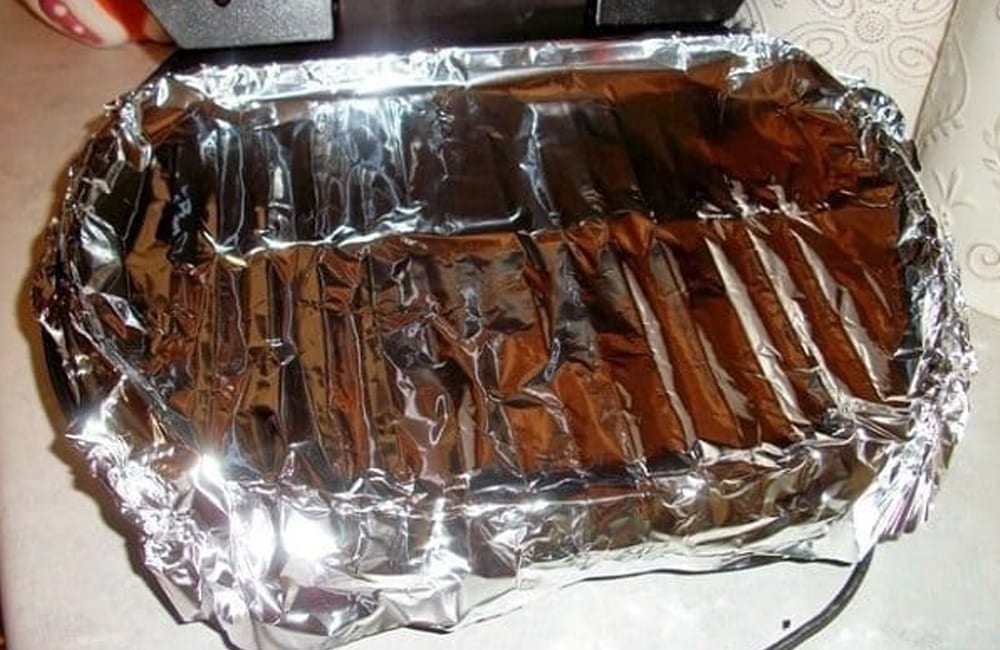 Turn on the grill and immediately cover the grates with a sheet of aluminum foil. Once the grates are heated, close the grill's top and let it run for a while. Remainder will loosen as they heat up. After that, take off the foil sheets and scrape the loosening food bits with a ball of crumpled foil.
3. Clean Hairbrush with Dryer Sheet
Products Needed: Warm water, bowl, two dryer sheets
What it Does: Cleans bacteria and buildup from your hairbrush
Cost: $10-$12*
Any hairstylist will tell you that a hairbrush can accumulate a lot of buildup, and they don't just mean hair. When you brush your hair, bacteria and other gross particles can collect on the hairbrush, turning your head into a germ-fest.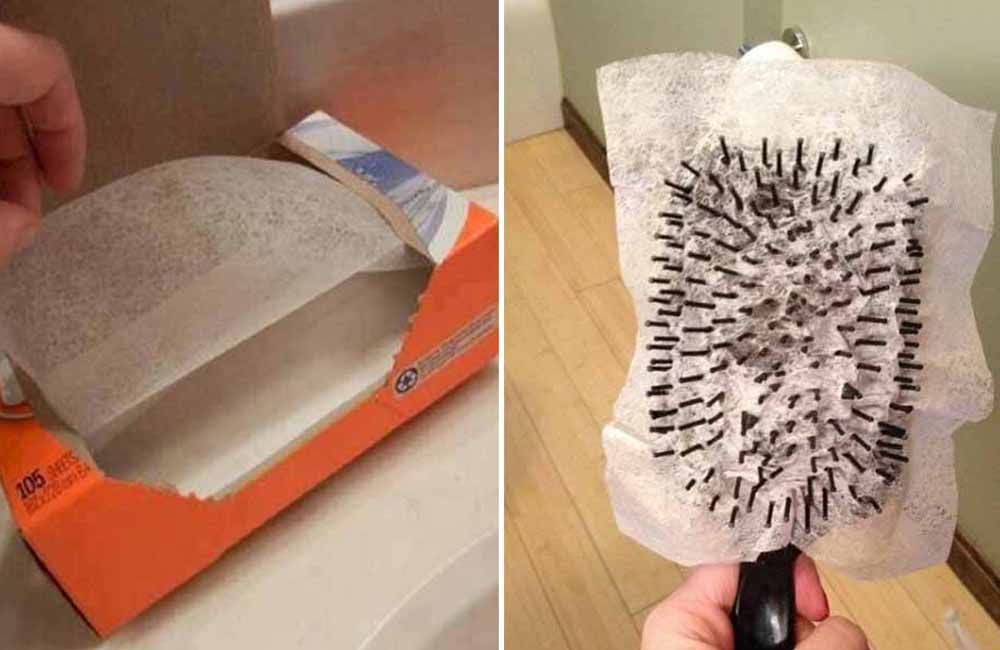 You can quickly clean your hairbrush with a few common home materials, so don't panic. First, add two dryer sheets to a bowl of warm water. Then soak for three hours with your hairbrush (or comb) in the solution. After giving the hairbrush a thorough rinse, pat it dry and then let it air dry.
4. Toothpaste to Clean Your Headlights
Products Needed: Toothpaste with baking soda in it, rag
What it Does: Cleans oxidized headlights with its mild abrasive agent
Cost: $4*
This startling tip from YourMechanic.com on how to make your headlights glisten and shine was made public. Toothpaste may get rid of stains from automobile headlights in addition to reducing plaque from your tooth enamel.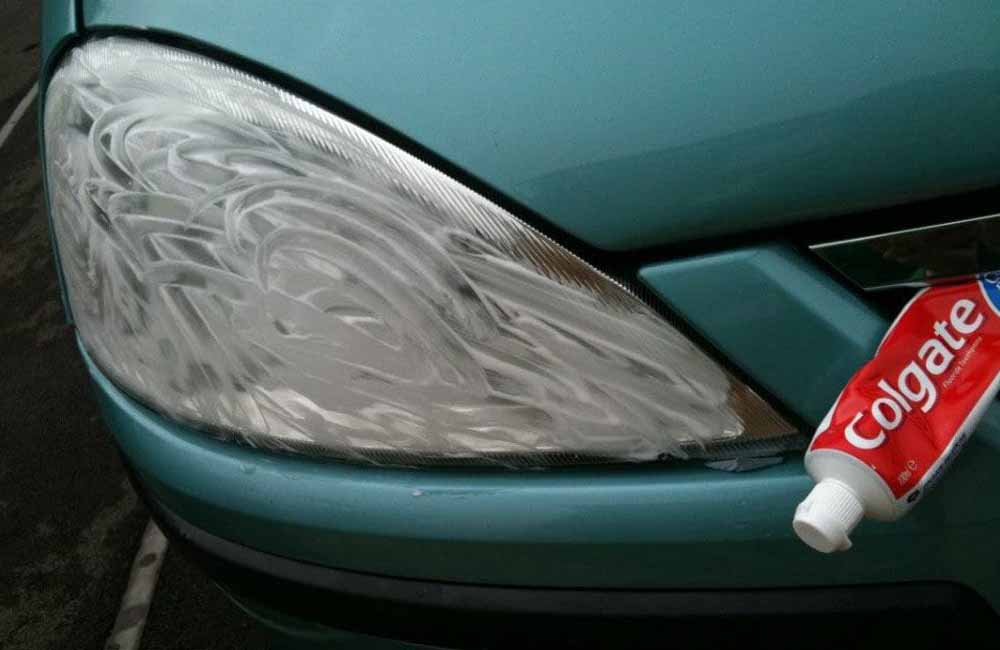 Even the gel and whitening varieties of toothpaste include a very minor abrasive. Surfaces will be smoothed out by this substance, leaving them spotless without leaving any scratches. If you need more scrubbing strength, try toothpaste instead of Windex or soap and water. Note that although this trick works for rusted headlights, you should probably try Windex or soap and water first.
5. Make Homemade Kitchen Spray
Products Needed: Empty spray bottle, water, white vinegar
What it Does: Cleans oil and dirt from kitchen surfaces
Cost: $5*
The longer grime and grease remain on surfaces, the more difficult it is to remove them. You should remove these bacteria-carrying objects from your kitchen as soon as you spot them. Try making your own kitchen cleanser if you're running low on Lysol or Clorox.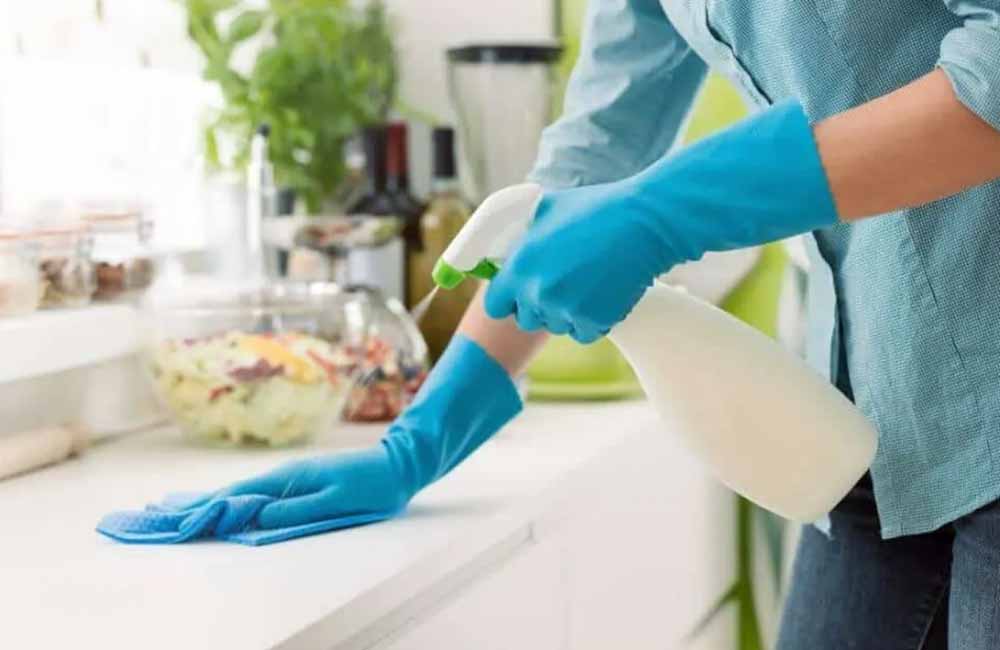 Just water and white vinegar are required. Put them in a spray bottle in a 1:1 ratio. If you don't have an empty spray bottle on hand, you may also simply drop them in a basin and dip a towel into them. Particularly effective on counters and cooktops, this hack.
6. Clean the Bottom of a Pan
Products Needed: Steel wool, salt, baking soda, dish soap, white vinegar, paper towels
What it Does: Cleans grime and food from the bottom of a saucepan
Cost: $15*
Cleaning the outside bottom of a pan is one of the most tedious tasks in the kitchen. You must clean this oily, filthy surface in order to avoid risking a burner fire. Hopefully, this trick will make cleaning the pan a lot simpler for you.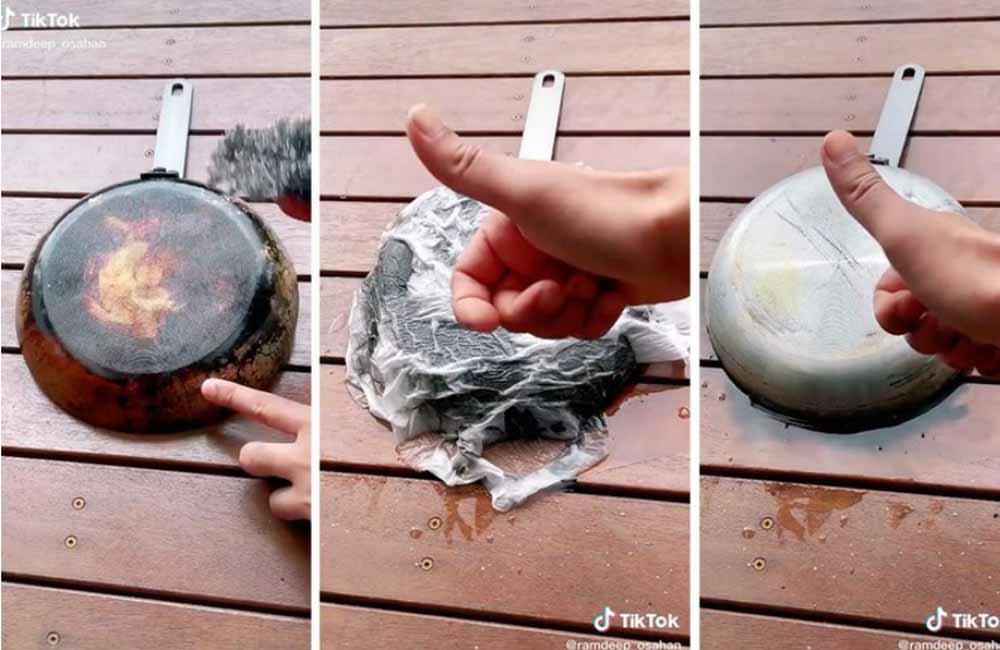 Start by repeatedly running some steel wool up and down the pan's bottom. Then sprinkle the pan with a couple pinches of salt and baking soda. Pour just enough dish soap to cover the pan, then rub steel wool over the entire mixture. Place paper towels on the pan that have been moistened with white vinegar, and let the mixture sit for a few minutes. Once the mixture and muck have been removed, take away the paper towels, wipe the surface clean, and it will be gleaming.
Products Needed: Vacuum
What it Does: Vacuums floors completely, getting all the trapped dirt out
Cost: $50-$100* (Average Vacuum Price)
Although we won't suggest that you've been vacuuming improperly per per, there's a potential that your method isn't as effective as it could be. Cleaning professionals advise beginning with a horizontal vacuuming motion and finishing with a vertical one.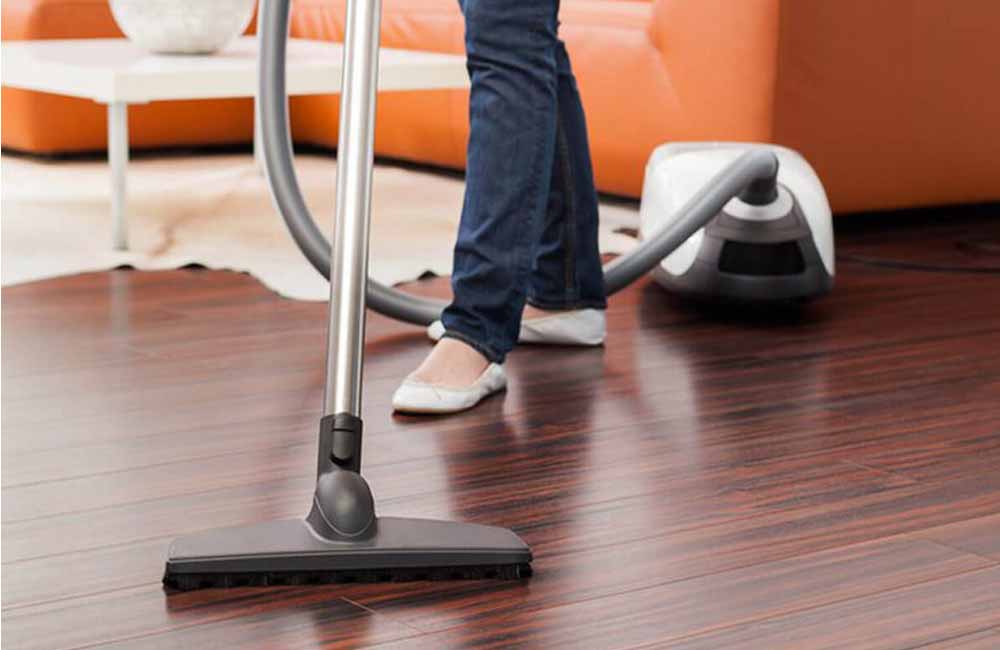 Is this a lengthy process? Yes, but it will remove all of the accumulated filth from your floors. It's also important to vacuum slowly since you want the vacuum to collect every dirt particle it can. Even though it will take some time, having clean, allergen-free flooring will be worthwhile. Additionally, heavy-duty vacuuming is a beneficial form of exercise, so get ready to sweat.
8. Use Magic Eraser On Car Interiors
Products Needed: Magic Eraser, water
What it Does: Cleans minor scuffs from your car's interior
Cost: $15.33*
A superior cleaning tool is the Mr. Clean Magic Eraser, a melamine foam sponge. The nitrogen organic foundation of melamine helps it remove any muck or mud you can imagine. This chemical substance, melamine, is present in a wide variety of products, such as Formica tables and sound insulation.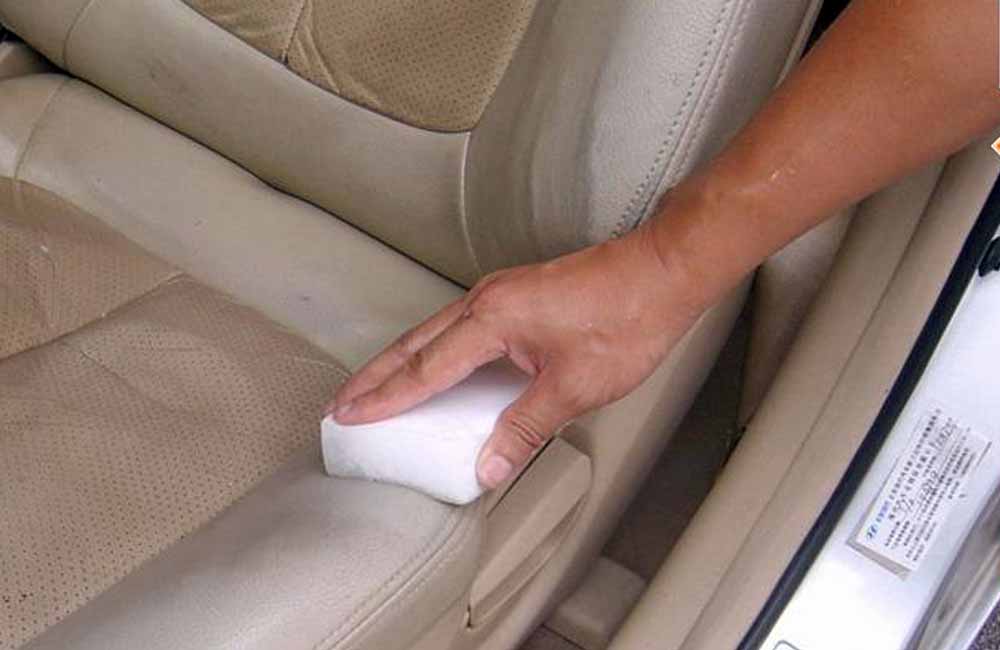 Use your magic eraser on the interior of your car if you're looking for yet another application. A word of warning: if you don't brush extremely gently, it could harm the interior of your car. Additionally, you should soak the eraser in water before using it.
Products Needed: Spray mop
What it Does: Saves a step in the mopping process, making it easier
Cost: $20-$50*
Cleaning the flooring requires a lot of labor. One of the time-consuming household tasks is mopping, which requires getting out your bucket of water and following a number of steps.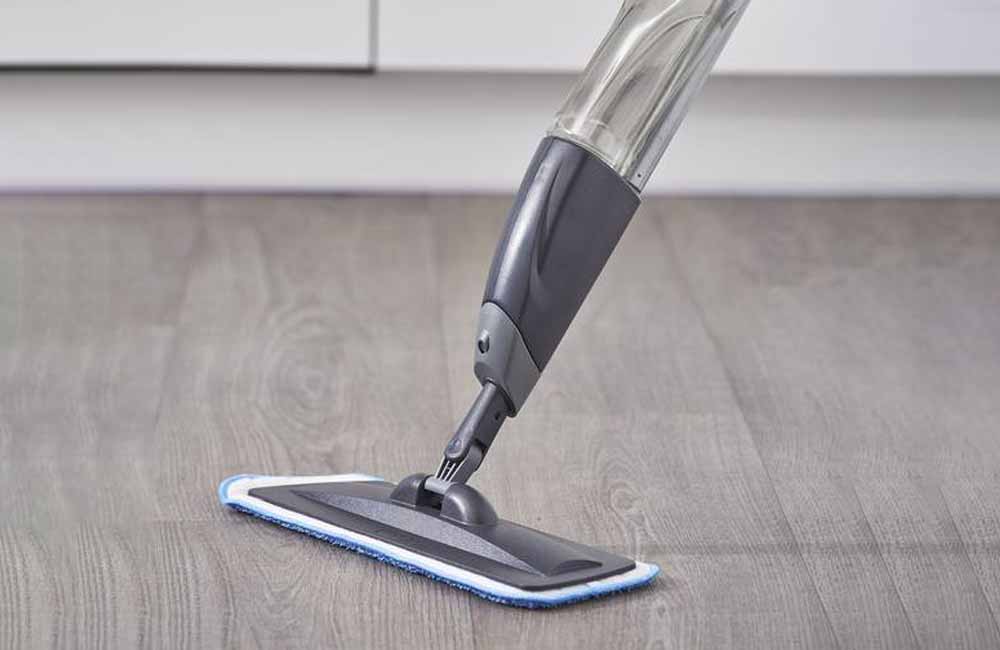 You can mop more quickly if you purchase a spray mop. These mop heads are small and frequently have a liquid-filled tank. Push the button or pull the trigger to spray the cleaning agent into the path of your mop as you clean. You don't need to continually returning to the bucket to re-wet your mop if you have a spray mop.
10. Use Dawn Dish Soap to Clear A Clogged Toilet
Products Needed: Dish soap, hot water
What it Does: De-clogs your toilet
Cost: $2*
Even the best among us occasionally deal with clogged toilets, which is something nobody enjoys. Try mending it yourself with dish soap before picking up the phone to call the plumber right away. One cup of Dawn liquid dish soap should be added to the toilet, let to sit for 15 minutes, and then flushed with a bucket of hot water that has been dumped from a distance of a few feet.
This is designed to clear any obstructions, allowing you to use the toilet as usual. Even though it might not solve every plumbing problem, it's worth a shot if you want to avoid paying a large call-out fee and embarrassing yourself.
11. Remove Stains with Black Tea
Products Needed: Black tea
What it Does: Cleans windows and mirrors
Cost: $1.99*
Mirrors and windows can be deceivingly difficult to properly clean. Swipe marks and white swooshes that never seem to disappear leave them seeming even filthy than before. Because you have to go over it numerous times to get good results, it can be a huge time waster.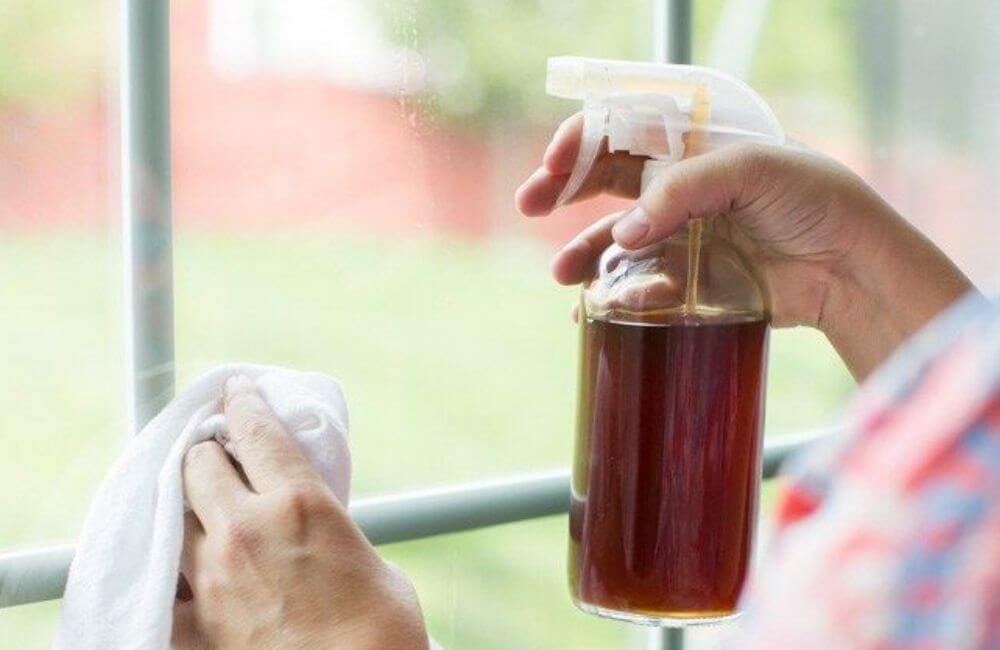 Sometimes the finest answers are the most obvious and straightforward ones. It turns out that black tea is the greatest option out of all the window cleaners after trying them all. Spray some tea bags that have been soaked for about an hour onto the windows and mirrors to clean them. Your windows will be cleaner than ever with just a quick wipe with a fresh towel to remove the teabags.
12. Get Rid of Mattress Stains
Products Needed: Baking soda, liquid dish soap, and hydrogen peroxide
What it Does: Deep cleans off stains
Cost: $10*
Beyond preventing mishaps for the small ones, utilizing a mattress protector has several advantages. Mattresses develop a variety of stains over time due to spills and general wear and tear. Do not worry if your mattress has stains on it. If you use this recipe, all the stains will go immediately, sparing you the trip to Bed Bath & Beyond.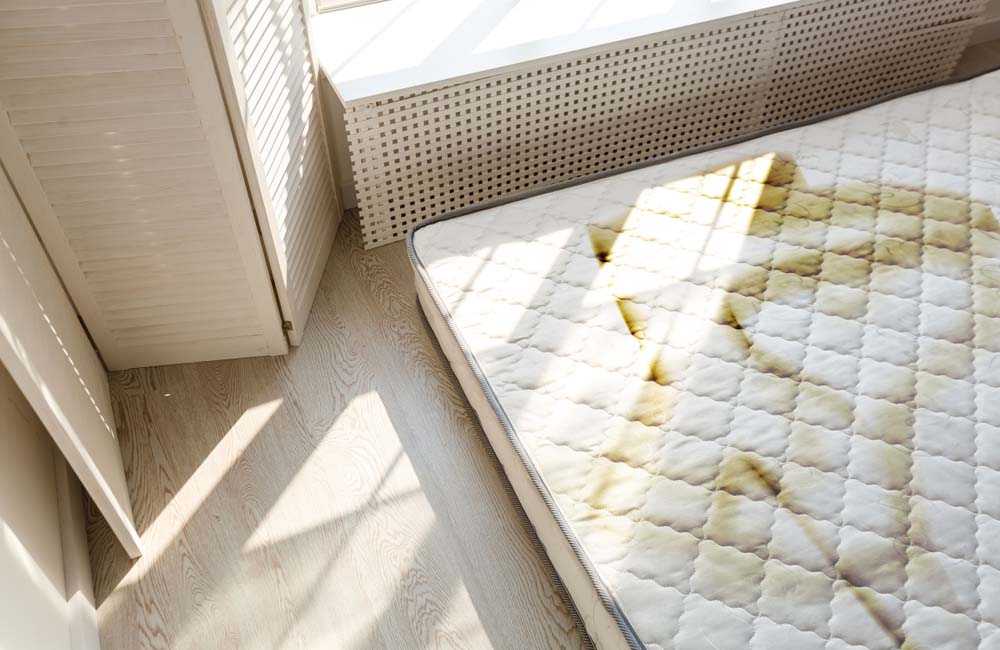 Spray the affected areas with a mixture of hydrogen peroxide, liquid dish soap, and baking soda. If the stains are more severe, you might let them soak first before giving them a thorough rub with a cloth. Additionally, vacuuming the mattress will aid in removing any dust that has embedded itself there.
13. Get Red Wine Stains Out With White Wine
Products Needed: White wine
What it Does: Removes stains
Cost: $10*
Wine stains are the worst because they are so difficult to remove and because wasting wine is such a tragedy. Do not worry; the tragedy of squandered wine can only be solved by wasting more wine! Well, if it successfully removes the stain, it's not really a waste.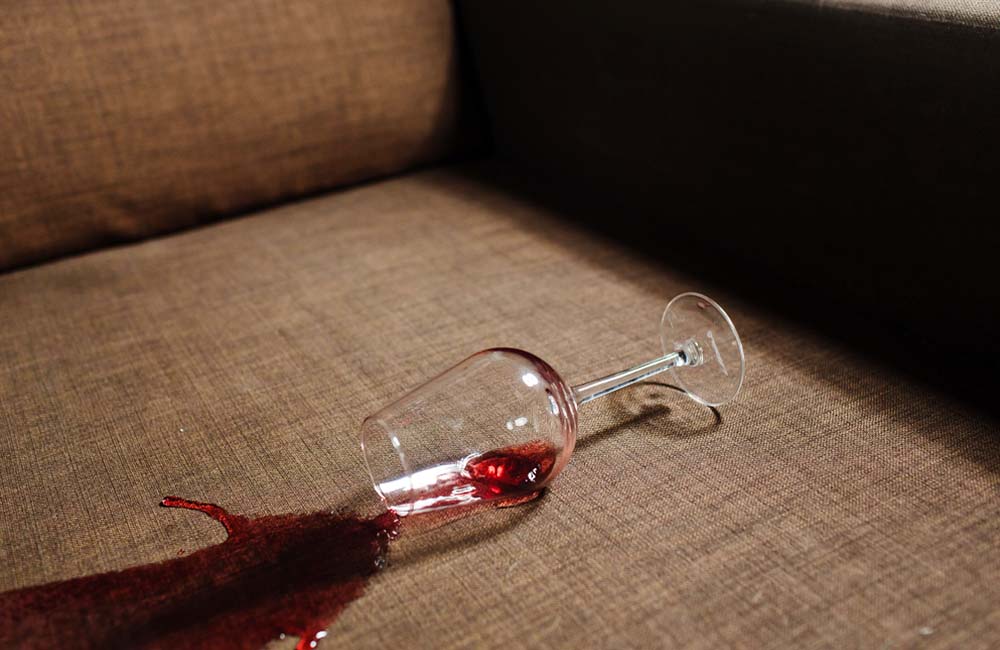 Putting jokes aside, white wine can be used to successfully erase red wine stains from carpet. After fully soaking the stain with water, simply wipe the wine onto it. You'll see straight away how fast and simply the wine removes the staining. Use vodka instead of rubbing alcohol if you don't have any of those items handy.
14. Clean Your BBQ with Onions
Products Needed: Half an onion
What it Does: Disinfect and clean the grill
Cost: 0.50c*
Nothing compares to a summer barbecue. What could be better than meeting with family and friends for grilled meat, salads, and beer? The cleanup is a drawback, and the grill in particular is challenging to clean. The grill must be completely cleaned after each usage because bacterial growth might be dangerous. Fortunately, there is a quick and inexpensive method for cleaning the grill.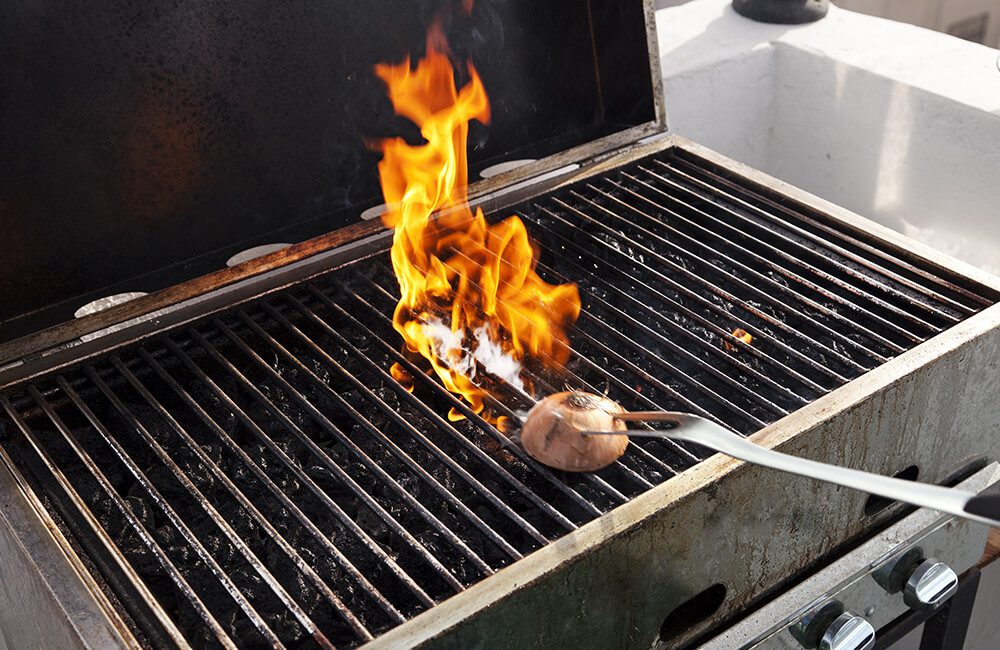 Just cut an onion in half, remove the skin, then skewer it from the bottom up. Make sure to do this at the conclusion of the barbecue before the grill cools down because it only works when the grill is hot. The onion will work as a natural disinfectant by cleaning the grill, getting it ready for the upcoming warm day.
15. Use A Squeegee To Deep Clean Your Carpets
Products Needed: Squeegee, bucket
What it Does: Cleans carpets better than a vacuum
Cost: $12.99*
The Hoover is the standard carpet cleaner, but some people swear by this dollar store hack and claim that it cleans carpets better than the Hoover has ever done. It is stated that a simple squeegee may remove pet hair from the carpet in such a way that it is still clean three days afterwards!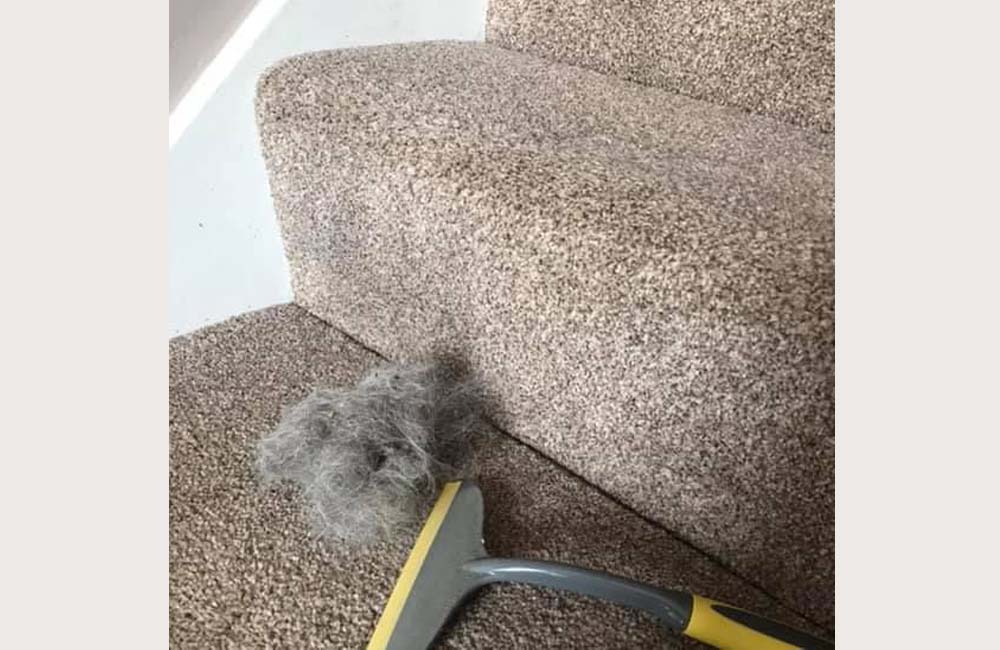 There are countless testimonials from people who successfully employed this method in place of the vacuum, and it soon acquired popularity online. Simply scraping the floor with a squeegee works just as well, but it takes longer.